70 miles, 24 hours, 1 unbroken spirit : part 2
4.
70 miles, 24 hours, 1 unbroken spirit : part 2
The Road less travelled
Continued [click here to view part 1]
We continue the story of David Williamson's 24 hour wheelchair push to raise money for the charity supporting Willow Scotney-Williams, a little girl with severe physical disabilities. This time it's the big finish and time for some reflection and talk of the future.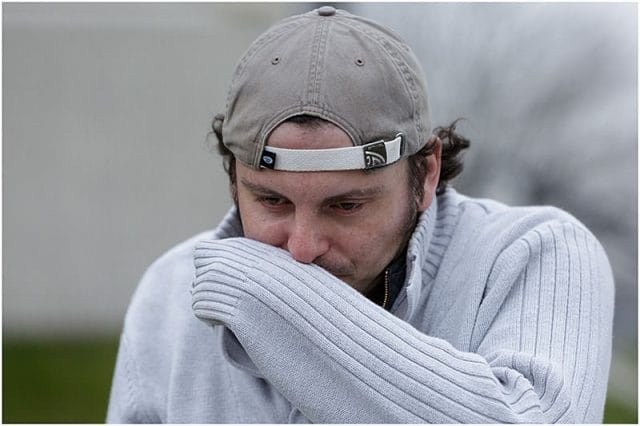 Fear, commitment and personal sacrifice
What do you think kept you going?
Part of it was the fear of letting people down if I did stop. My friend John [John Smith, also a double amputee and a member of The Portsmouth Sitting Volleyball team] could see how much pain I was in. I couldn't close my hands, I couldn't hold drinks or open water bottles. He didn't tell me to stop, but he tried to reassure me that If I did stop, nobody would think any the less of me. But it doesn't work that way, because I would have thought less of myself.
I gave this quote to Hayley Storey who runs the 'About my area' website. I know it sounds a bit dramatic, but it is true. I wouldn't be ME if I had stopped and it wouldn't be ME sitting here talking to you.

I wouldn't be me if I had stopped and it wouldn't be me sitting here talking to you
When did it start to get really tough?
I wanted to stop around 11pm on that first day. The rain had started up again and when I took a five-minute break for a drink, I really didn't want to leave the support tent again. I was cold and wet. I had changed into dry clothes, but was still cold. The gloves that I was wearing were covered in mud, and wet from going through the puddles. Leaving the tent at that point was the last thing that I wanted to do. It probably shows some sort of character flaw in me somewhere.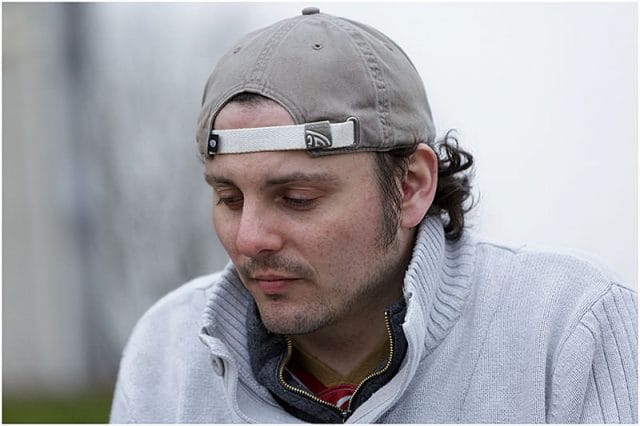 Or the opposite!
It wasn't so much the thought of failure that kept me going. It was more the recognition of all the hard work by the team. The giving up of time by Jane and everyone at Douglas Stafford and friends and family. Also, the genuine encouragement from complete strangers. Really, everyone that had got me to that point. All the people who had made the effort to come and walk with me for support, I didn't want that to go to waste.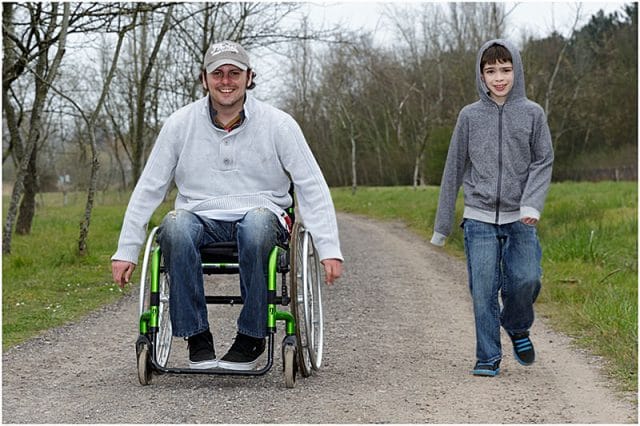 I was also aware that if I had stopped, the next time that I take on a challenge, in the back of people's minds will be, "hmmmm, well last time he didn't quite make it …"
I think you underestimate what people think of your achievement.
Maybe. I can't speak for anyone else, disabled or otherwise, but my experience of having a disability is that people's first assumption is that you are not capable of doing XYZ. Rob Allpress summed it up by saying something like "People see the dis, they can't see the ability". One of my best friends, after it was all over I might add, said that he didn't think that I would be able to do it. Not because I was disabled, but because he didn't think that anyone could. Disabled or able-bodied!
People see the dis, they can't see the ability
Your famous stubborn streak.
People have always told me that I wouldn't be able to do things. They said I wouldn't be able to walk with artificial legs or that I wouldn't be able to play sport [Dave played in goal for his school football team]. Throughout my life I've had people say that I couldn't do things, and I've always done them, or at least tried to. It feels like I've spent my whole life proving the whole world wrong. It's an exhausting way to live.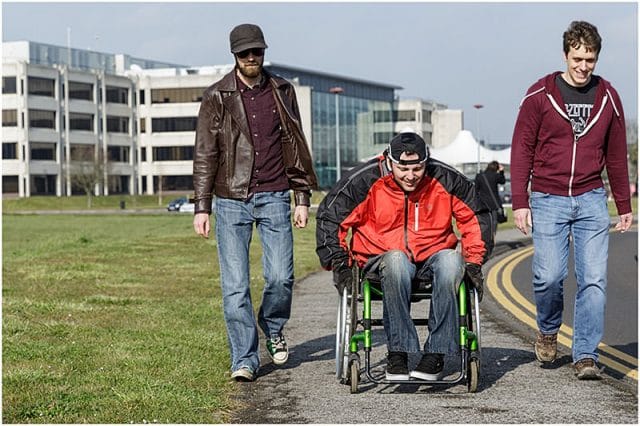 He who dares wins, as they say.
Don't get me wrong. I know what it's like to fail. Just the same as everyone, I've had my share. But with something this big, where I've made it very public, I just couldn't stop.
If you don't tell anyone about your goals, it's a lot easier to give up, because nobody will know.
Exactly. It can be something as simple as saying that you're giving up smoking. Andy Williams put something on my Facebook page yesterday. He said, he thought that I was going to die because of the pain that I was in; that I was just going to keel over at some point. You know what though, that would have been great for publicity [laughs].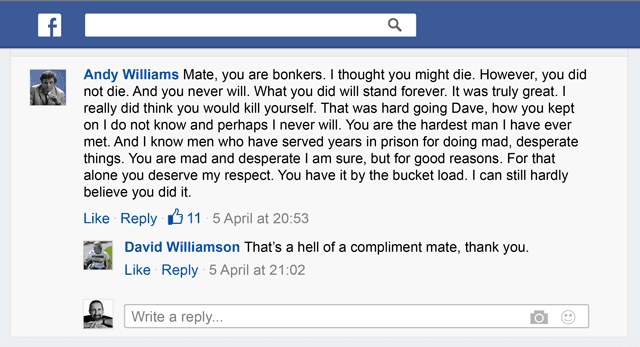 Probably not the best plan of action though [laughs]
The problem now, of course, is that I genuinely believe that I'm immortal [laughs].
You've touched on the change in the weather.
Every forecast that we had looked at was different, but none of them were particularly good. So we knew there were going to be some problems, shall we say.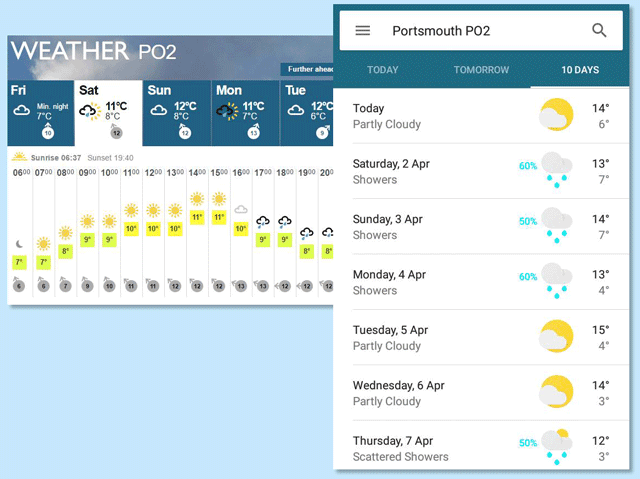 The weather gods didn't smile kindly on you at all did they?
No, cheers for that [laughs]. That was the cause of one of, if not the, lowest point for me. I don't know if you've noticed, but I can be a little bit stubborn at times [laughs]. Anyway, I'd been struggling round the top part of the course since the rain had set in late Saturday night. As time progressed, and the course got more and more waterlogged, everyone was telling me it was too dangerous to carry on. To be honest, I was so tired that it wouldn't have taken much to have been tipped out of the chair when going through all the mud.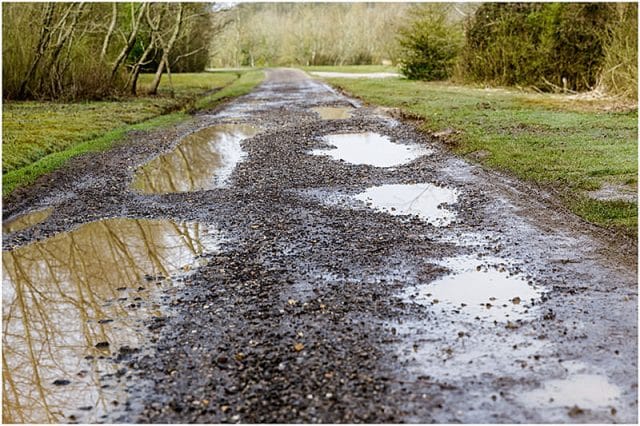 This way madness lies …
The trouble was that I had it in my mind that if we changed the course, it would be considered cheating, or that I'd taken an easier route or something. So I fought against that for a lot longer than I probably should have.  
It was around 3 am on Sunday morning that I was finally convinced by one of the guys who was walking with me, Kevin Pape, an ex-policeman, with thirty years service in the force, to either change the course or give up, as it was just way too dangerous. Kevin is a very sensible, down-to-earth guy, whose judgement I trust and respect – so we switched the course.
How did you decide which route to take?
I think Kevin quite often walks the route that we opted for during his lunch break at Douglas Stafford. It's slightly shorter, but there is a lot of it that's uphill. So I was happy, if you can call it that, that I wasn't short changing anyone on the challenge.
And you're here to tell the tale.
As it happens, about an hour later, a lad called James who works with Andy, came down on his bike to do a few circuits with me. He hadn't seen the Facebook post about the change of route, so, when he arrived, he headed off down the original track in search of me. When he eventually caught up with us, he said that he hadn't been able to get round, and had to get off and push his bike.
So it was obviously the right decision.
It made me feel a bit better about it, for sure.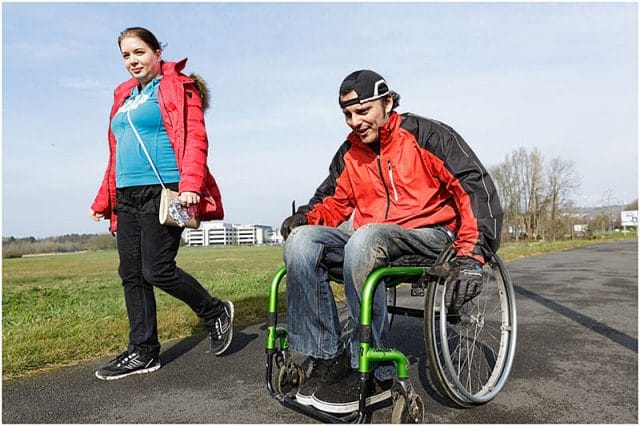 You completed the challenge; what now?
The original intention was to raise £10k, which, for all the effort that was involved, I thought was a reasonable target. So far we've only raised around £2k, so there is still a lot to do.
Strange, considering all the work that was done behind the scenes.
We think that a contributing factor was the lack of television coverage. We approached all the local networks ahead of time, with what is essentially a human interest story. 'Man with no legs pushes in his wheelchair for 24 hours, to raise money for a little girl with severe disabilities'. This sort of thing is their bread and butter, and you would think they would be all over it like a rash. The most likely reason is doubt. The media have to make strategic decisions about what to broadcast. Everyone wants a happy ending and, from the outside, it probably looked like I was doomed to fail, which doesn't make for a good story.
Maybe, I suppose it does cost a lot of money to get film crews out on location.
Exactly. I'm hoping that now it's been achieved, we can capitalise on the positive outcome and maybe get some coverage after the fact.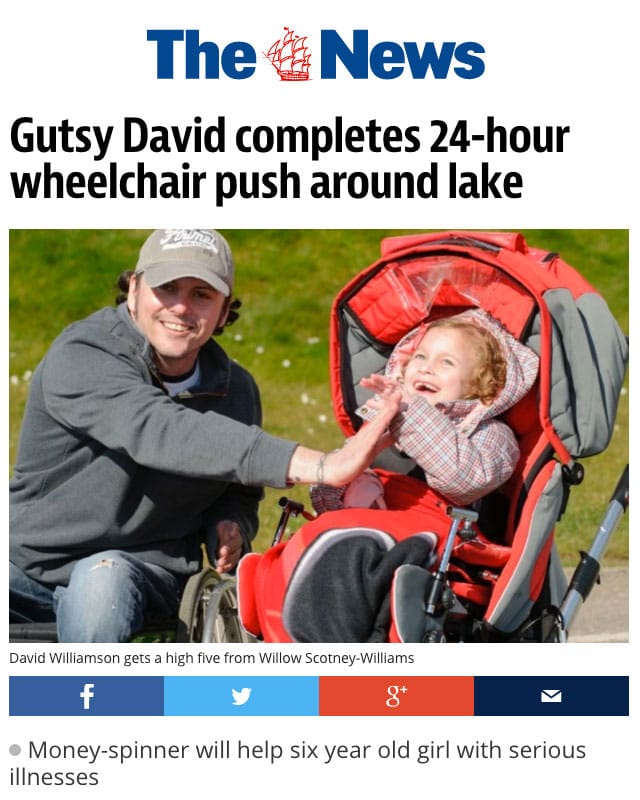 You have video footage that could be used …
I'm even thinking about submitting it to the local [Portsmouth] film festival. It's got everything you need. Local, good-looking, highly motivated, disabled man takes up the battle for a little girl unable to fight the system of injustice. Oi, there's no need to laugh quite so loud [laughs].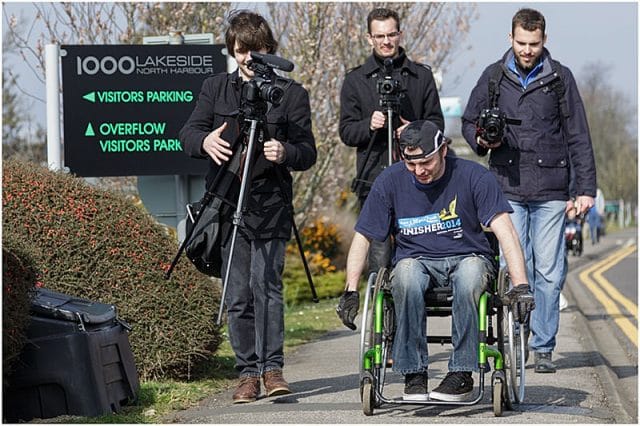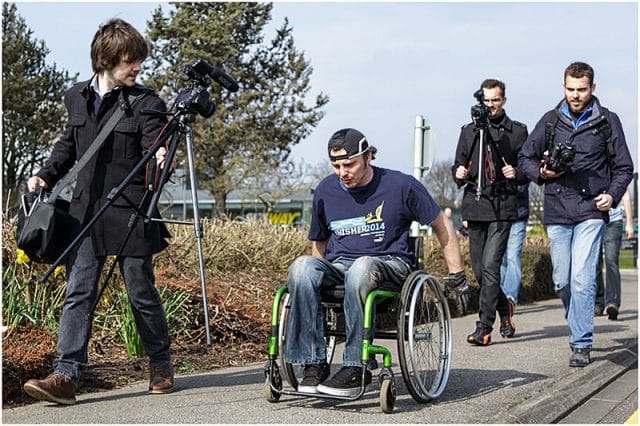 You've mentioned in the past that you have a few heroes that always inspire you?
Terry Fox is one such person. He was a Canadian athlete, humanitarian, and cancer research activist. In 1980, with one leg having been amputated, he embarked on a cross-Canada run to raise money and awareness for cancer research. I remember seeing a film about him whilst I was growing up. There's a point where he's running and, sorry this is a bit gory, blood starts to pump out where the prosthetic meets his stump. That image has stuck with me because he just carried on running. That was inspirational and has given me courage to do some of the things that I have done.
Hopefully, things didn't get quite as bad for you though?
No, but there were times when Jane had to feed me and give me drinks because I couldn't do it myself. My arms could only follow one set of movements, pushing the chair and nothing else. So I'll always mention Terry, especially as he has roads and schools named after him. So I'm expecting that to happen for me [laughs].
The Knighthood is in the post.
Not so sure about that. But seriously, I would like to think that if somebody reads this, or sees the footage, and is one day presented with a challenge that seems insurmountable, they might just think back and go "if that Dave can do it, why can't I?"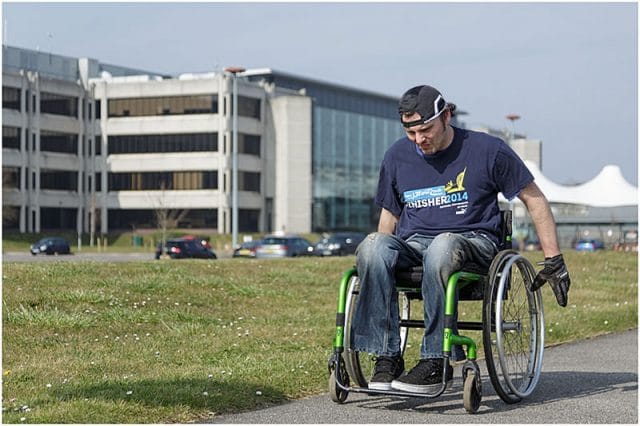 It's only three days after the event, as we do this interview – I'm surprised that you're even awake.
Me and my body aren't really on talking terms at the moment [laughs]. There must be one part of me that doesn't hurt, I just don't know where it is at the moment. I've torn muscles in my arms and sleeping is difficult because there isn't a position that isn't uncomfortable. I won't go into the gory details, but it's going to take a while before I'm anywhere near back to normal, whatever that is.
Are you having any physiotherapy or after-care?
I was going to have a pint later [laughs].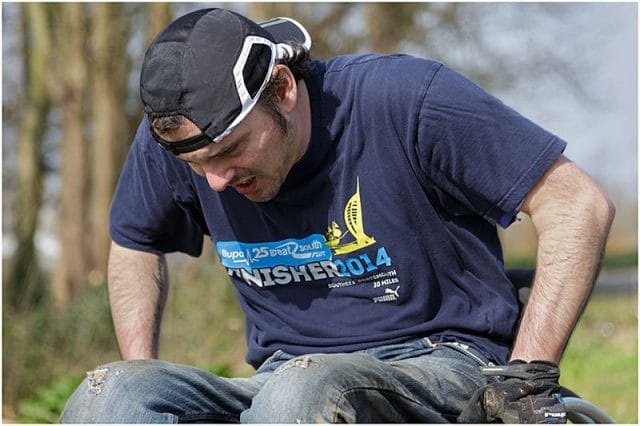 Most people would say it's too soon to ask this question, but I know you will already have been thinking about what's the next challenge, after you recover fully, of course.
[Laughs] I would like to do a long distance challenge; the main problem is logistics. We still have limited wheelchair access in a lot of places, so booking accommodation is a challenge in itself. The kind of terrain that I'm able to push on is another problem. I can't roll on grass, for example. To put it into context, there are only about four pubs in Portsmouth that are suitable for wheelchair users. A small step, up or down, for an able-bodied person is not even noticed. For those of us in wheelchairs, it might as well be the Great Wall of China.
Do you have a timescale for when you want to achieve whatever comes next?
I've got three years before I'm forty. This 24 hour push was a huge step up from the Great South Run, which is 10 miles. It was stupid really, I should have done something in-between first. Arrogance and ego, as we talked about, has got me this far. But there is definitely going to be at least one more big thing. Maybe people will believe I can do it next time [laughs]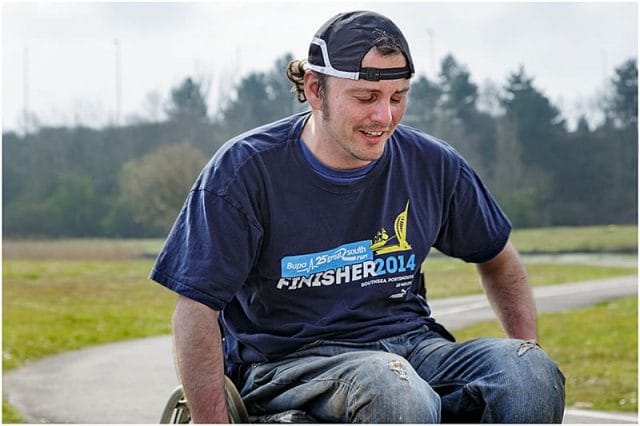 Anyone that you would like to give a special mention to?
You know what, it's better if I don't. In these things, there's always someone who you miss out and hurt their feelings. People who helped don't need me to mention their names. They know that I appreciate what they have done for me. But, for everyone, and I do mean everyone, that has either donated money, given their time or support, no matter how or what it has been, I really, truly want to thank you. It may not seem like it from where you are, but I could not have done this without you.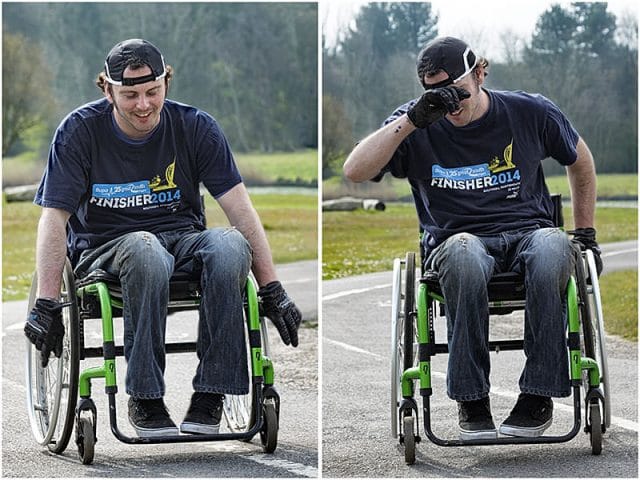 Anything else that we haven't covered?
Yeah, there was one thing that I wanted to mention. Right at the very end, as I crossed the finish line, I went up to the camera to say something. But I was so overcome with emotion that I couldn't get out what I wanted to say. Actually, this makes me well up just thinking about it now.
Pause
I have always been aware of how much of a flawed human being I am. I know that a lot of people have always seen a lot of potential in me, and I've not always lived up to it, at least not by my own standards. When I was going round the course, I had a lot of time to think. I was remembering my grandparents Jimmy and Molly, Alec and Kath, who have all passed on. I was also thinking about the stepson of my best friend's, a lad called Luke Fletcher, who I knew as a toddler.
Luke used to get toilet roll tubes and put them on the end of his Teletubbies and say, "Look, Teletubbies have got legs like Dave." He'd seen me with the prosthetics and it was the most charming, wonderful, innocent interpretation of artificial legs that I've ever seen. Luke died a few months ago in a car crash. When you're an adult and you meet a child, no matter how much time passes, in your head they are always a child. I was thinking of him a lot, his parents divorced and, although we'd been in touch on Facebook, we hadn't met up for a long time. That was a big regret of mine. So I wanted to say something to Luke or his mum, almost as an apology. I just hope that me doing this made him proud of me. I couldn't get the words out at the time, so …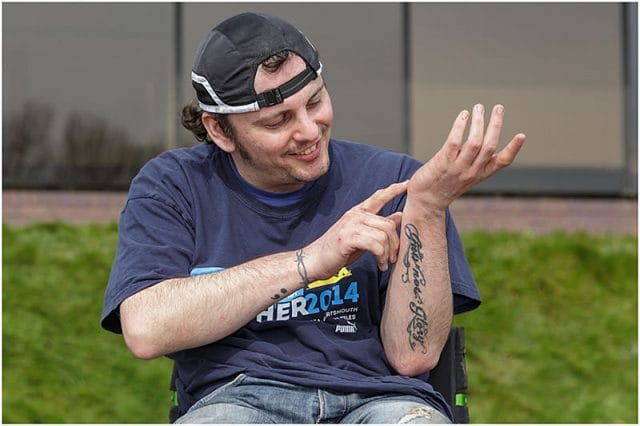 Web Links and References of interest
Tree of hope
Web: http://www.treeofhope.org.uk/
Just Giving
Web: https://www.justgiving.com/Willow24/
Portsmouth News [follow-up article]
Web: Gutsy David completes 24 Hour…

About My Area [article]
Web: About my area editorial

Terry Fox
Web: http://www.terryfox.org/

DDP Yoga
Web: http://ddpyoga.com/
Douglas Stafford
Web:http://www.douglasstafford.com/