It's not over until we win this thing
2.
It's not over until we win this thing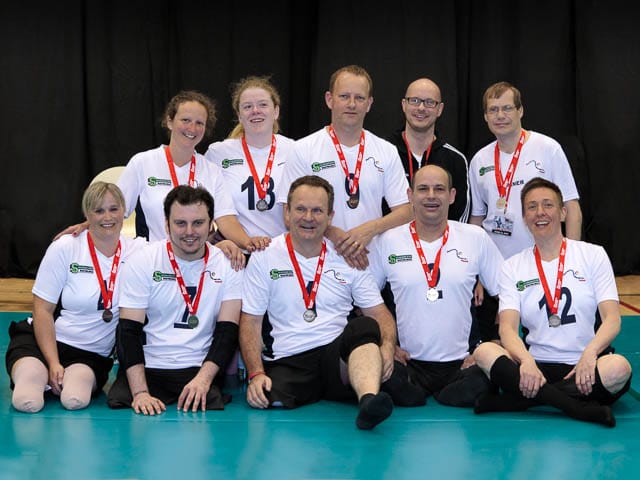 This time next year Rodney …
On Saturday the 14th April, I had the honour of being invited along to the Sitting Volleyball Grand Prix Tier 2 Final in Kettering, to photograph the Portsmouth Sitting Volleyball team playing the Essex Pirates …
Some of you may remember the Weekend Passions entry, from back in May 2010, which featured David Williamson the double amputee player for the Portsmouth Sitting Volleyball Team (PSV). David is now the team captain for Portsmouth and, after a year long slog to qualify for the finals, led his team out into the Kettering arena to battle against old rivals Essex Pirates.
The Pirates, with a full team of able bodied players, would always have the edge over PSV who were playing with a depleted first team. But despite this, PSV hoped that their experience would be just enough on the day. Alas it was not to be. The three nil scoreline is not representative of the games themselves which had plenty of moments of high drama. All round it was a fantastic day with a fully supportive crowd. Although PSV were not successful in claiming the trophy this time around, the team can hold their heads up high for the gutsy plays, and all round team spirit throughout the competition. With well deserved runner up medals, you can bet that they will be back next year with all guns blazing.
Final Score:
Essex Pirates won 3-0 (25-22, 25-17, 25-14)
Here's a link to the official match report via the 'Volleyball England' web site.
http://www.volleyballengland.org/news/article/4365/super-8s-finals-weekend-round
Follow the first link under the Saturday results.
A selection of photographs from the day.
And finally, Charlie Duff being the good sport that he is, agreed to wear a special T-shirt on the day. Don't worry Charlie, they don't hold you responsible (well, not entirely  LOL). Actually congratulations are in order. On Saturday, just gone, Charlie completed his final 'trainers' course. So it's official, the team now have to listen to what he says!