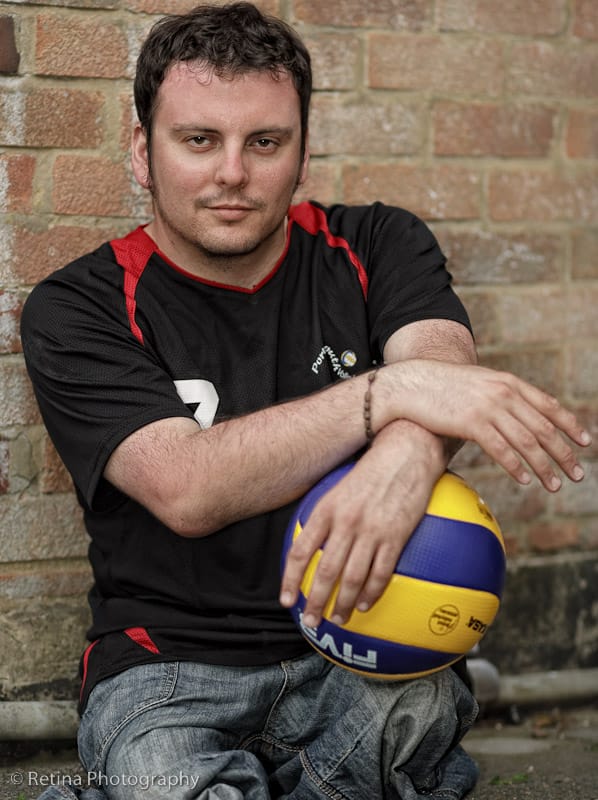 Best foot forward
If you're a double amputee from the age of 9 weeks, it's a fair bet that you're going to come out fighting when life taps you on the shoulder. Born with a congenital bone defect that meant both tibias, the largest bones in the leg, were missing, it's fair to say people have had easier starts in life. However, this is a story which proves endings are far more important than beginnings …Having had to make the unimaginable, heart wrenching decision to have both of David's legs amputated above the knees, his parents were not about to let him wallow in self-pity. From an early age, his mother pushed him hard to focus on his academic studies to compensate for his physical disability. She was determined for him not to be treated any different, in at least this area of his life. This approach paid off, and the first triumph in his short life was to be accepted into a standard, mainstream school in the nearby town of Fareham in Hampshire; Ranvilles.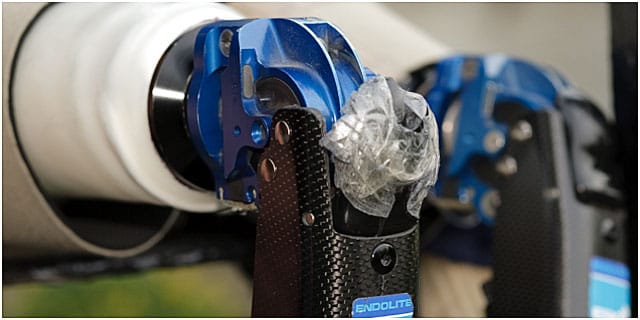 David's attitude has always been one of stubborn defiance, "Don't tell me I can't do something until I can't do it, and then I'll prove to you that I can". As a small boy, having a pair of metal legs never restricted the activities David would attempt, with football, and in particular the goalkeeping position, being his first love. Being this active comes with a price if you happen to have metal limbs. It wasn't uncommon for David's mother to get a phone call at work to say that David had broken his legs! Her seemingly callous response upon receiving the call of, 'OK, thanks, I'll be along when I can', raised a few eyebrows among many of her work colleagues who were not aware of her son's disability. Technology has moved on and, these days, David's legs have now been replaced with Carbon Fibre. No doubt, as further advances are made, these will eventually be replaced with some, as yet, undiscovered material.
Growing up, David's local sports amenities 'Gosport & District Sports Association for the Disabled' (GADSAD – not the greatest of acronyms) provided the outlet for his frustrations. But in 1990, David's parents divorced. David and his mother moved north to Chesterfield. David's sisters, seven and nine years older, had already left the family home for work or to attend University so, once again, it was David and his mum against the world. Although facing yet more trials – a new school, a new town and new culture ("stares, glares and stairs" as David coined the phrase) David continued to achieve, both in the classroom and, in particular, in sport, actually becoming the goalkeeper for his school's football team. It was another 5 years before David would venture south again to go on to further education.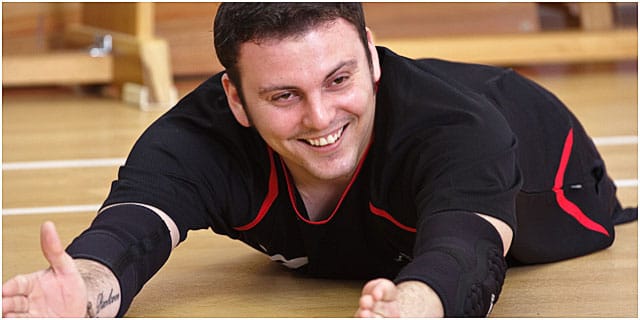 Going to Southampton University in 1998 was a big step. Taking an HND business course was, as it turns out, not the best fit for David's personality. While trying to come to terms with his disability and finding his place in the world, David had a few troubled years trying to find his way. Coming out the other side of a period of depression, he realised that he had been missing out on the one thing that gave him a true feeling of belonging – sport. The adrenaline rush of competing and stretching himself physically was what made him feel really alive.
In November of last year, St Mary's Hospital or, more specifically, the Disablement Services Centre, which had supported David from the outset, published an article in its 'Moving Forward' magazine', highlighting the '2009 Amputee Games'. It gave details of a demonstration of sitting volleyball) and the recently set-up 'Portsmouth Sitting Volleyball Club', affiliated with Portsmouth Volleyball, which had received a huge amount of help from Volleyball England in setting up the club. After seeing the article, David contacted the author, the chairman of the club Steve Bailey, about getting involved. From the first moment on court, he knew that he had found the missing part of the puzzle. Not only did he have the potential to be the equal of everyone around him, but it just felt like a natural fit. The added bonus was David discovered some previously untapped skill that, in part, had first shown itself back in the days of being a goalkeeper whilst at school.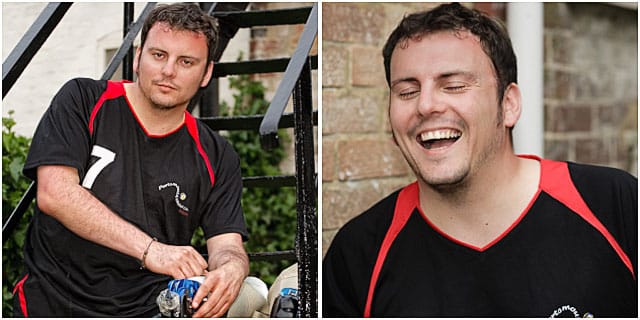 It would seem that this was perfect timing. The team was about to take part in a 4-a-side tournament in Kettering and, in true fairy tale fashion, David was invited to join them. Even better than that, they actually won! This was a real shock for all concerned and it didn't go unnoticed by the Great Britain scouts who were in attendance at the time. But more of that later. Following this, the team entered the national Grand Prix series set up by Volleyball England. There were ten teams in Britain and PSVC fought through to finish with a league standing of 4th overall. This meant that they had now qualified for the National Finals at Crystal Palace.
At the National Sports Centre in Crystal Palace, they were drawn against the Celtic Dragons, who finished first in the series. Portsmouth played better than they ever had before; better than even they thought they could, and went down fighting, 28-26, 25-19. Beaten, perhaps, but its one heck of an achievement to go from complete beginners to 4th best in the country in only six months. "The team is everything", says David. "The people there are some of my closest friends; the kind of friendships you only get from working together towards the same goal, sharing every experience, every triumph, every tragedy, every moment. And when I captain the team, I'm so very proud. I take that responsibility very seriously."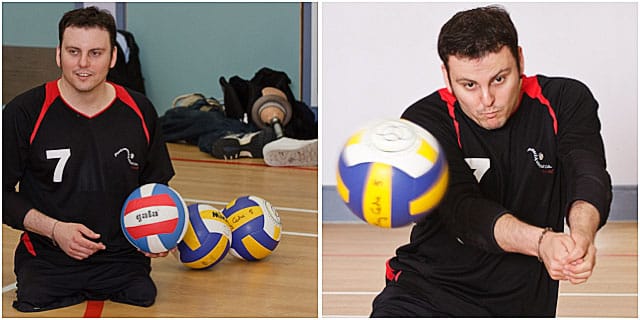 David's potential has been recognised by the GB talent scouts and he has been invited to attend a selection meeting for the International and European season. This means that, should he be successful, there is the possibility of representing England in the 2012 Olympics. So, for now, it's the hard slog of fitting in training with the day job. Five thirty A.M. starts to fit in two hours of training before trekking off to work, then another round in the evening, limits an athlete's social life. David knows what's required to become one of the sporting elite of our country and is determined to reach that goal. He has already given up attendance at a local drama club, an OU degree and other activities, to concentrate on his training, and is not a stranger to fighting for what he wants.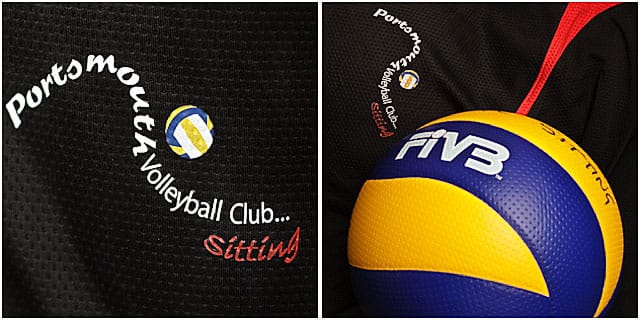 http://www.volleyballengland.org/Sitting_Volleyball/Information.php
http://www.portsmouthvolleyballclub.co.uk/homepage.aspx