Cheerleading, probably not what you thought it was
1.
Cheerleading, probably not what you thought it was
Ellie, as she prefers to be called, set her goal in life at the tender age of seven. By seventeen she had ticked it off the list. Her next goal is to challenge the view of cheerleading stereotypes.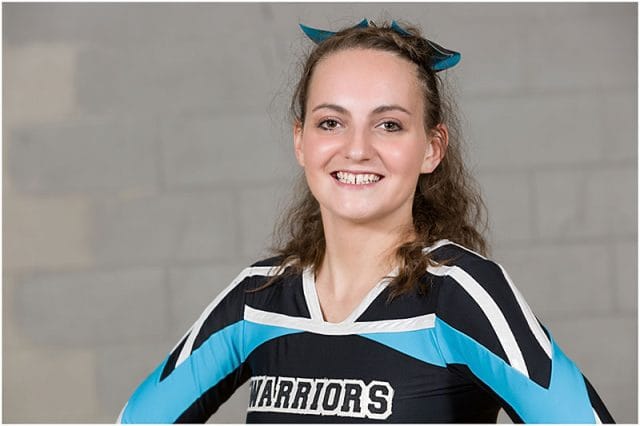 Can you tell us where you're from?
I grew up in south London, near Croydon. I moved to Portsmouth in 2006 to attend University to study English literature with psychology.
And you now work here in Portsmouth?
Yes, I'm a higher level teaching assistant, at a Resourced Provision.

Was this the career you were aiming for when you finished University?
No, this has been a recent career change actually. Prior to this job, I was children's program coordinator for YMCA Portsmouth for ten years, and I decided that I wanted to do something different. I knew that I wanted to do something academic, so I decided to take on this role.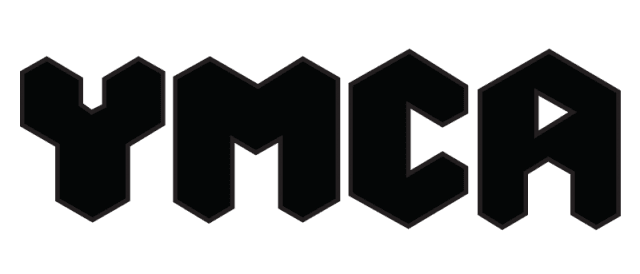 How is higher level different to a normal teaching assistant?
Our unit provides specialised teaching and learning, for pupils who need extra support in terms of their behavioural and emotional needs.
The children could suffer from ADHD or Autism for example, where they are on the right educational level for their age, but their emotional and social skills have created some problems. One of the biggest challenges for them is a change in routine, so if a teacher is on holiday, or off sick, it can be very disconcerting. As a higher level teaching assistant, I'm qualified to step in and take the class, and because I've been part of the everyday classroom activities, it keeps the disruption to a minimum.
Do you have to mark homework etc?
That's the best part about it. I follow the lesson plan set out by the normal teacher and I don't have to mark anything. So I get the best of both worlds. The challenge and enjoyment of teaching, without all the paperwork [laughs].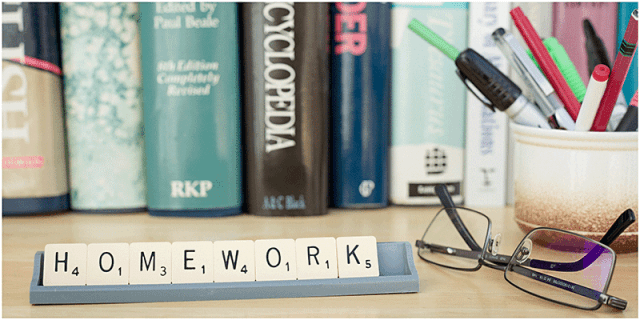 How many children are there in a class?
We can take up to seven, but we have four at the moment.
Background
Were you into sport when you were at University?
Not really, not until I found Cheerleading. As a child, I had asthma and was quite clumsy. Sport wasn't something that came naturally to me. My mum put me in gymnastics classes when I was young, to try to improve my coordination. I was always tripping over my feet [Laughs].

Did it help?
To a certain extent.
How did you get involved in cheerleading?
It started with gymnastics, then one day I went to a football match with my dad, which had a cheerleading team, 'The Palace Crystals'. They were amazing and became my absolute heroes. I thought they were so cool and I knew from that moment that my lifelong dream was to be one of them.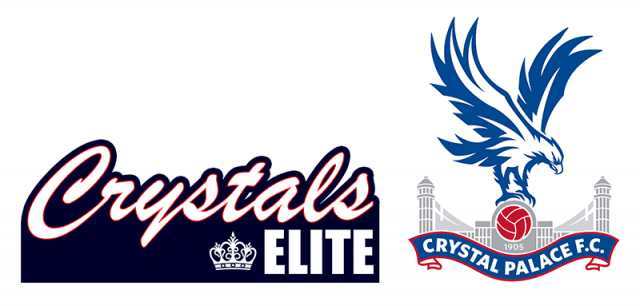 They obviously made quite an impact on you.
I was only seven, quite young for a lifelong dream [laughs], but I was hooked from that first encounter.
What was the attraction?
It was the mixture of gymnastics and stunting that blew me away.
Can you explain what stunting is?
Stunting is when you use your body's power to lift somebody else up into the air. That can be from simple, low-level lifting, through to somersaults, and everything in-between.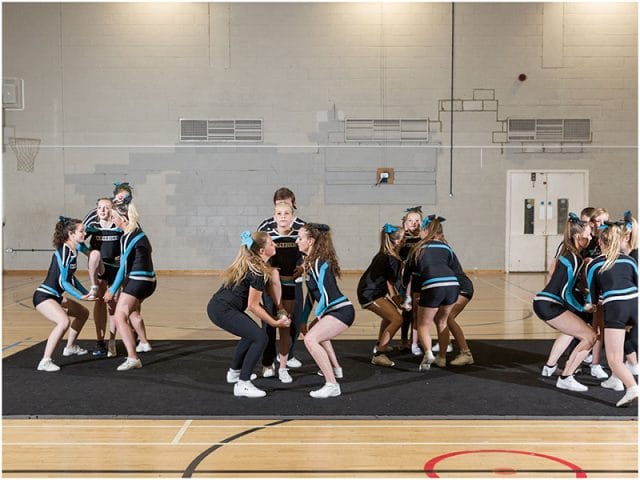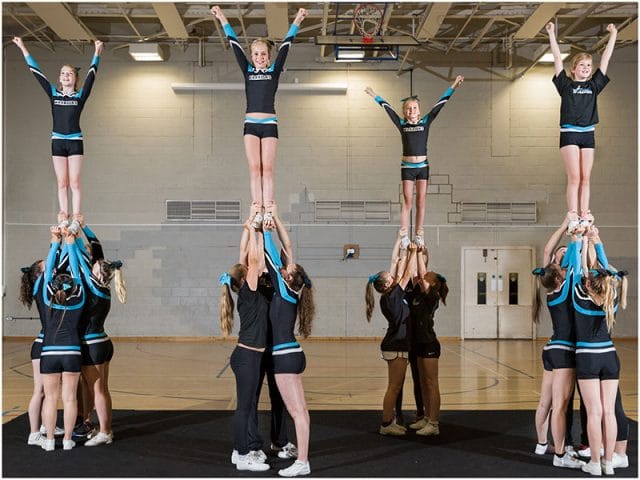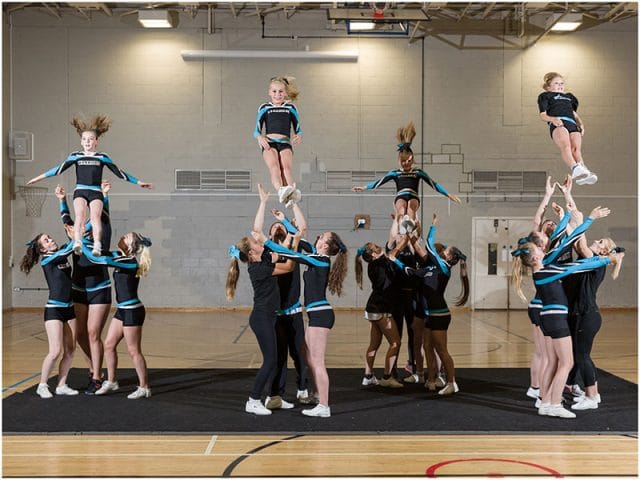 Did you go looking for a team or club to join?
Not then, but I carried on with my gymnastics, and eventually joined a non-competing squad in south Croydon when I was fourteen. Then, ten years after that first encounter, when I was seventeen, I had the opportunity to try out for the Crystals and was lucky enough to be successful.
That's quite an achievement, ticking off a lifelong goal so quickly.
I know, mad isn't it [laughs]
You were accepted into the Palace Crystals at your first attempt
Yep, I was so happy, I think I cried when they said yes. It sounds ridiculous, but it genuinely was a lifetime dream of mine to be a Crystal. I was only seventeen, but that's all I'd wanted from the very first time that I saw them.
How long have the Palace Crystals been going?
They were one of the first cheerleading squads in the UK and have been around over thirty years. Unfortunately, they no longer perform at Crystal Palace.
Are they still performing?
They've had a couple of name changes since they started out in 1993. They were originally called The Carshalton Cheerleaders. When I saw them they were the Palace Crystals, performing as part of the Crystal Palace Football Club. Since then, the Elite Team has evolved into Crystals Intensity and are now focused mainly on competitions.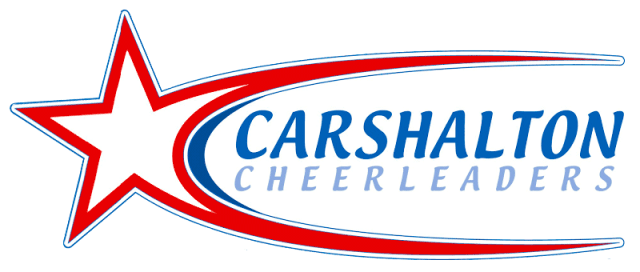 As far as I understand it, not all squads enter competitions?
That's right, some only give displays and only perform for the fun of it, without the pressure of entering competitions.
How popular is cheerleading in the UK?
There are tens of thousands of cheerleaders across the UK. It's one of those things that you don't realise how big it is until you get into that world, so to speak. It's everywhere, absolutely huge [laughs].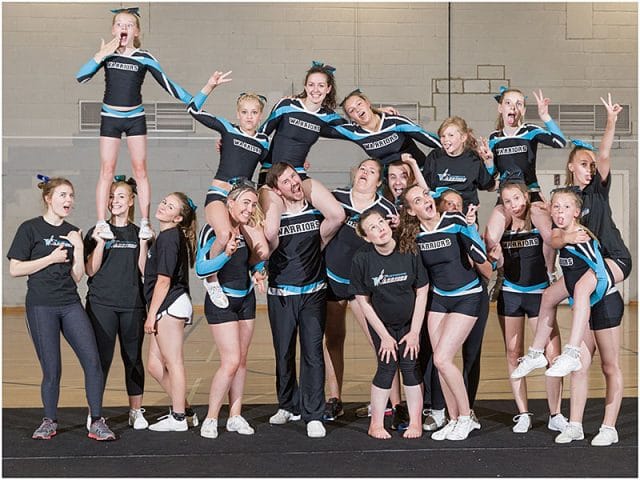 I guess people, who don't know otherwise, assume that cheerleading only happens in the USA?
That's where it all started in the late 1970's and early 80's. But it's been in the UK for about thirty years now and it's the fastest growing sport in the UK.
REF:
Cheerleading in the UK has grown exponentially in the last 20 years. The last decade has seen it separate itself from the traditional stereotypes of pure entertainment, into a physically and mentally challenging sport. Following on from American trends, the hybrid sport of today is a combination of gymnastics, acrobatics and athletic dance. There are approximately 50,000 cheerleaders in the UK today and the sport is increasingly popular in schools and universities.
So it is recognised as a sport now?
Not according to Sport England, yet. SportCheerGB, the UK cheerleading governing body for the athletic discipline, puts forward for it to be recognised as a sport every year. We're waiting for that to happen, but we're not quite there at the moment. Although, because we're not recognised as a sport yet, SportCheerGB is not technically a governing body. But even in America, it's not considered to be a sport.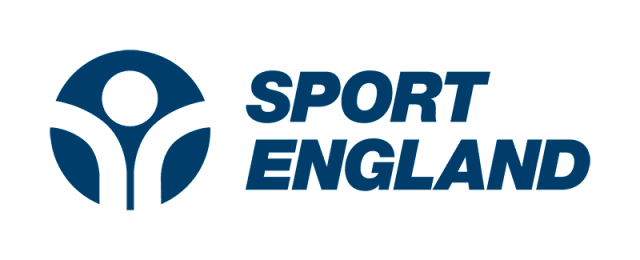 In my opinion, If dance and gymnastics are considered sports, then something that combines the two should be as well. As you can imagine, it's quite a touchy subject for us!

Are all squads associated with sports teams, like the Palace Crystals?
No. In fact, most aren't because cheerleading, although not officially recognised yet, is considered to be a sport in and of itself.
I guess we ought to talk about the two different disciplines of cheerleading.
When cheerleading started in the USA, the main purpose was to get the crowds at football games involved. If they were shouting and enthusiastic, that energy was felt by the teams on the field and it helped to get them all fired up. So they went one of two ways to attract attention. The first way was to create groups of dancers, with huge brightly coloured pompoms, to get the attention of the audience. The second way was to raise the cheerleaders up to the eye level of the audience by performing acrobatics or stunts, as they came be called.

And that's when the competitions started?
Yes. As the second group progressed, getting better and better, with higher and more difficult stunts, they started to compete against each other. So now we have the two branches of cheerleading. The pom dancers, which are mainly seen at NFL [national football league] games, and competitive cheerleading. In America, it's a huge business of course. It's not uncommon to get scholarships to sports colleges for cheerleading. They can become world-famous and often make entire careers out of it.
What's the difference between Varsity and All Stars?
Varsity just means associated with a school, high school or college, whereas All Stars are the best people in a local area. Some people travel for miles to join the best All-Star teams in America. It can be such a big opportunity for them. With the prospect of a full-time career, athletes will come from Canada, South America, absolutely everywhere, and move their whole family just to be on those teams. In the UK, the idea of Varsity is not so big. We do have school teams and school specific competitions, so it is growing. The schools are realising that it's a good way to get young people involved in a sporting activity.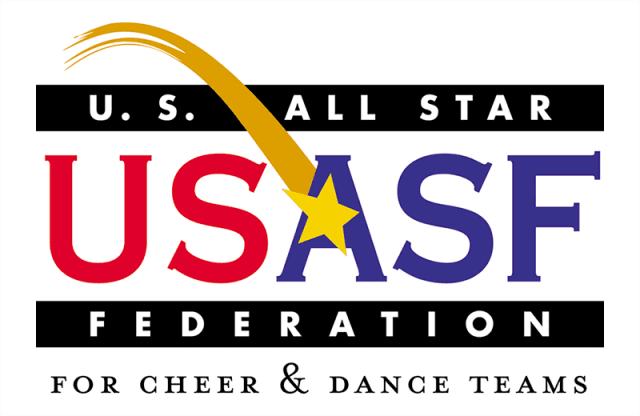 Is that the official name for the other branch, 'Pom Dancers'?
That's what we [competitive cheerleaders] refer to it as, just to differentiate us. But most people, who don't know otherwise, will think of the Pom dancers as cheerleaders, which makes it difficult for us. There is no official name.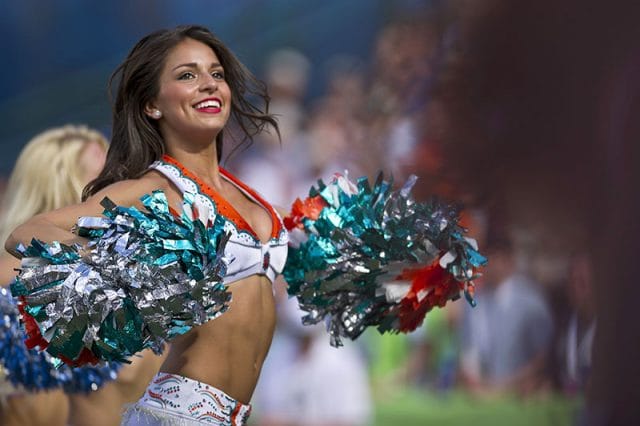 Is there any rivalry between the two sections?
No, It's just that we're involved in a different branch of cheerleading. Lots of people are actively involved in both branches. Within the cheerleading community, both branches recognise that we all work really hard, in what is quite a difficult discipline; it's a shame that the general public sees us as all being the same. It's just the way that the sport has evolved, but we would never insult the legacy of the people who paved the way for us to be able to do what we do.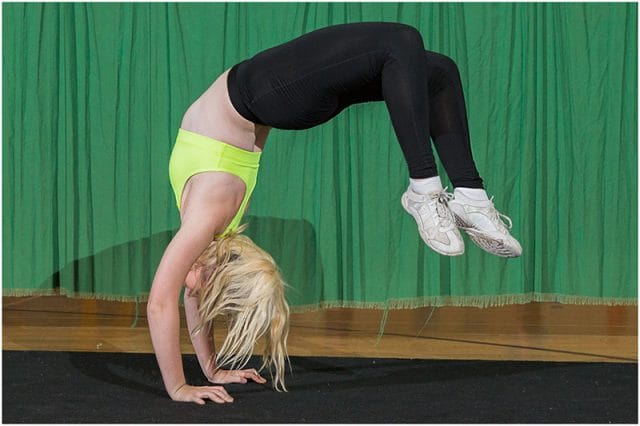 I was surprised to learn about the number of male cheerleaders that there are.
If you imagine a sport where going higher, faster and better is considered good, you can see that would attract a lot of boys, who quite naturally like to throw things high and show off [laughs]. Most of the world champion teams are co-ed [The squad is mixed gender].
A lot of boys, quite naturally, like to throw things high and show off.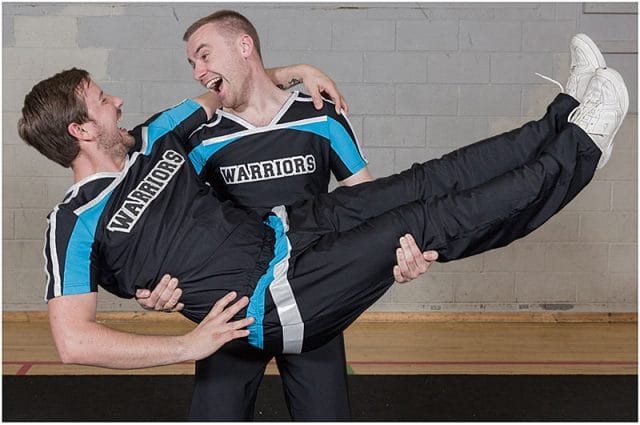 And Palace Crystals were doing all these stunts when you saw them?
Yeah, that's what made my jaw drop. With my background in gymnastics and a little bit of trampolining, it seemed like the obvious direction that I should be going.
You said earlier that you had the opportunity to 'try out' for the Crystals, what did you have to do?
It's basically a chance to show your skills. All tryouts are run differently, but in general, they will ask to see some dance, jumps, motions and some gymnastics as well.


Motions?
Motions are cheerleading-specific. Everything in cheerleading is very precise and controlled. Because it's seen from some considerable distance, to get the greatest  effect, the choreography and movements have to be exactly on point and obvious. That's what we call motions.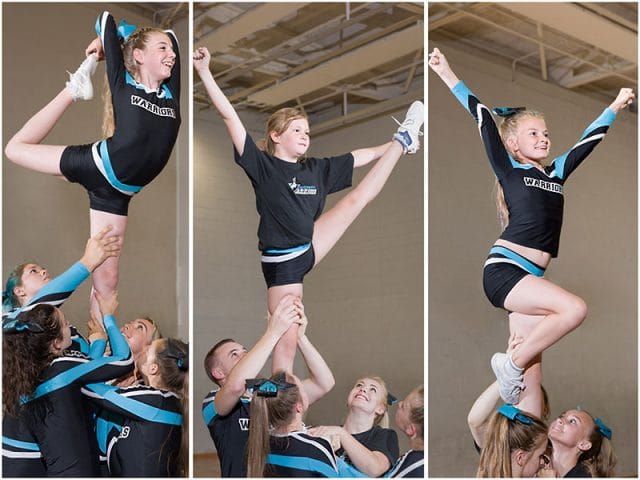 No room for subtlety at a distance.
No improvisation or interpretation either, everyone follows the same script all the time. That's the appeal to a lot of people. If they sort of like dance but find it a bit difficult to interpret, cheerleading can be a good fit, as you are told exactly what to do, and that can be liberating in an odd sort of way.
I assume that the squads travel around?
When I joined the Crystals it was in January, and the previous December they'd performed in Las Vegas!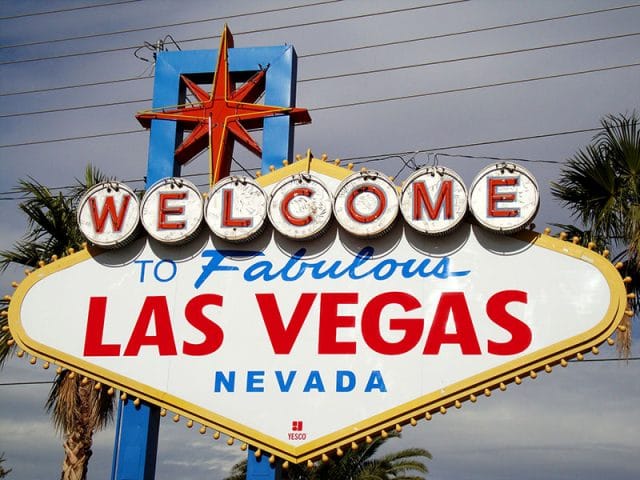 Oh no!
Yeah, I was incredibly disappointed to have missed that [laughs]. But during my time with them, we went all over the UK. Not quite as glamorous, but great fun of course.
When was this?
That was when I was seventeen to eighteen, so 2005 / 2006. I competed for the whole of that season, two national competitions, along with a handful of local ones.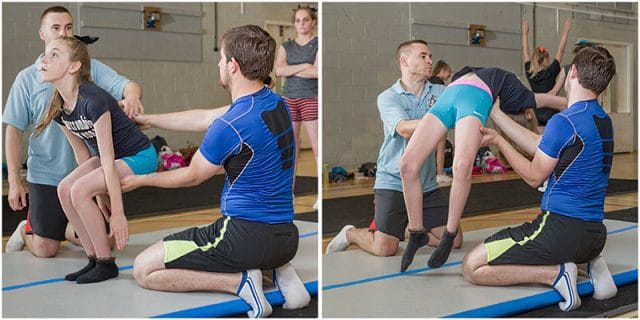 Are you able to learn the routines on your own or …?
It's very much a team sport, so we all train together for the stunting. We have to know how the rest of the squad is moving. If one person is out of time, the whole routine can break down. When I was in the Crystals, we had our competition routines for the whole season. 2.5 minutes of a combination of gymnastics, dance, jumps and stunting. Then we had an extra twenty to thirty dances that we performed on the sidelines for the home games. I could practice those at home, before getting together with the rest of the squad.

How many are in a squad, on average?
If you take the Palace Crystals as an example, they were made up of a senior squad, junior squad and different teams within each squad. Each team is based on age and ability and there are up to 32 members in any team.
The Portsmouth Warriors
Which brings us on to The Portsmouth Warriors. What's your official name?
The Portsmouth Warriors Cheerleading Squad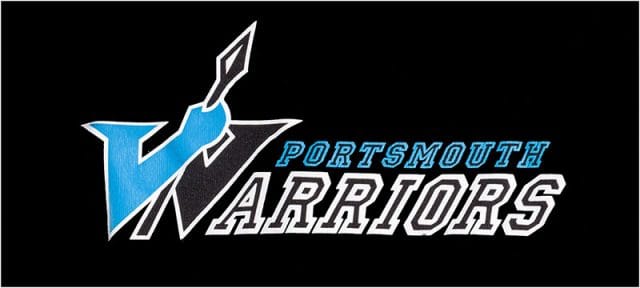 How long have you been part of that?
I started the squad in 2010.
Was it your idea?
Yes, but I had people helping me out in the beginning.
It always your intention to be a competitive squad?
Yes.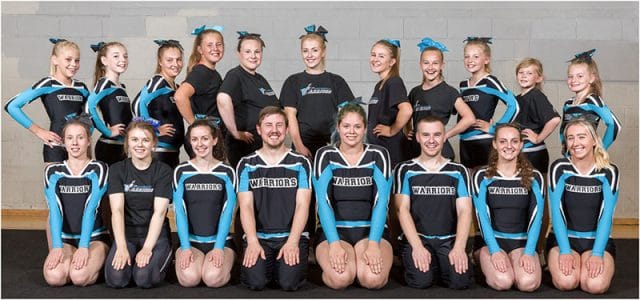 Do you prefer competition rather than just display?
Definitely, there's nothing like the adrenaline rush of a competition [laughs]
There's nothing like the adrenaline rush of a competition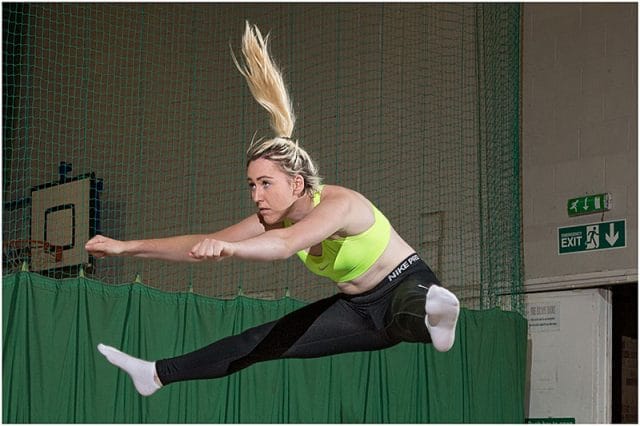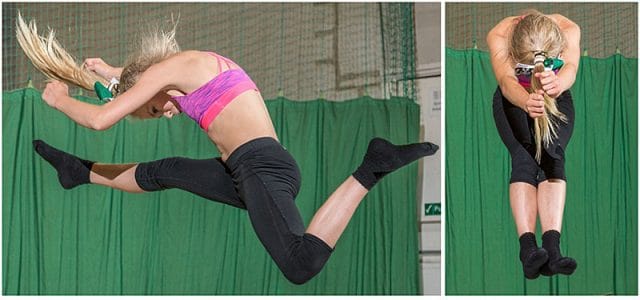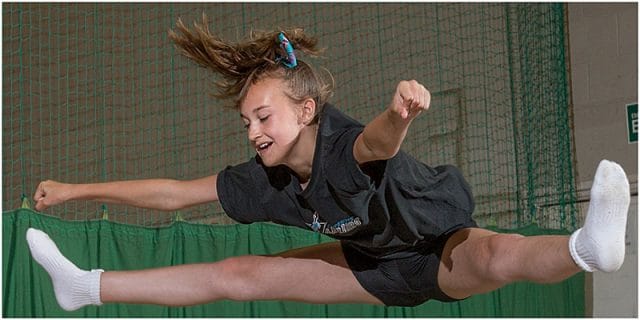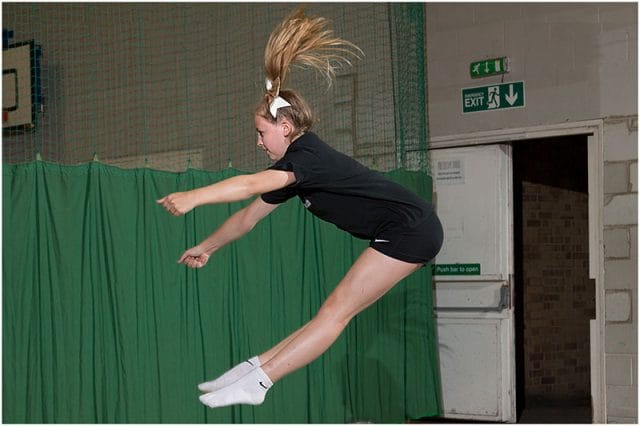 How are the Warriors made up?
The Warriors now are bigger than we ever have been the squad has four teams.
The Valkyries, our seniors [20 members]
The Spartans; Junior level 1 [15 members]
The Mini's who are a recreational, non-competitive, display team [15 members]
and another Display team for recreational beginners [10 members].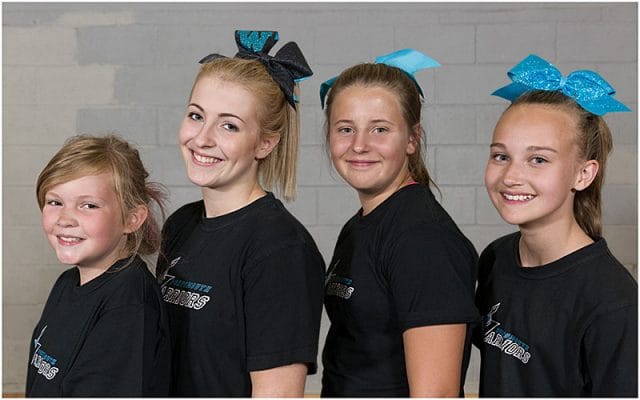 Recreational is non-competing?
Yes, for either people who don't have the time to commit to competing, or who just want to give it a go and have some fun.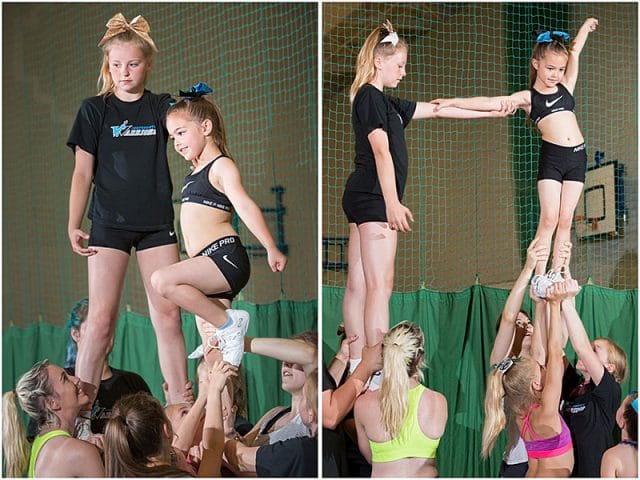 And the club has grown organically?
Just through word of mouth, no advertising.
Are you always on the lookout for new members?
Yes. We have two 'open' classes where people, no matter what their ages or level of fitness, are free to come along and give cheerleading a try.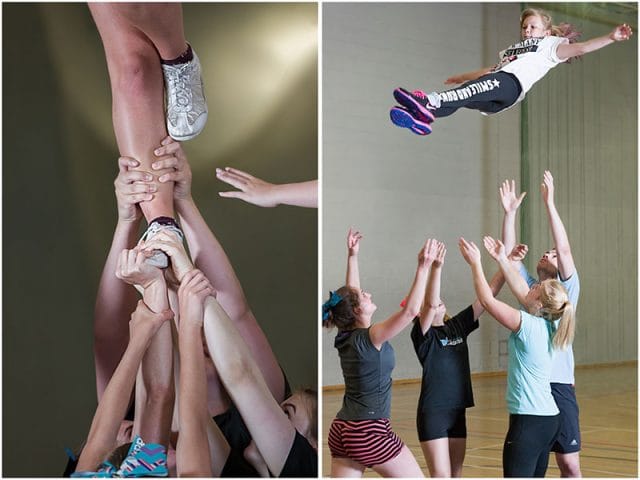 Is there any upper and lower age limit for taking part?
I'm open to anyone, of any age giving it a try. The only limitation is your own body!
My youngest Warriors member at the moment is three years old, and my oldest is a gentleman who is thirty-three.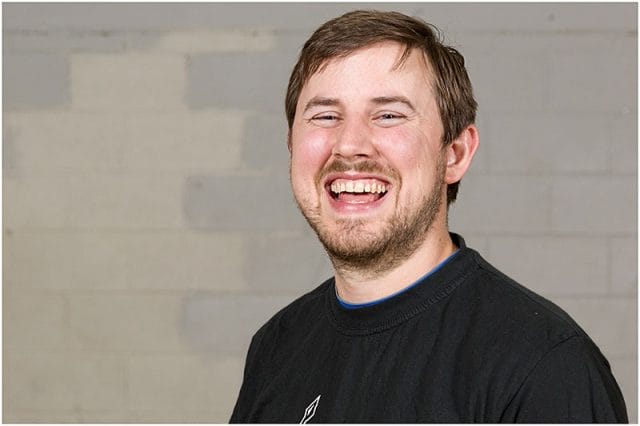 What's the split between male and female members; is it fairly even?
I would say that in the UK in general, it's probably about 25% male, 75% female. In the Warriors, we've only got four or five boys to about fifty girls at the moment. It sort of depends on what age you are. When I was at University, and the adult sports that I was in after Uni, there were a lot more men.
At what age are you considered to be an adult cheerleader?
I would say anytime after University, but there is a division called 'open' where all members have to be eighteen years or older. In the Warriors, our oldest team is the seniors, that means that we have a least one member who is over sixteen.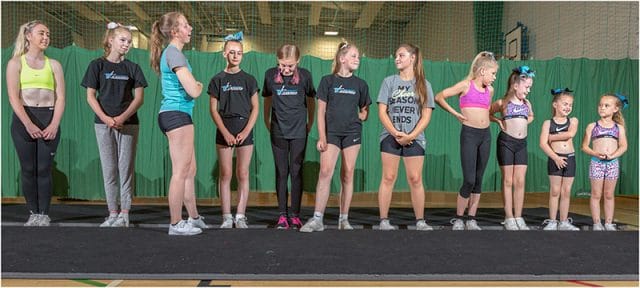 NEXT TIME: Training, competitions, the big rule book and more. Watch this space.
Web Links and References of interest
Portsmouth Warriors Cheerleading Squad
Web: 
Facebook: https://www.facebook.com/PortsmouthWarriorsCheerleadingSquad/
Twitter: https://twitter.com/portwarriors
UK's original Cheerleading event provider
Web: http://www.cheerleading.org.uk/
SportCheerGB, the Governing Body for the sport of cheerleading in the United Kingdom.
Web: http://scgb.org.uk/
The United States All Star Federation
Web: http://www.usasf.net/
European Cheerleading Championships
Web: http://eurocheer2016.com/
International Cheer Union
Web: http://cheerunion.org/home/