The nuts and bolts of Meccano – part 3
3.
The nuts and bolts of Meccano – part 3
In the penultimate part of Peter's story, we hear about the extremes in the size of his models, how he has been featured in the national press and the multiple Meccano clubs that he belongs to around the UK.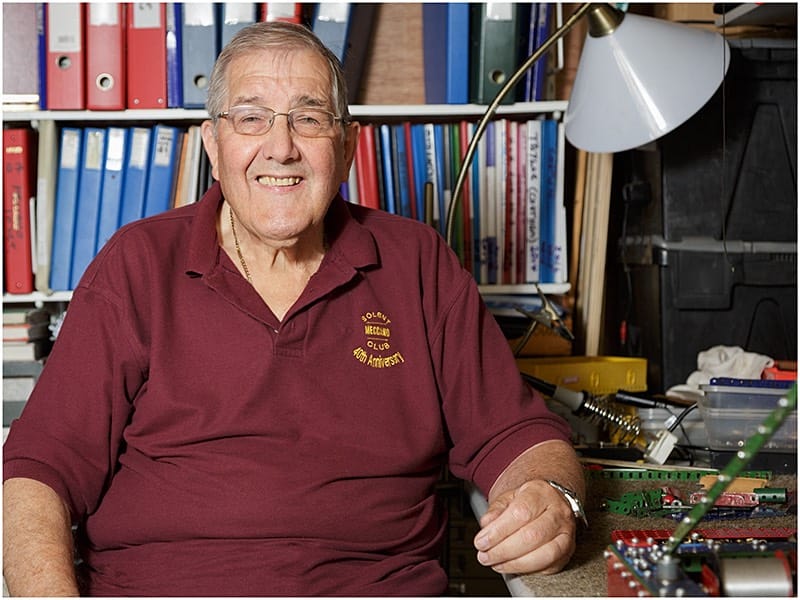 SHORT TERM
How long do your models stay built?
When I went back into Meccano after leaving the Army, and ditching model railways, I was building, on my own, from plans. I've got reference plans that go back donkey's years. As soon as a model was completed and I got it working, it came apart and I would start the next one. I usually keep them for about a year now. After they've traveled around clubs and shows for a while, bits start dropping off and stuff [laughs]. Some people never take a model apart, but for me, as I said before, it's all about the act of building.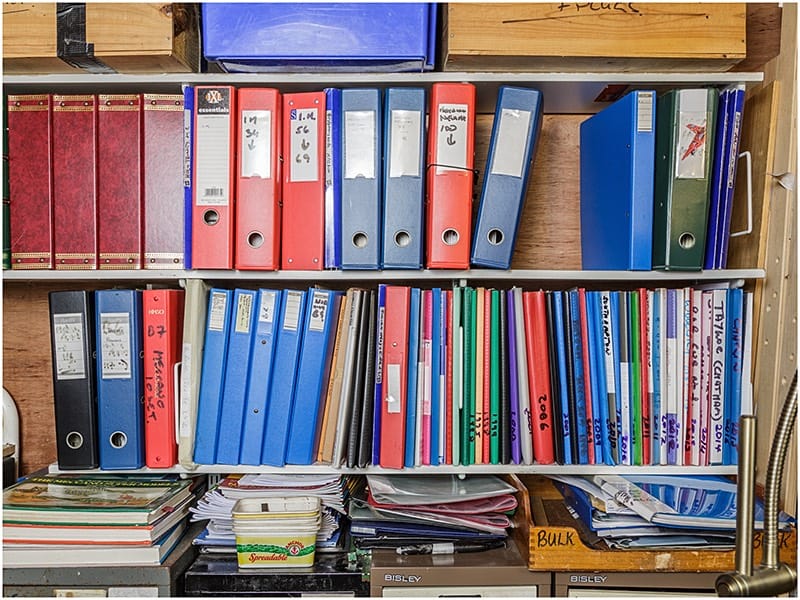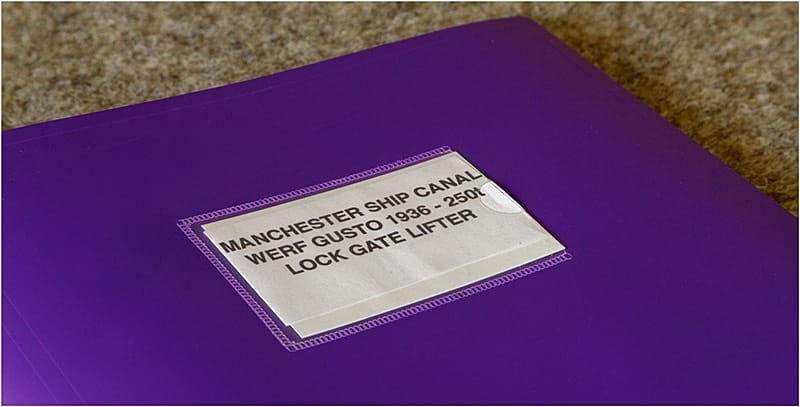 When did you start doing 'faithful' scale models?
I went down to Henley-on-Thames one time, I think it was about 1988, where they had a Meccano shop. Anyway, the shop owner, Geoff Wright, who had links with Meccano up in Liverpool before they went bust, used to hire the town hall to put on big Meccano meetings. These were held the weekend after the August Bank Holiday, and people from all over the country would attend. He'd open his shop and make a few bob, and all the enthusiasts got to meet each other and see the different models. I met someone at one of these meetings who encouraged me to join the Greenford Meccano Society.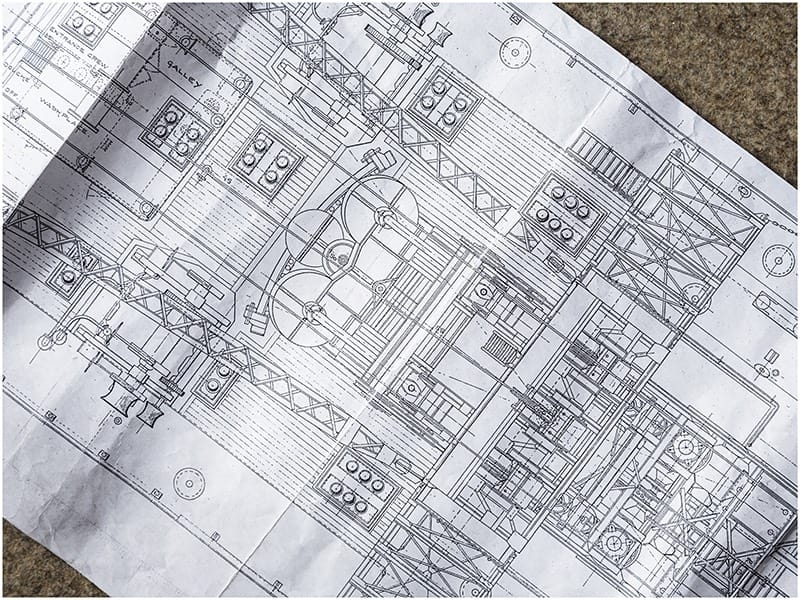 Is that the West London Meccano Society?
Yes the WLMS. The first time that I went along, I took a block setting crane model with me. Somebody said, 'why don't you build a scale one, I'll give you some plans'? So he lent me some plans and I went away and built a model. But I didn't build the proper machinery house, I used a Meccano one. When I returned to show it off, I was giving a right dressing down about it. So, from that point on, I started to build them, as near as I could, all according to the plans. He would photograph them, and I got to build one or two a year. They are quite large.
SIZE IS EVERYTHING
What's the largest model that you've built?
Probably the Fives Lille block setter that went to Port Leixõe in Portugal, that was 12 foot long.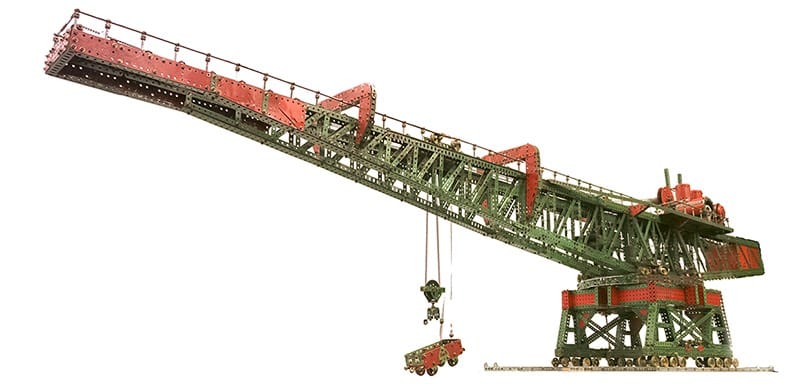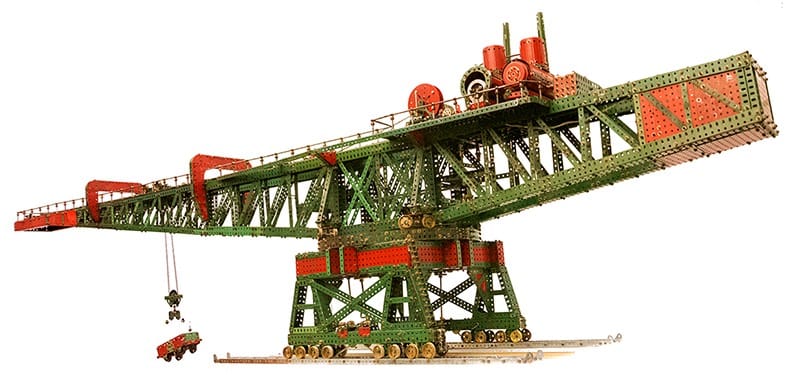 … and the smallest?
That's the Miniature Block Setter, made to fit into a 'Hand'.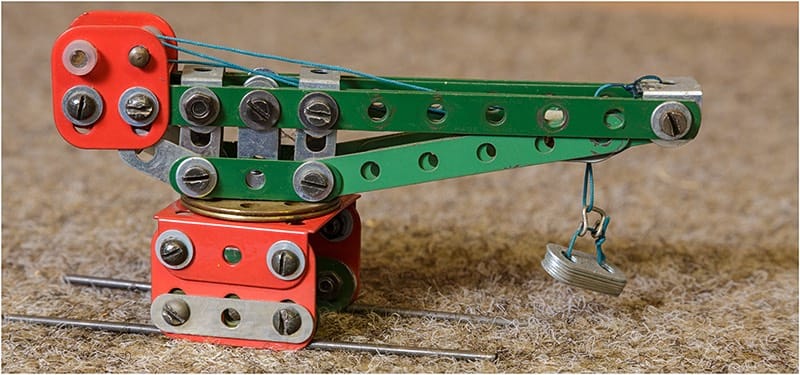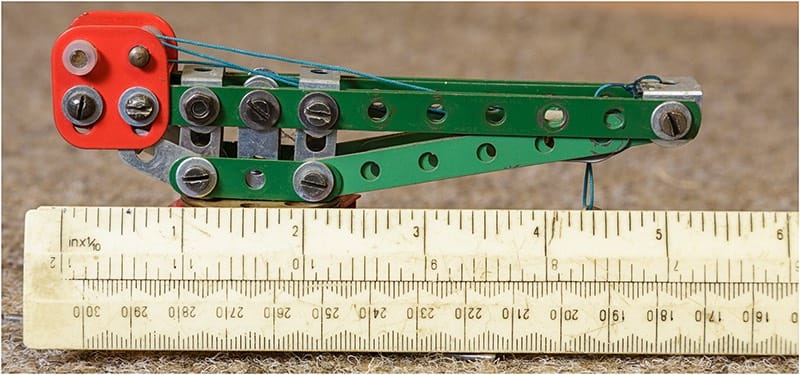 REF: Meccano's largest model
In the May 1929, Meccano Limited published the plans for Super Model Number 4 (SML4) in the Meccano Magazine. So began the history of what was described at the time as the "Largest Meccano Model". It has been exceeded in size many times since then, but there was something about it, that captured the imagination of generations of Meccanomen. It has become one of the great models that many enthusiasts have or intend to build.
CLUB LIFE
You mentioned that you belong to a handful of Meccano clubs?
The West London Meccano Society [WLMS] was the first one that I joined. After two years, I joined the committee and then became the secretary from 1991 until 2006, when I was going to retire from Westminster School. I must admit that working at Westminster school had its benefits. I had access to facilities that enabled me to print the club newsletter. The Bursar said I could have the students' rates, which, at the time, was 4 pence for an A3 size colour sheet, double-sided.
Wow! that's one heck of a discount, even for that time.
Yeah, the editor would send me the CD and I would go into my office early, about 5:30 in the morning, and set the copier going. If I got it done by about 7:30, I was alright [laughs]. It would come out printed and bound, and I would have used about a ream of A3 paper [A modern-day ream of paper is 500 sheets of the same size]. Because I was in charge of buying all that sort of stuff as part of my job, I would barter with the suppliers for discounted rates anyway.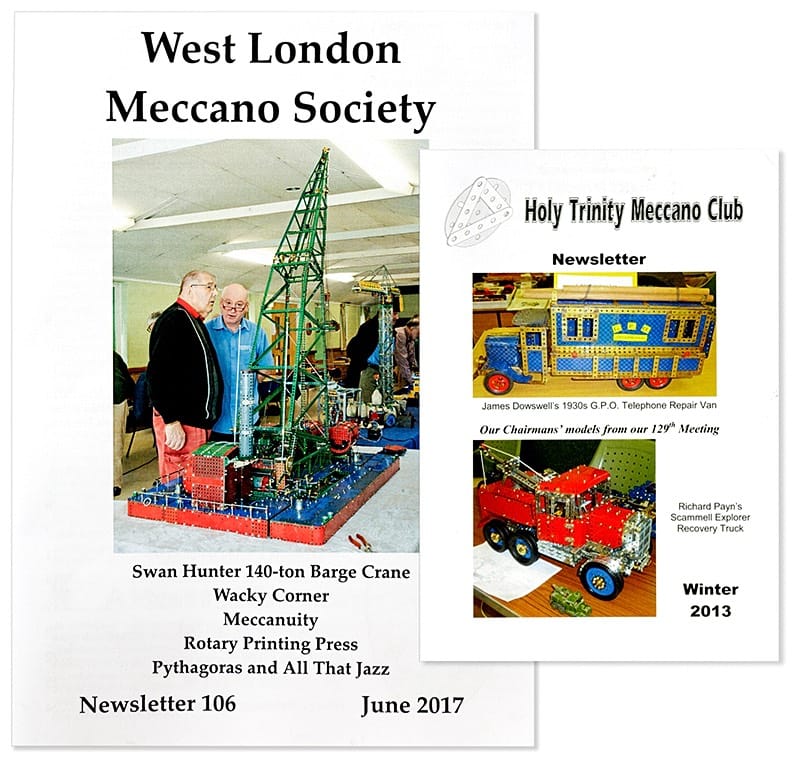 You're still a member of the WLMS?
Yes, but I had to stop doing the newsletter because I no longer had access to the printing facilities. I've acquired the job of Secretary back again somehow [laughs], and I still set up and break down the seating and tables for the meetings, which I've kept on doing. Oh, and I also do the catering!
Not doing that much then [laughs]?
[Laughs] Before I retired I joined the Runnymede Guild, which was founded about the same time as the WLMS. I joined the International Meccano Club, and when I actually retired, I joined the North Midlands, because that's where the Skegness show is held. When I moved down south, I also joined the Solent Meccano Club. After a year, the secretary of the Solent Club moved up north, so I took over that role, which is really the Chairman, Secretary and Treasurer all rolled into one, but I don't do the newsletter for that. And, finally, somebody got me to join the Holy Trinity, which is one of the oldest Meccano clubs in the UK.
How many members are there in the Solent Club, roughly?
Sixty-three, but that includes some wives who help out on meeting days.
What actually happens at a club meeting?
It's really a chance to show off what we've been building, discuss problems that we might have had, and swap ideas. We organise auctions to sell Meccano, and we might have a competition.
What sort of competitions are they?
It's usually to a set challenge. It might be to build models that can climb a wall or a rope or something. The last one was to kick a ball into a net with another model, to defend against it [laughs]. Just a bit of fun and tests the ingenuity of the members.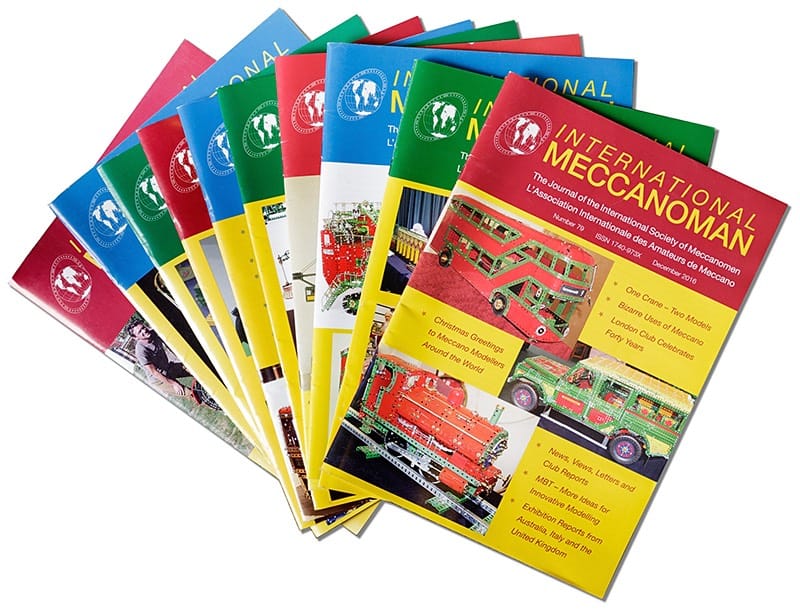 I suppose it's a support network as well?
The friendliness of the Solent Club never ceases to amaze me. If you happen to mention that you're missing a particular part, it will suddenly appear through the post, or be handed to you. It could be a loan or a gift, but either way, it's a fantastic attitude to have.
How much does it cost to join the Solent Club?
Actually, that's one of the biggest benefits of the club. There are no subscription fees because all communications are via email, and the meetings are held at club members houses, so we have no overheads that need to be covered.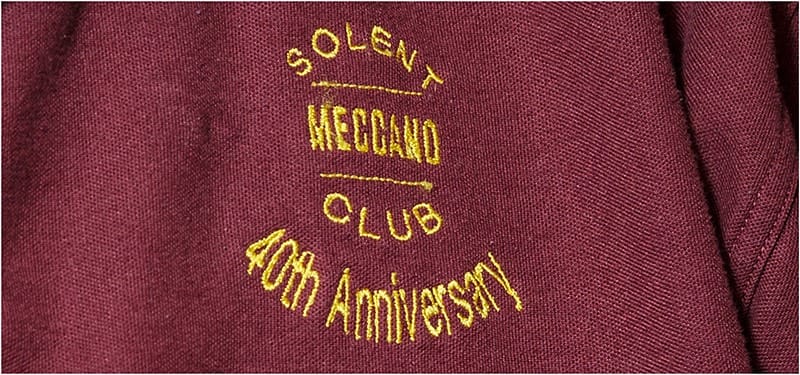 How old is your youngest member?
We have had members at six, seven and eight years old, but when they get to 12 and 13, electronic things tend to take higher priority. We encourage them as much as we can, and the clubs give public demonstrations and displays to raise awareness. In general, most of our members are late middle-age or retired.
How about the oldest member?
I'm not sure, but we do have a member of the Solent Club, Terry Bullingham, who is totally blind. He's an ex-Royal Naval helicopter engineer, [??] who lost both his eyes during active service in the Falklands war. Terry is totally self-sufficient and, not only that, he makes his own Meccano pieces.
Good grief – how is that possible?
He is brilliant; a lovely guy. Totally blind, but still builds with Meccano, among other things of course. Terry built a block setting crane, and I sent a picture to my researcher. He took one look and said, 'what sort of crane is that?' I said 'it's a blind man's vision of a block setting crane. The builder has been blind for twenty-odd years. He felt one of my models years ago, and this is what he produced as a result'. The researcher changed his tune immediately.
it's a blind man's vision of a block setting crane
I bet he did.
To be able to turn or machine individual parts is a challenge in itself, but putting it all together into a model, from touch alone, is amazing. Apparently, he went to a dealer one time and asked for 100 hex head, black bolts. The dealer gave him chrome ones, but Terry could tell the difference and refused to accept them.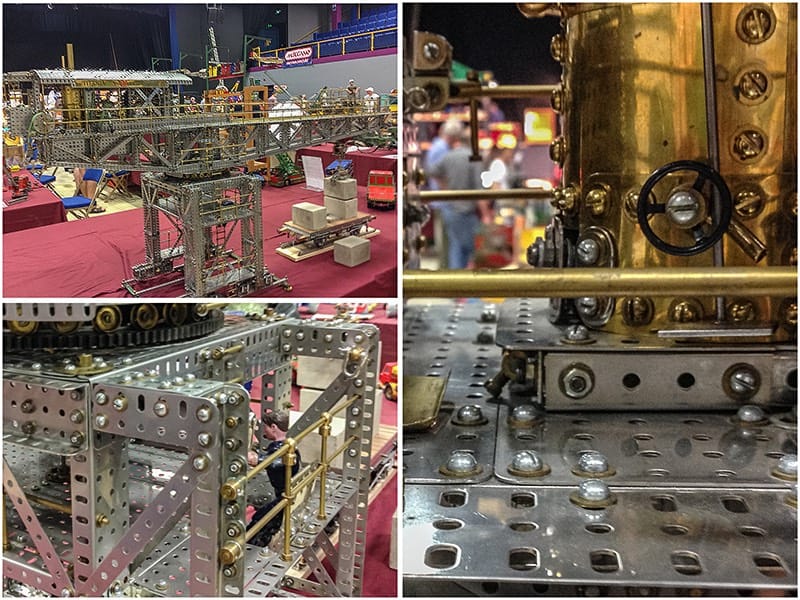 PUBLISH AND BE DAMNED
Meccano is still extremely popular, even after all this time?
2001 was the anniversary of 100 years of Meccano. The first model that the creator of Meccano, Frank Hornby, built was a crane. Which is probably why so many have been built over the years. Anyway, I had about six block-setting cranes in my spare room, much to my wife's total disgust, with the promise that, after the big exhibition in 2001, I would take them apart. The chairman of WLMS decided that, since I had built such a variety of block-setting cranes, we should publish a small pamphlet about them. It was to be called 'Everything – About Peter Goddard's Blocksetting Cranes'.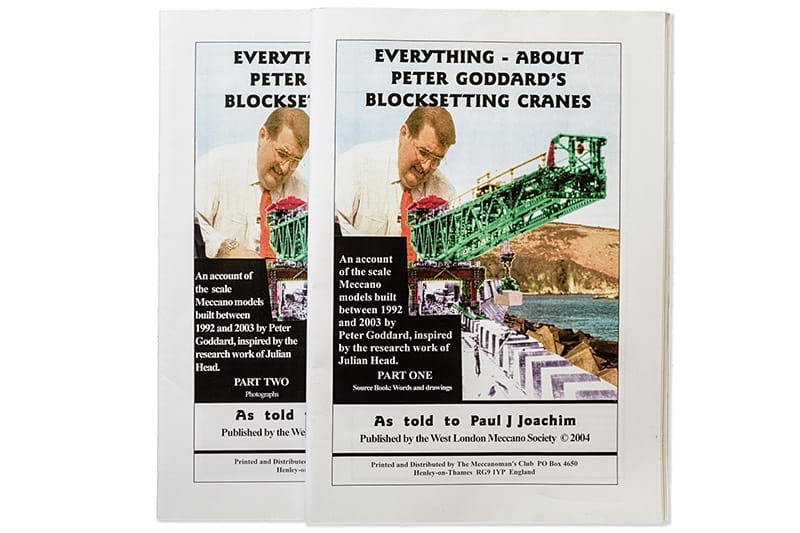 Is it still available?
Yes – via the WLMS publications page on the website. The problem was, I had a bit of a falling out with my original researcher in London over the rights to the use of the information. It was eventually resolved after the intervention of the club chairman and the magazine editor, but we're still not on talking terms.
That's a shame.
Anyway, not long after I moved down here, I suddenly got an email from Bruce Ward, a Sydney crane historian, in Australia. Bruce was interested in steam cranes from anywhere in the world and was happy to be involved in the research and writing for publication, as long as he was given a credit. We had a brilliant working relationship from that point on, until his untimely demise three years ago. He's greatly missed by me and within the Meccano community.
REF: Everything WLMS publications
The Everything Automotive series of publications overview the theory and practice of automotive mechanics – manual and automatic gearboxes, transmissions, clutches, axles, differentials and steering, and their realisation in Meccano, with explanations of many practical examples which can be built from the drawings.
PLAN AHEAD
From what I can see, you seem to be a fairly organised person?
Definitely. Also, if you give me a plan, drawing or schematic, I can 'read' it, sometimes better than engineers. I just seem to have a knack for it.
Apart from the inability to command a tank [laughs], are there areas you're not so keen on?
I'm not very good at research, which is why Bruce Ward and I got on so well. He would often try to tempt me into building a model for him. He would send over information and photographs of a new, interesting prototype crane or other historical machinery until I took the bait to want to build a model of it. Once a project was agreed, Bruce provided background information, and hopefully the factory drawings, which I prefer to work from, to ensure mechanical and dimensional accuracy. Bruce would also select a "Team of Experts" on the subject, who sat on the e-mail sidelines, adding suggestions/ advice as required.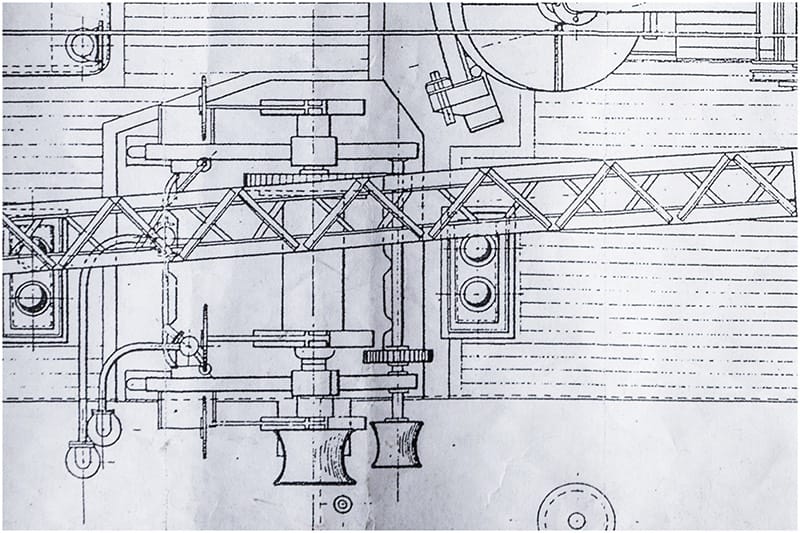 So the models that you create are extremely accurate, from an engineering point of view?
Oh yes; sometimes months of technical discussion and trial work-ups take place before the final model is completed. Once photographs have been taken and sent to Australia, Bruce would then produce a 'write up', containing an overview of the machine and reference material . There are some examples of our collaborations on my website.
MAIL ON SUNDAY
I see that you've been mentioned in the press?
I had a phone call back in 2010 from the WLMS chairman, Paul Joachim [Deceased], saying that the Daily Mail wanted to do a feature on Meccano and were looking for examples of large models, and he thought of me. I decided that the Zeebrugge's Hercules blocksetting crane, which I had not long finished building, would be a perfect example. The paper persuaded me to go up to West London for the photo shoot, just inside the M25. It's so big that It takes 45 minutes to set that thing up. They took loads of photographs, but I never did get the pictures that they promised me, which I was a bit upset about. I did get £200 for travel and expenses and a few copies of the magazine [Mail on Sunday] though, so I wasn't out of pocket. That's been one of my highlights.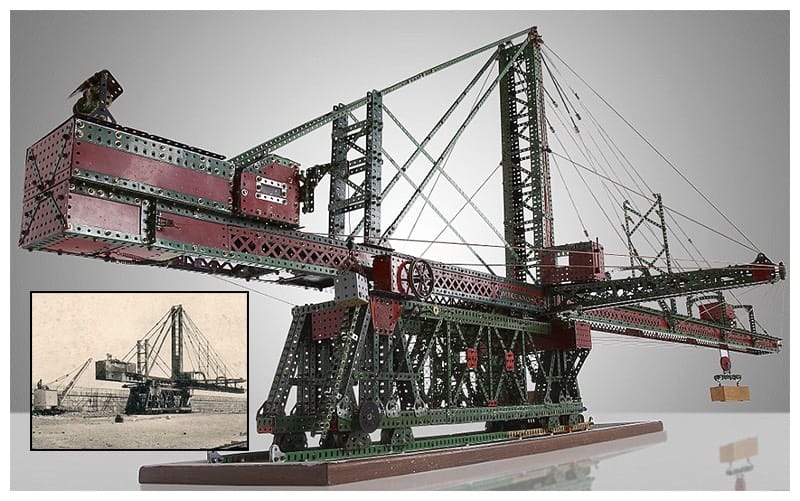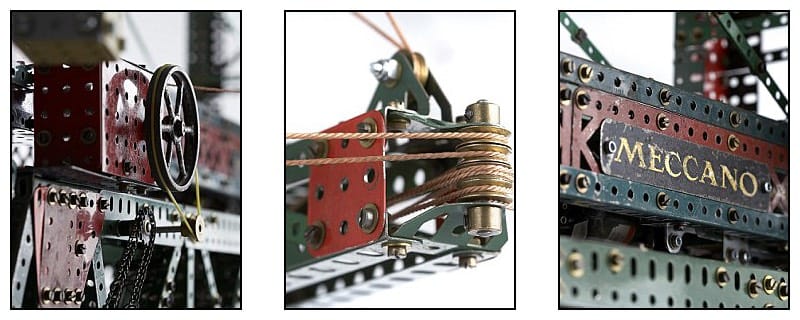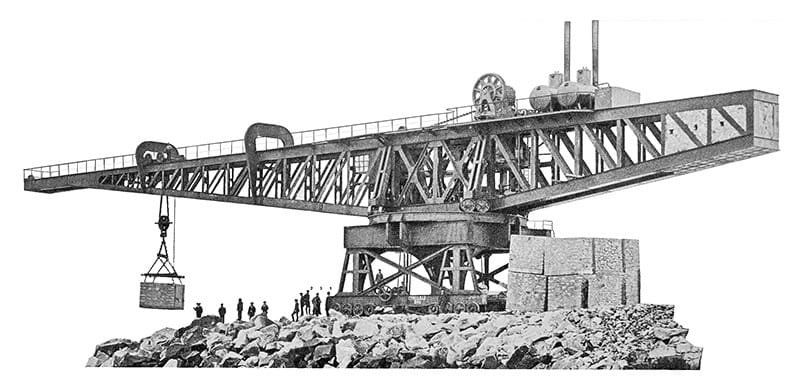 Internationally famous now then?
Sort of. After all these years, I'm known around the world, because I've acquired quite a bit of knowledge and insight into the workings of steam block setting cranes.
To be continued [onwards to the concluding part] …
Click the links below for the previous parts to Peter's story.
Part 1, Part 2.
Web Links and References of interest
Peter's Website
http://www.historicalcranesociety.org/About_Me.html
Meccano Clubs
The London Meccano clubs organisation: https://londonmeccanoclub.org.uk
West london: http://www.hsomerville.com/wlms/
Runnymede: https://runnymedemeccanoguild.org.uk
International: http://internationalmeccanomen.org.uk
North Midlands: http://www.nmmg.org.uk/index.html
Solent Meccano Club: https://sites.google.com/site/thesolentmeccanoclub/home
Holy Trinity: No website
WLMS 'Everything' Publications:
http://www.hsomerville.com/wlms/publications/d.html
Meccanomen Spanner network (list server)
http://www.dalefield.com/nzfmm/spanner/index.html
Peter Tatlow Books
https://goo.gl/gbcsHK
https://www.amazon.co.uk/Railway-Breakdown-Cranes-Peter-Tatlow/dp/1906419698
Weekend Passions
https://www.stevehughesphotography.co.uk/weekend-passions-blog/