I think I might have put on some weight!
1.
I think I might have put on some weight!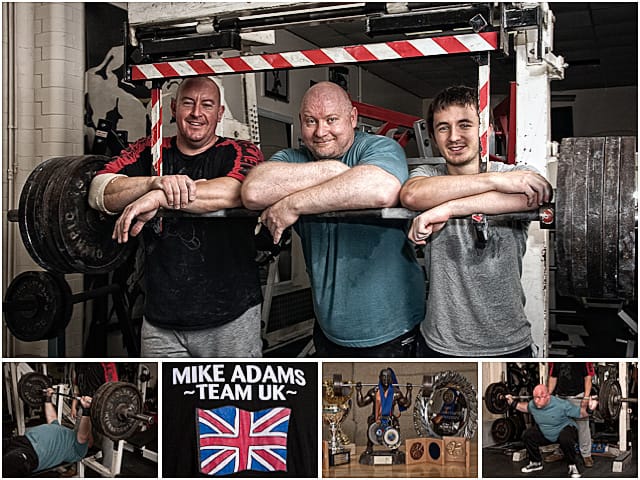 More power to your elbow
When you're a young lad of sixteen and want to impress your mates, lifting heavy weights gets you kudos and lots of brownie points. Of course, it's not just macho posturing when you become a British champion, several times over, and world class competitor at Powerlifting. It's been a long road though …
Growing up in North Devon as a teenager, Mike sought an outlet for all the excess testosterone that was surging around his body. So he and his mates would frequent the local gyms and try to outdo each other pumping iron. As he freely admits now, there wasn't much in the way of technique or forward planning, let alone the correct diet or the dedication that is required to be a professional powerlifter. But whatever happened during this time laid the groundwork for what was to come in later years.
Leaving school at sixteen, Mike, whose adoptive father was a methodist minister, took up an apprenticeship in North Devon as a church organ builder. Although happy in his work, he was made redundant near the end of his third year. This unexpected turn of events made him realise the limitations of this niche trade and so he sought pastures new.
Next on the agenda, after a three year stint as a pastry maker, was to take up the calling of wandering minstrel with a band in Bristol. Mike, as well as pumping iron as a means of keeping fit, had played guitar from an early age. His time spent with a touring band opened up the opportunity to have his own music studio for band practice and teaching guitar. This period saw Mike playing in two Rock and Indie bands 'Glory Jaol' and 'Uranium Orchid'. (Well it was the nineteen eighties after all 🙂 They made a music video in Manchester, but, unfortunately, disbanded soon after.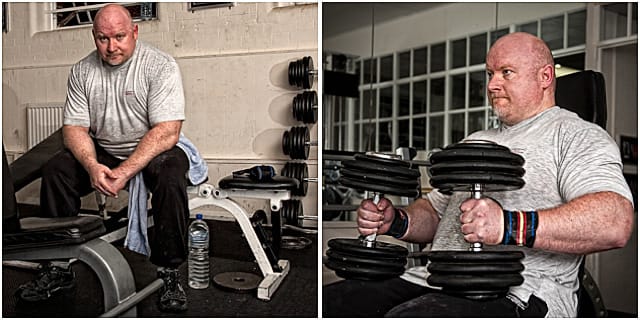 Mike realised that he liked to be around musicians and decided that a change of scenery was what was needed. He spent the next eight years in Brighton, providing physical security for events, supplemented with session guitar work. It was here that the direction of his gym training took a new twist. Mike got friendly with a powerlifter at his local gym and, with some advice, started to focus his training in this direction.
Powerlifting is a strength sport consisting of three events: the Bench Press, the Squat, and the Deadlift. It resembles the sport of Olympic weightlifting, as both disciplines involve lifting weights in three attempts. It evolved from a sport known as 'odd lifts' which followed the same three attempt format, but used a wide variety of events akin to Strongman events. Eventually odd lifts became standardised to the three events (Squat, Bench, Deadlift) and became known as powerlifting.
Once again Mike, not one for sitting still, was looking to the future. He wanted a career rather than just a job. He decided that, at age twenty-eight, he wanted to go into higher education before it was too late. In between strength training, with the martial arts of Aikido and Taikido Kai Karate thrown in for good measure, security and session guitar work and the occasional 'truck pulling' competition, he successfully completed a Civil Engineering foundation year degree course.
After a brief five month break in Austria, where he almost returned to his roots of organ building, Mike joined Manchester's Salford University to study Computing and French as a mature student. His strength training eased off during this time, but was still a big part of his life. After graduating in 1998, Mike was offered a job with the computer giant, IBM, in Winchester, where he worked and lived for the next eight years. (Seems to be a bit of pattern emerging here, don't you think?)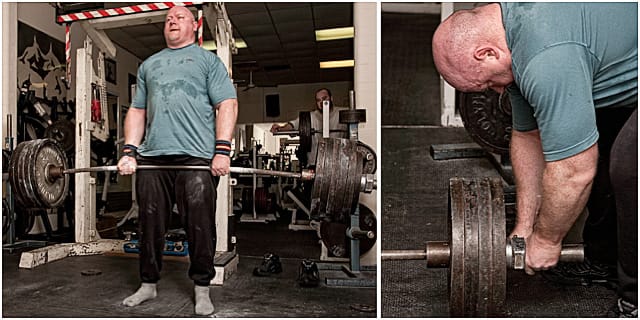 Full-time employment, with regular hours, gave Mike the first opportunity to start really serious strength training. For the next five years, he dedicated all of his spare leisure time to the sport of Powerlifting. Joining the 'Weight Room', which has since become Samson's Gym (www.samsonsgymeastleigh.co.uk/) in Eastleigh, made all the difference. The gym is dedicated to serious strength trainers and its friendly atmosphere is exactly what Mike had been looking for. In fact, this is one of the key attractions for Mike. The camaraderie and encouragement found at Samson's prompted him to start entering professional competitions.
In 2003, as part of a team event, he had his first taste of success at an open competition held in Birmingham (UK). As a team, which included the world champion Lee Steggles and coached by legendary powerlifter and many times world champion Bill West, they won first place. Buoyed up with this triumph, Mike was ready to compete on his own terms and there followed a five year period of ever increasing accomplishments.
It's difficult not to be impressed with a man who has been training on and off for twenty-four years and, at the age of forty, has just found his stride in one of the toughest and most physically demanding sports in the world. Between 2005 and 2010 Mike has been British champion four times and achieved one Bronze and two Silver at world competitions. In 2009 he was the closest he has ever been to Gold at a world competition and was leading until the very last discipline.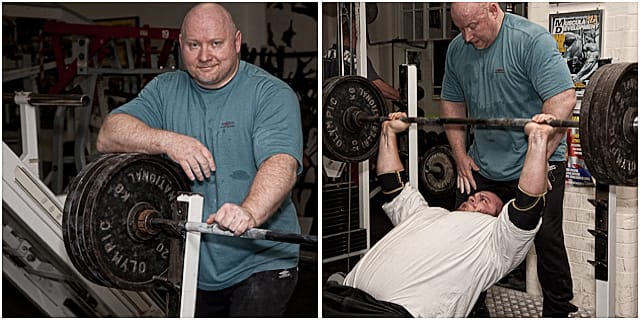 All the time Mike has been lifting, he has been competing at the 125Kg body weight class in what's called an 'equipped' style. This is where the lifters train and compete wearing knee and wrist wraps and body vests. These accessories, which have changed the sport considerably over the years, help lifters move more weight with a reduced chance of injury. They restrict the specific group of muscles used for lifting to a linear movement and give some assistance, or 'bounce', at the bottom of each lift. The down side is that it's not a true reflection of lifters' natural ability and true lifting power. Mike and his team have now opted to move over to the 'RAW' style which, as the name would suggest, is unaided lifting and a 'what you see is what you get' approach to the sport. It means that lifters train and compete with lower overall weight, but it is closer to the 'purist' ideals first envisioned by the sport's founders. This has meant that Mike has taken 2010 off from competing to concentrate on finessing his training technique to cope with the extra demands that this style requires.
Mike's training consists of approximately two to two and a half hour split routines. high intensity sessions, on a Monday, Wednesday and Friday, with recovery time in between each session. Extra bouts of Rowing and Cycling are occasionally thrown in to mix it up a little. Apart for healthy eating in general, and extra vitamins and fish oil, he has always been drug free and is proud of his accomplishments and has no intention of slowing down in the foreseeable future. Powerlifting is a sport that can be continued well into your fifth decade. Indeed, there have been examples of powerlifters still competing when over seventy! Mike is still improving and, apart from his numerous awards, medals and shields, his proudest achievement is that, although he may have missed winning on a technicality, he has never failed to lift his target weight in a competition. In the 'RAW' style, a total over 700Kg, the best of three lifts across all three disciplines, is considered to be very good. Mike says that his goal is to get as close to a total of 800Kg as possible. Based on his commitment, attitude and past achievements, I'm sure he'll reach his goal.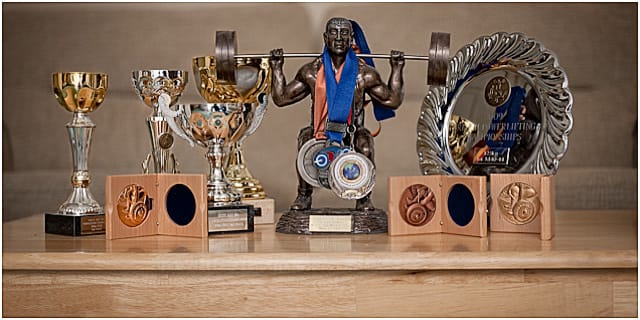 Achievements:
2005: Open (Qualified) – British (Won) – World(Silver)
2006: Open (Qualified) – British (Won) – World(Bronze)
2007: Open (Qualified) – British (Bombed. A powerlifting term for failing all three lifts of one of the disciplines)
2008: Open (Qualified) – British (Won) – World (Did not go due to money constraints as mostly self-funded)
2009: Open (Qualified) – British (Won) – World(Silver)
2010: No competitions – has spent year changing styles and build up for raw lifting.
2011: Hopes to compete in UK Raw Open
Best Lifts (Equipped):
Squat: [Competition] 332.5Kg [Gym] 380Kg
Deadlift: [Competition] 310.0Kg [Gym] 310Kg
Bench: [Competition] 235.0Kg [Gym] 245Kg