I love the smell of Black Powder in the morning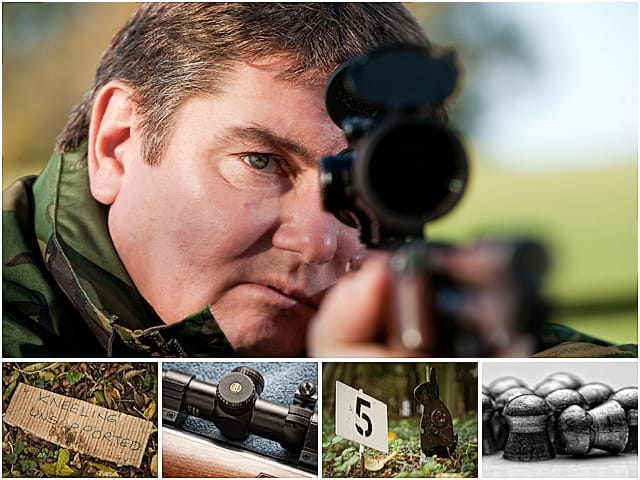 Lock, Stock but no Smoking Barrel
Not many grandfathers will let a three year old grandson hold a shotgun!…
Being brought up in a family living in the countryside, it seems inevitable that the young Tony would be surrounded by guns from a very early age. His mum was a country girl, and had been brought up with guns as part of everyday life. Her father, Tony's grandfather, used to hunt to bring food to the family table in Taunton. Tony was first allowed to cradle an unloaded shotgun, handed to him by his grandfather, when he was only three. It left such an impression on him that he was fascinated by weaponry and shooting from there on in. His mum bought him his first gun, a BSA Meteor, at aged eleven (before the legal age of ownership) and he would practice shooting under his grandfather's supervision. At aged ten, Tony's father passed away and the young boy was left rudderless until he was introduced to a local family friend and landowner, Major Baker.
Major Baker who, by the sound of it, became a fatherly figure to the young Tony, owned and lived in the local manor house. The Major, who was in effect 'lord of the manor,' was to be a dominant figure in Tony's education in gun craft and shooting. Ex-Army, and a member of the British Shooting Team, and still competing today at the sprightly age of ninety three, he had a huge gun collection and his own indoor shooting range. The extensive collection of guns contained all manner of weapons, from air rifles through to full bore firearms, and everything in between. He also built his own guns and prepared his own ammunition and wadding. If Tony wanted to understand firearms, including safe handling and maintenance, he could not have asked for a better teacher.

The Major took young Tony under his wing, with his mum's consent, and, in return for small jobs around the estate, such as mowing lawns and mending fences etc, Tony was allowed to spend time with the Major shooting around the estate and at his indoor range. The range, a partially converted wine cellar of around 30YDs in length, was always something of a mixed blessing. On the one hand it was the perfect opportunity for all weather practice, but on the other, it contained what would today be considered as highly prized bottles of vintage wine. Not somewhere that most of us would want to have stray bullets or pellets ricocheting around!
At the same time as he was shooting at the 'manor', having been well and truly bitten by the shooting bug, Tony joined a local '10 meter' air rifle club. Not having the finances or resources to compete 'off site', members would enter postal competitions. The idea of a postal shooting competition is that contestants can enter a shooting match without having to be in the same geographical location as the other participants. Each person prints out their targets, goes to their local range and shoots in the competition, whilst being witnessed by a club member. He then submits the resulting targets to contest organisers. This was an early introduction to competitive shooting.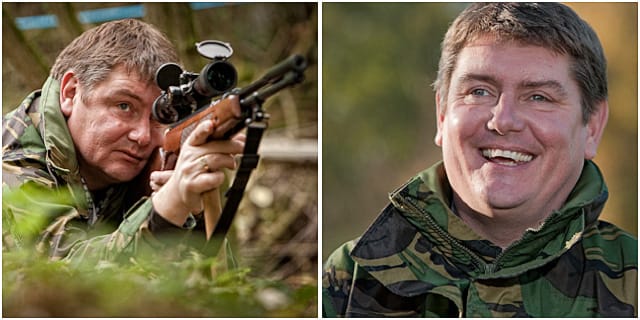 1987 saw Tony answer the call of Queen and country to join the Royal Air Force as an armourer, one of the most specialised of any of the trades. Once qualified, he found himself employed on a wide variety of tasks, including the prepping, maintaining and loading of aircraft bombs, missiles and aircraft assisted escape systems. He was also responsible for the maintenance of explosive release systems and small arms within station armouries like the L85A2 (SA80), 9mm Browning pistol and the GPMG (General Purpose Machine Gun). Armourers can volunteer to specialise in Explosive Ordnance Disposal and Tony spent seven years with this group, being deployed all around the world, until he left the RAF in 1999. It may come as a surprise to some that, during his time in the RAF, Tony was only occasionally involved in shooting, but, as he says, "if you're working with weapons on a daily basis, the last thing you want to do when you relax is to go shooting". Prior to leaving the RAF, Tony qualified as a technical author and took an HNC in business and information technology in readiness for civilian life. In 1999, upon leaving the RAF, he was recruited by IBM as a technical writer.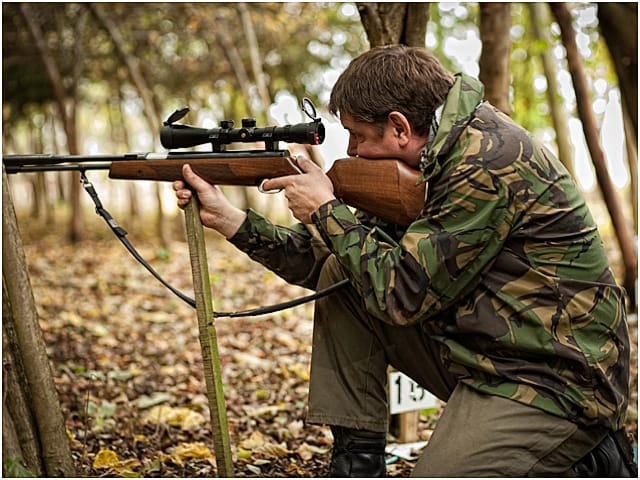 It was one day in 2007 that, whilst clearing out his loft at home, he came upon his old Meteor rifle, the gun brought for him by his mum when he was a lad. It needed some 'TLC,' but Tony felt that the shooting 'itch' needed scratching once again. He tracked down a local club, in Swindon, to see how he felt about the sport after the break. This is where he discovered, and fell in love with, the sport of 'Hunter Field Target' (HFT – See 'background' at bottom of article).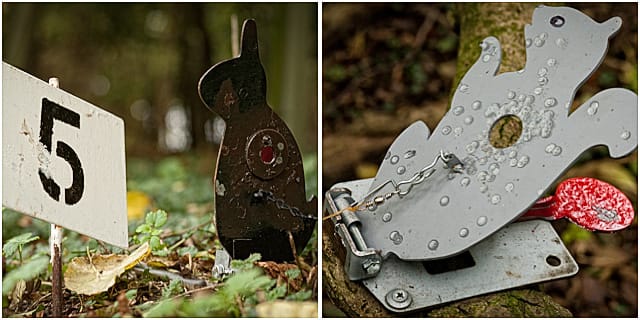 In addition to competing and practicing whenever he can, Tony has the usual married man family commitments. He also co-runs the AirGun-Tech Internet forum. The forum, which Tony moderates and maintains, has very active member participation, some of whom have regular meet ups. They welcome newcomers and it's considered to be an especially good place to obtain sound, impartial advice for all things related to air rifles and not just HFT. Tony belongs to the BSA Owners Group  and this year he joined the 'Old Down Pursuits' club, which has a full woodland and field HFT course. The organisers, Sean and Sharon, would love to hear from you if you're interested in taking part on a shooting day or would like to organise a corporate event.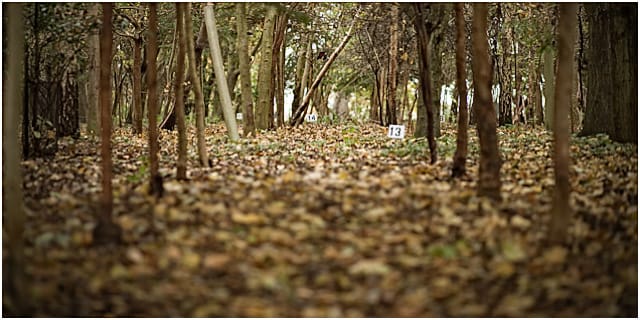 In the three years since returning to the sport, Tony has relearnt old skills and gained some new ones. His weapon of choice is now a beloved German 'Weihrauch 97K' under lever. Although he also owns, and is more than competent with a PCP 'BSA Scorpian' he prefers to compete with a spring loaded gun. This year Tony took part in his first ever HFT World Championships (March 2010). He achieved fourth in the 'springer' section, only being pipped at the post for third after a deciding 'shoot out'. In 2011 the aim, pun intended, is to beat that placing. To prepare for next year's event, he is currently taking part in the ongoing 'DayState' Midlands Winter League. The competition comprises six rounds, each being shot at different courses and runs from October through to March. At the time of going to press, he is currently 4th on the leader board in the recoiling (or spring) class for this year's event.
Tony's ambition is to beat a PCP competitor in the open class of a tournament. Using a recoiling gun is what he considers to be closest to what HFT shooting should actually be about. The purist approach of just you against the elements:- having to make all the decisions and judgements, using a gun as it was originally designed with no assistance from technology. In an ideal world, or perhaps one in which he has retired, Tony would relish the opportunity to concentrate on 'Black Powder', or gunpowder driven guns. He says that there is something about being responsible for every aspect of that style of rifle that appeals to the historian in him, from making your own mixture and wadding, through to assessing the prevailing winds and conditions under which each shot is taken, that is a real challenge.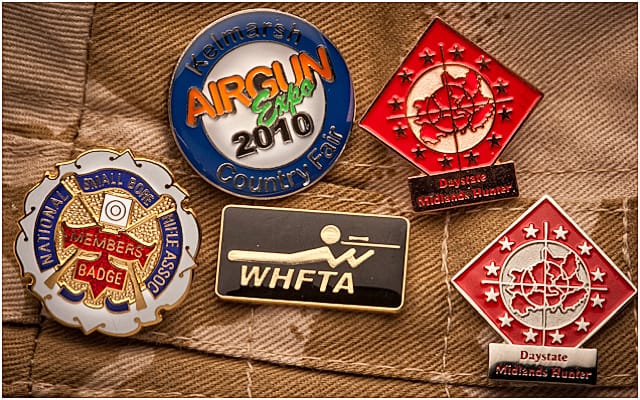 HFT Background:
Hunter field target (HFT) is a target shooting sport derived from the air gun disciplines of field target shooting and hunting. It is primarily an outdoor sport, shot with UK legal air rifles. A typical HFT course is made up of 30 lanes, with each lane comprising of a peg and a metal "knock down" target, placed in a position to simulate a hunting scenario. The peg marks the shooting spot and the shooter must touch the peg with part of his or her body or gun for the shot to count.
The targets are mainly based on typical UK-based quarry such as rabbit, rat, crow, magpie and grey squirrel. They are made from metal and mimic their counterparts in both shape and size. Each target has a circular "kill zone" that varies in size, (typically 15-45 mm in diameter), and are set out at varying ranges (typically 8-45 yards/7.3-41.1 m). A direct hit to the "kill zone" triggers a mechanism that makes the target fall back flat, simulating a "kill". Successfully "killing" a target rewards you with two points and the target is reset by pulling the "reset cord". "Plating" a target (hitting the target anywhere but the "kill zone") rewards you with one point. Missing the target altogether results in a zero or donut. As a rule, contestants will complete a 30 lane course once, with a potential maximum score of 60 points.
The main skill in HFT is the ability to range the target as accurately as possible. Ranging is either done using the traditional method of "visualising" the number of yards separating you from the target or, more scientifically, by using a telescopic sight. Once the 'scope' has been set, no adjustment may be made to the range finding. This is one of the primary differences to that of the original Field Target discipline.
When shooting, contestants may adopt one of three stances: prone (laying down), kneeling or standing. Sometimes contestants will be forced to adopt a certain stance, for instance a lane that has "STANDING ONLY" sign must be shot in the standing position. If the shooter fails to follow this rule, the score for the target will be marked as a zero, even if it was "killed".
Most HFT courses are located in woodland areas, although it is not unusual for them to be on open land. Each has it's own challenges. In woodland, obstructions, varying light levels and mixed ground conditions have a part to play. Open land can be more difficult to shoot on, due to the lack of fauna to aid in assessing wind direction and strength.
Equipment:
A typical HFT rifle set-up consists of an air rifle fitted with a telescopic sight. The rifle can vary from the very basic break-barrel, spring-powered rifle to the most advanced electronic recoil-less pre-charged pneumatic (PCP) rifle. The most popular calibre for HFT is .177 (4.5mm) because of its flat trajectory and telescopic sights capable of x10 magnification are favoured. HFT does not discriminate to what rifle or scope is used. A rifle could be a Chinese spring or pneumatic rifle with Chinese optics or the very latest Field Target rifle with the most expensive scope. Air rifles can cost anything from £200 to over £500 but, as with most sports, high end equipment is not necessary for entry level competition or involvement. PCP guns are generally considered to be easier to get higher scores, especially for beginners, due to the lack of recoil experienced when firing the guns.