Potter by name, Batala drummer by nature [Part two]
2.
Potter by name, Batala drummer by nature [Part two]
Last time we heard from Brenda, we learnt of her artistic endeavors with pottery, felt making, and her background in teaching. Her passion for music eventually led her into the world of Batala drumming.
Any colour you like, as long as it's red, black and white.
I've seen that the band has quite distinctive colours.
Oh yes. Everything is red, black and white. Equipment, clothing, hair bands, bracelets, earrings, shoes, everything.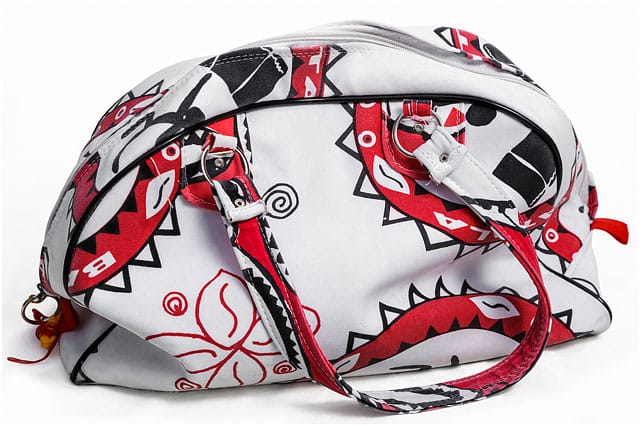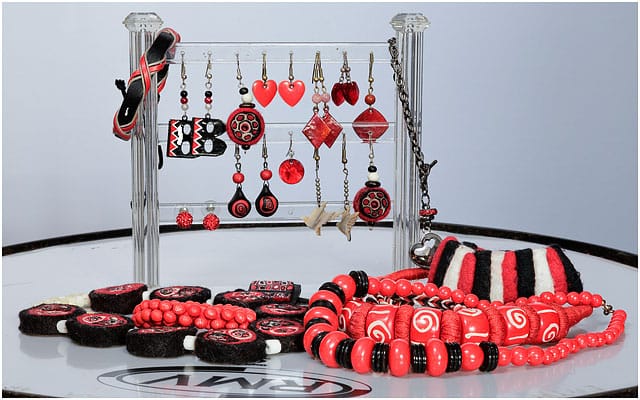 Are the costumes made to measure?
Ahhh no, [laughs] definitely not. Every year we have a different costume for the Notting Hill Carnival, and I think they only come in small or large. So we have to make our own adjustments.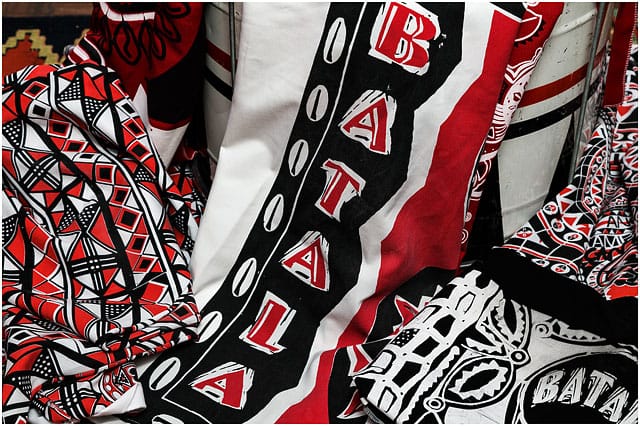 Origins
How did Batala start out?
Batala was started in 1997 by Giba Gonçalves, a Bahian percussionist studying Composition and Bass Guitar at the Paris Conservatoire. In 2001, Paulo Garcia, a visiting Brazilian student at Portsmouth University, was invited to start a local branch of the band, using the same rhythms that Giba had composed. Not long after, other bands started to spring up around the country and abroad. Then, all of a sudden, it really took hold and it's now gone truly global.
So it's all traditional Brazilian music?
Yes, we play original Samba Reggae Drum rhythms. We don't have any smaller percussion instruments like bells and whistles, it's all just drums and nothing else.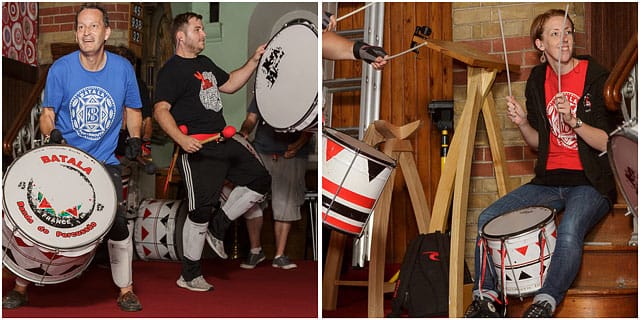 Where did the name come from?
The name has most likely come from Obatala, a Yoruban deity recognised in the Afro-Brazilian religion called Candomble. And the reason that we're red, black and white, is that the colours are the colours of a Candomble Orisha called Xango. The designs on our costumes feature pictures related to him.
Is there much difference between Portsmouth and other bands?
Of course every band has its unique elements but the key to Batala is that we all play the same compositions. So when really big events take place, like the Notting Hill Carnival, bands from around the world can play together with relatively little rehearsal. But it's a tough parade, because it's usually about five hours without a break. It's hard going on the body. They're expecting 250 drummers this year; there were 200 last year. It's amazing to be amongst it.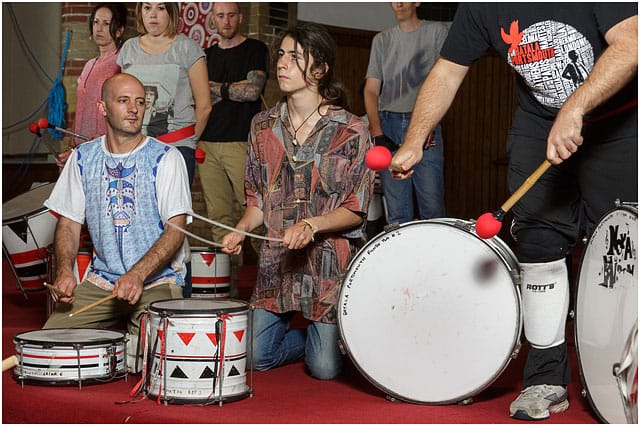 Not sure if there will be any windows left though
How often do bands get together?
Batala have 'encontro' each year, which is the Portuguese word for 'meeting', These are an open invitation for other bands to come and play together. We've not had one in Portsmouth so far. Giba goes to them and teaches the band some new songs.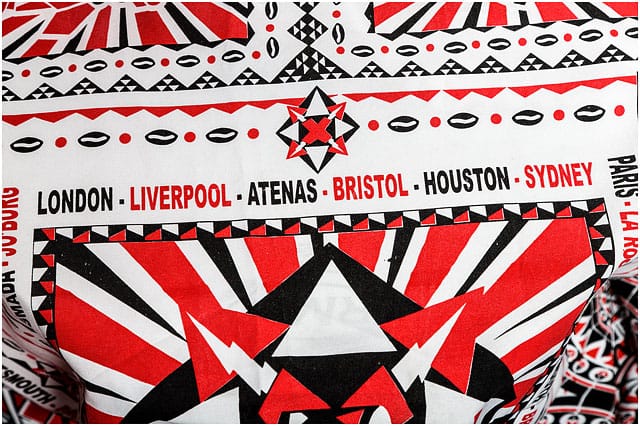 Have you met Giba?
Oh yeah, he's been over a few times for teaching sessions; he's a fantastic guy and incredibly talented. If you attend an encontro, other Batala members will often put you up, so sometimes you don't have to pay for accommodation, just travel and spending money. In Brazil, there's a house in Salvador de Bahia, where Giba is from, specifically for visiting Batala players. All the costumes and drums are still made there. It's not a formal fair trade agreement, but it's helping his village and the surrounding area to make some money from what he started.
Apart from Giba, are there any big names in Batala?
He has a few people who maintain the quality control and teaching side of things on his behalf, because, obviously, he can't be everywhere in the world when needed. The Musical Directors in each band are key to this. The Paris band is considered to be the top band within Batala as that's where Giba is. They have a choreographer, and she designs all the dancing moves. In fact, Portsmouth does a lot more dancing now than we used to, mainly due to our Dobra choreographer called Jemma Graham. She researches the dancing from Paris, and combines it with some of her own moves. She's an absolutely superb drummer and dancer and is a real inspiration, she looks and sounds fantastic when she plays.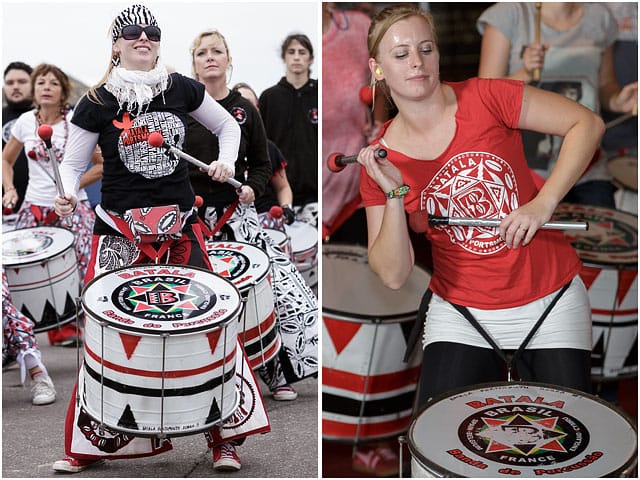 Roughly how many songs are in the band's repertoire?
Oh blimey, now you're asking. I think around twenty-five that we play regularly, although there could be as many as seventy-five but we don't play them all now. But yeah, probably about twenty-five that I know of.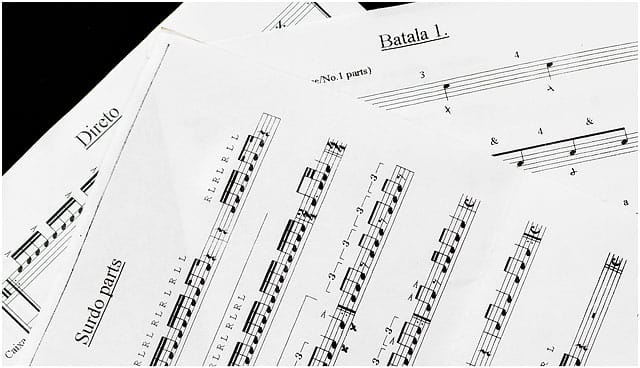 Are they songs that people would recognise?
No, they have all been composed by Giba, specifically for Batala, although some Musical Directors also compose songs for their own bands.
Is there an average time or number of songs you cover at a performance?
Well, we lead a lot of carnivals, so the processions are normally about an hour and a half. We have 'static' gigs, but we tend to play for shorter times at those, because you have an audience that has to, usually, stand. So you can't go on for as long, because they'll get fed up. We have a 'caller' at the front giving us the relevant signal for each song, and we have to know what they are, of course.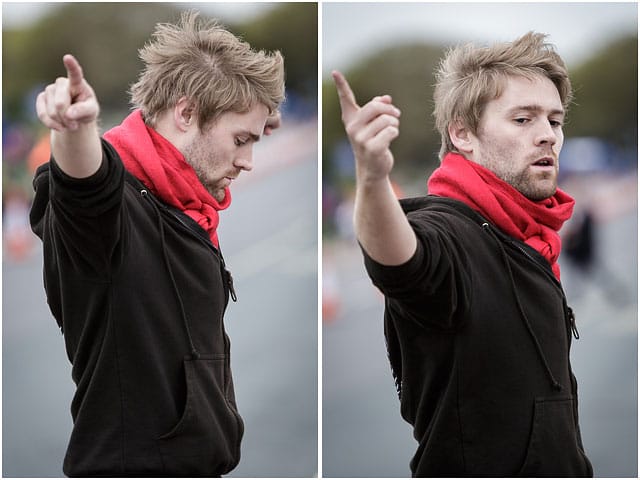 Is that an audible or visual cue?
Visual, you can't hear anything when we're playing [laughs].
You said that you can't read music, so it's learning by rote?
Yeah, and learning to recognise the caller's signals, so we know what to play next.

Drumming up interest
How many different types of drum are there?
The largest are the two tuned Fundo (foon-doo) bass drums. The Dobra (dob-ra), the next size down, which is the one that I play. The Caixa (kye-sher) is a snare drum and, lastly, the Repinique (hep-in-ee-kee) which is a loud high-pitched drum that helps call the breaks and often has call-and-response "conversations" with the dobra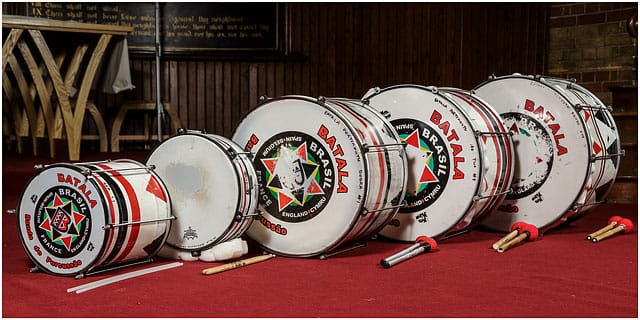 Do you practise at home?
Yes, I have a practise pad, which is a little round rubber drum head and a pair of sticks.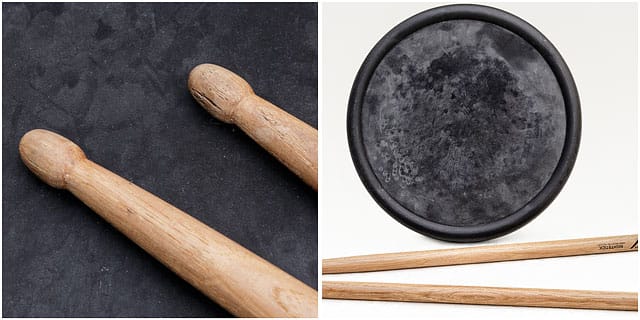 How much does the real one weigh?
Mine is about 16lbs. It's not massive, but it can start to hurt when you've been walking with it for a long time. The bases are heavier, as you would expect, but all the others are much lighter.
Dobra Also known as: Cutador/Surdo Aigu –
The mid-range sound, the melody drum is played with two beaters, and is unique to samba-reggae. Their rhythm mainly evolves around the bomba rhythm. The Dobra has a particular pattern for each of the pieces, the off-beat pattern featuring regularly, creating the reggae feel.
How easily did you take to playing?
Caroline and I both started out on the bass drum. That's fairly straightforward, as it's pretty much a single, repeated beat, and although it appears to be easy to keep a steady rhythm, it isn't and it's a very important drum within the band. But after a year, I went onto a different drum called a Dobra, which has a lot more complicated patterns.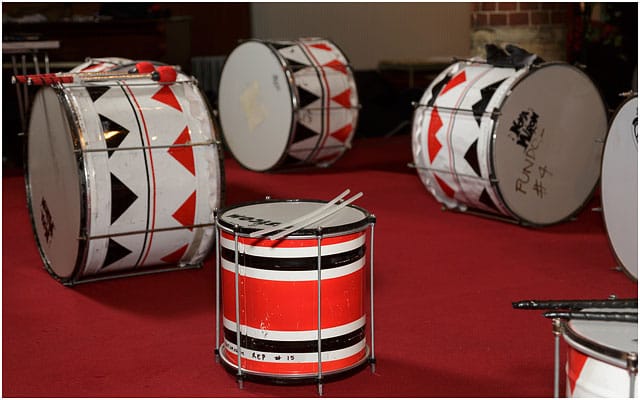 I had to listen to recordings on my MP3 player over and over again, to learn the songs. It wasn't a struggle though. I loved doing it so much that the practise, and getting it right, was something that I wanted to do anyway. I don't find it difficult to pick up the rhythms, but we dance as well. Sometimes that can get a bit confusing [laughs]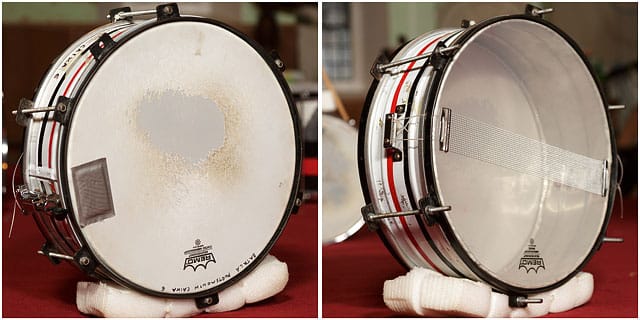 Meet the people
How often do you play in public?
Pretty much every weekend from March to October, sometimes both days. It's a full-on schedule and lasts into December
You must travel quite a bit then?
All over. The furthest I've been is Rotterdam, for a carnival but the potential to travel with the band is immense. We did the Battle of the Flowers in Jersey (CI) a couple of years ago; that was good. We mainly play along the south coast of the UK; we go up and support the London band every now and then.
I hear that Portsmouth Batala were invited to play at this years Bestival?
Yes, it was our first time playing there, very, very exciting.  We had to keep it quiet for ages, not even allowed to discuss it with family as there were delicate negotiations going on, very hard to be so excited and not be able to tell anyone! The team who were dealing with it worked incredibly hard for the band, and we are all so thankful to them for making it a reality.
REF: Bestival is a four-day music festival held at the Robin Hill country park on the Isle of Wight, England. It has been held annually in late summer since 2004. The initial Bestival attracted 10,000 people, growing to the capacity 55,000 in 2010. This year, 2014, also had a maximum attendance crowd.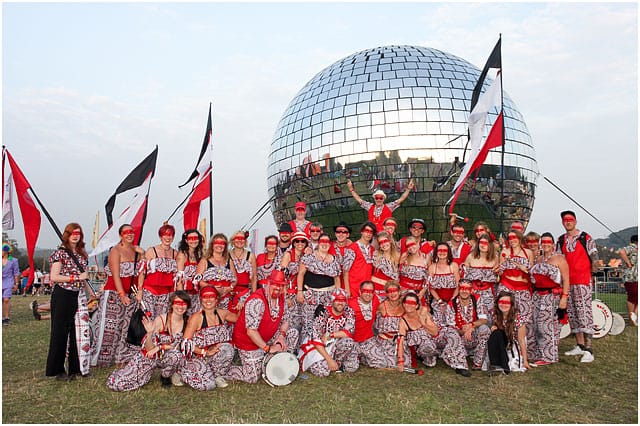 How did the crowd react?
They were amazing, we had a fantastic reception whenever we played.  One thing Lee, our caller does, is to send the band out from formation and gradually we form a circle and people come and dance within the circle.  At first they're a bit shy but once a few are in there, loads of others join in and they have a ball, the last gig the band did there must have been at least a hundred people leaping about in the circle having a great time.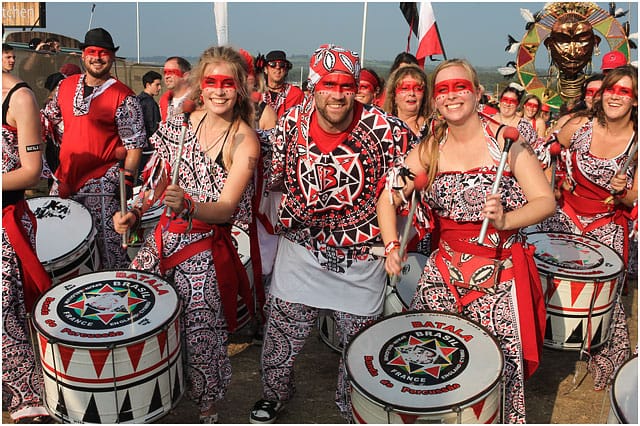 Did the band enjoy it?
They loved it, we had a 40 piece band, and a couple of  players even came out of 'retirement' to join us. We played seven times in all and enjoyed every one, but there were two highlights, the first when we opened the Port Stage with
AREA 51
. Being on the boat and seeing such a massive audience in front of us was something that will stay with me for a long time, and just to be part of such an exciting spectacle was amazing.  The other highlight was the procession through the site, it lasted about an hour and a half, and it was quite hard going at times as the ground was very uneven, but again, the reaction of the crowd kept us going.  We ended up by the famous glitter ball and a section of the band went on to play on a stage, not enough room for us all! We all had artist's wristbands which meant we had access to all areas including back stage, so people could go and meet the headline acts if they wanted to.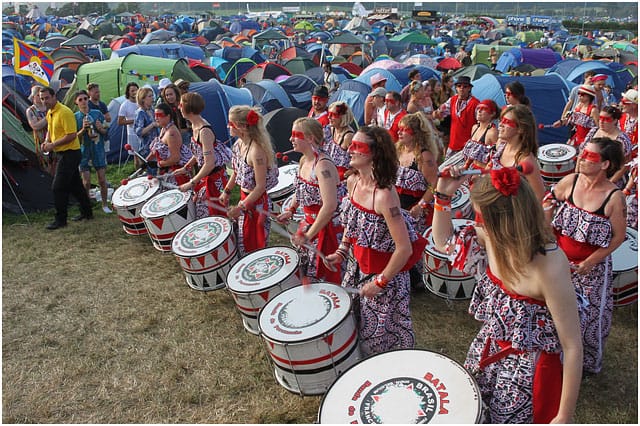 You were lucky with the weather, I assume that you camped out on site
yes, the band camped and the weather was great. I stayed in a house on the first night but it was very problematic getting to and from the festival site, so after the first night I also camped and was lucky enough to get a stay in a yurt!  One morning I woke up and when I opened the door all I could see were teepees wrapped in mist, it was beautiful!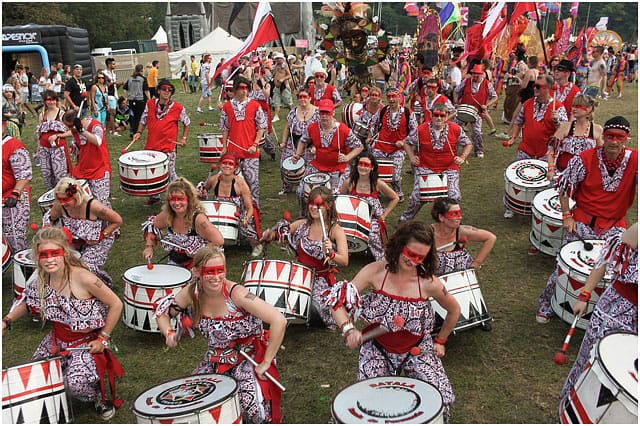 Will you be going back next year?
I really hope so, it was a fantastic experience to play there and to see the festival. I felt very safe there, and even when we were in the middle of a big crowd watching someone, people were considerate and good-humoured.
Apart from outside carnivals, what's the largest audience that you've played to?
Notting Hill is without doubt the largest; there's about a million people go to that. We've played at fixed locations like football stadiums. We've played Portsmouth football ground a few times when it's been full up, with Portsmouth against Southampton, that was funny [laughs].
Editors note: Portsmouth and Southampton football clubs are notorious rivals and the games can often get a little 'heated'.
We've also played at Emirates & Wembley Stadium with Batala London. The Battle of the Flowers on Jersey had grandstands all along the route, so that was quite a big audience.
I assume that the drums are all acoustic, no amplifiers or anything?
Oh good grief, no, you wouldn't want it amplified. It's pretty damn loud as it is. They reckon the sound travels, depending on the wind direction, about four miles. We all wear earplugs; you have to, or it would be unbearable and dangerous for the amount of time that we're exposed to the drumming at such close range.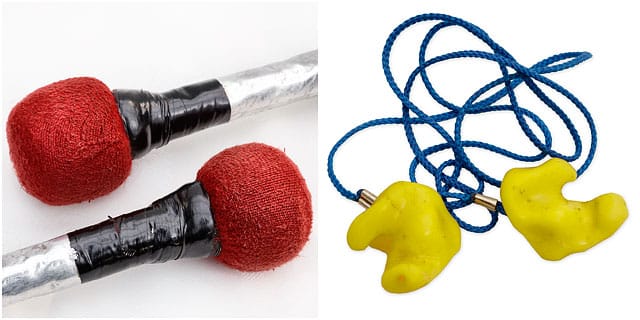 Batala Portsmouth
The band is based in Portsmouth?
Yes, most of our members are from the Portsmouth area. We also have a few travelling in from Southampton and Brighton.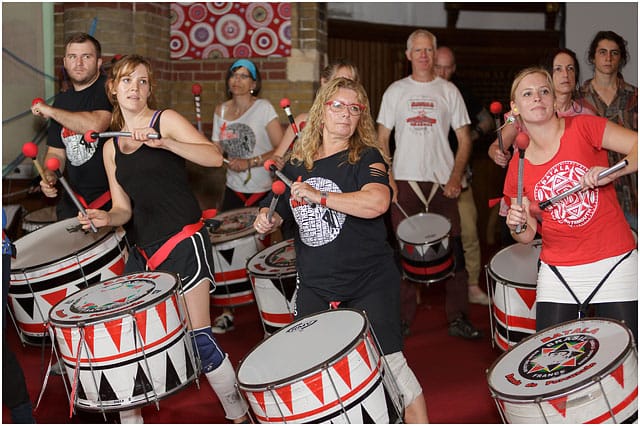 How many members are there?
On the books there's probably about forty-five members. For a normal gig there would be twenty to twenty-five, on average, unless it's a big gig when we'd have more. There were only maybe twelve or fifteen of us when I first joined, though. The band membership is quite fluid. Younger members join, go off to University, or have changes in their lives that mean they will leave us. There's a few constant members, but it's quite dynamic in that way.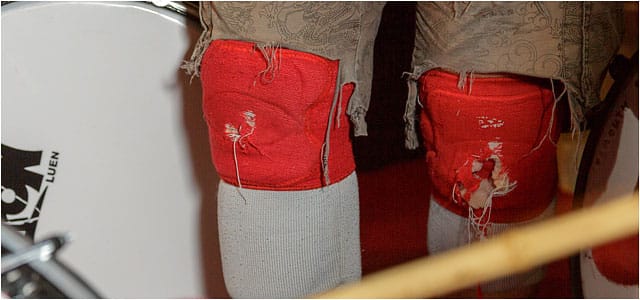 What's the line up?
The caller is out the front leading us. They have to know all the drum patterns, of course. The Dobras, usually four, are out front, flanked by a bass at the end of each line with a bass drum. There can be two, three or sometimes four lines of Dobra players with basses down the side. Behind them would be the Repinique, followed by the Caixa. If there are any spare bass players, they will be at the very back. It's usually down to how many are of the band are there, but that's the line up that we usually follow.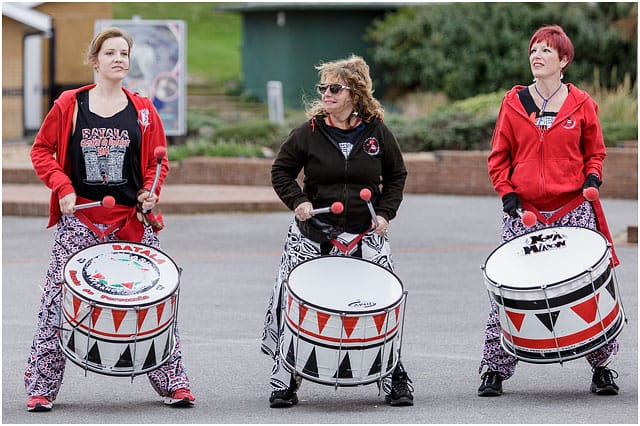 Are you actively looking for Batala members?
We do run beginners sessions each year in the Autumn, but we are almost full so this is just to replace people who have moved on.


How much is it to join the band?
Nothing. We don't pay any subscription fee, because the band is paid for gigs and appearances. That covers the cost of the equipment and all the admin costs, insurance, rehearsal space hire etc; associated with running the band. We pay for our travel and make a contribution towards the costumes; we pay half and the band pays half, but everything else is paid for by the band.

Signing off
Anything that you would like to add?
Just the fact that it's an incredibly social band. We've had groups from Batala Portsmouth go off to Spain for small encontros, and I will be going next year. I've just come back from camping at Wickham Festival with three women from the band and am about to join a ukulele group with a few band members. It's provided us with a good social network. We often meet up outside of organised band events. I've made some really good friends, some who have moved away from the band, but who I'm still in touch with. What is also interesting is the wide variety of nationalities we have in the band.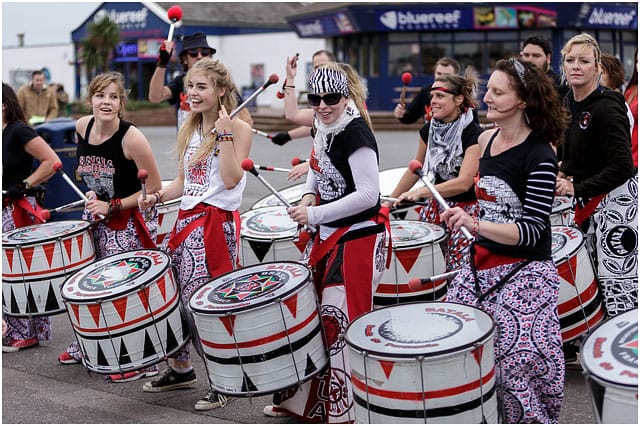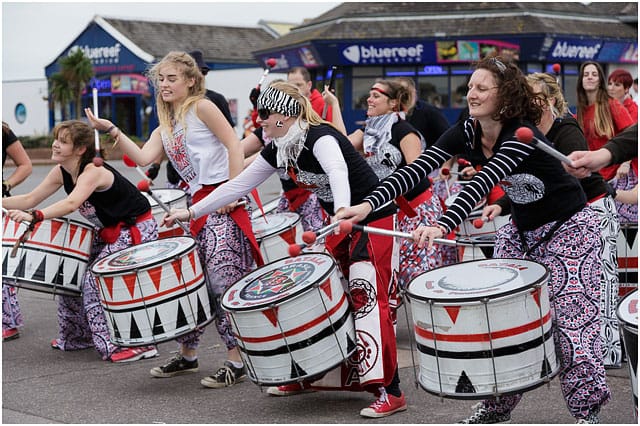 If money and time were no object where would you like to play?
The band in Lancaster played under a waterfall and have just finished a challenge to climb Scafell Pike, Ben Nevis and Snowdon and play at the top of each of them within 24 hours. Small audience, just for the hell of it. That must have been fantastic. I'd quite like to go to the Salvador Carnival in Brazil. They start playing at eleven o'clock at night and finish at about nine o'clock in the morning. That looks manic.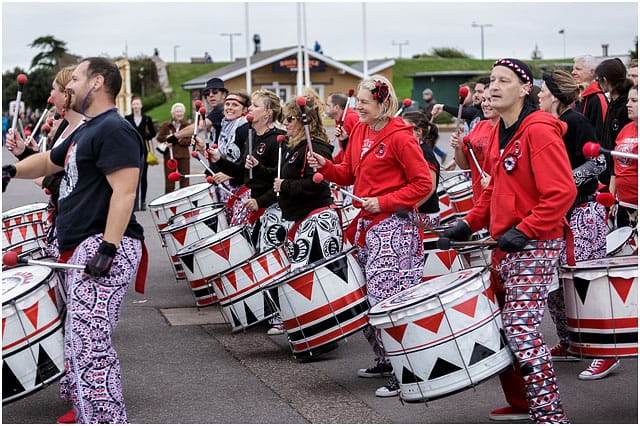 Anyone that you'd like to play for?
Well Batala New York played at the Rolling Stones gig at Madison Square Gardens. I wanted to go over for that one. I think everybody in every Batala wanted to [laughs]. I'd have loved to do that one.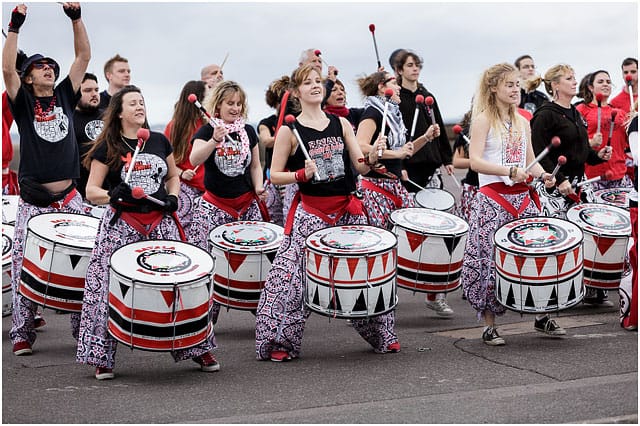 Because of who they are, or where it was?
Both. But particularly because Mick Jagger went to the same school as me. I was in the girls school and he was in the boys, although he's older than me. Our band played at Goodwood recently. I couldn't get to that one, but they had Nick Mason, the drummer with Pink Floyd, following them around. He approached them at the end and said how much he enjoyed their performance. Pink Floyd is one of my favourite bands, so I was gutted I missed that. I think that it's not so much playing for somebody, but playing with people. That's the attraction for me.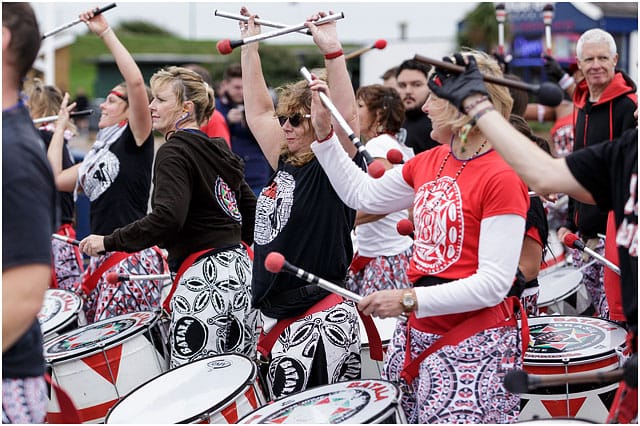 You said that it's hard work on the body, do you feel emotionally drained after a performance?
Quite the opposite; uplifted. You get a huge buzz from the feedback of a large audience.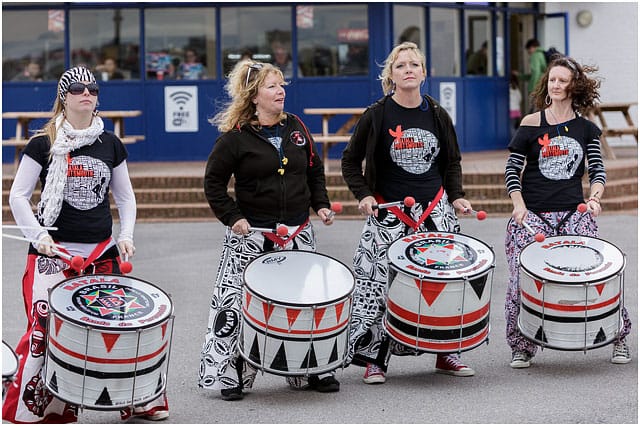 Would you be happy to play to no audience …
We've done it. We've played to car parks sometimes [laughs]. To be fair, it's when we are playing to welcome people into an event or something. We had a gig once doing just that, at Paultons Park. Obviously people just tend to walk past you and into the park, so we spent a lot of time playing to an empty car park, apart from the cars [laughs] But yes, we all just love playing together, the audience is a bonus!
so we spent a lot of time playing to an empty car park
So you get your energy from the crowd?
Yes, that's what gives you the real buzz, seeing all those smiling faces. Notting Hill is something else for that. At one point, as we turn round into Ladbrook Grove, there's a slight dip in the road and, when we're going along in the procession, you can see thousands of people in front of you. It's a really super-exciting sight [laughs]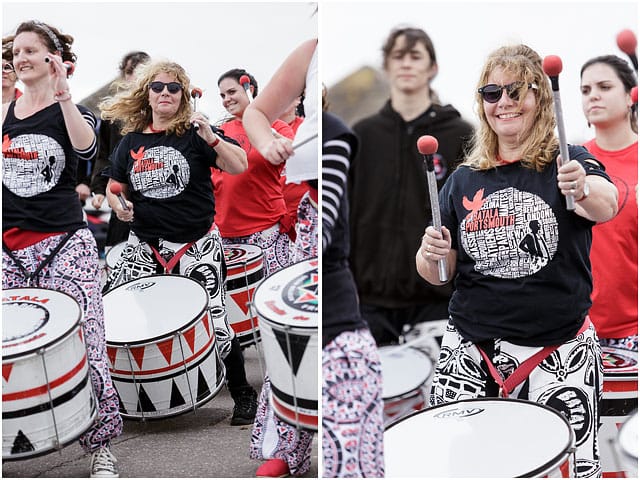 Any aspirations?
I saw the band 'The Dhol Foundation' recently. I'd love to learn to play the Dhol drum. I've joined them on Facebook and I'm waiting to see if they have any workshops. As for aspirations for Batala, just to stay in it as long as I can [laughs]
The Dhol Foundation is both a dhol drum institute in London and a musical group playing bhangra music. The dhol school was founded in 1989 by former Alaap member Johnny Kalsi when several musicians asked him to be their teacher, and a first album was released by Kalsi and his students in 2001.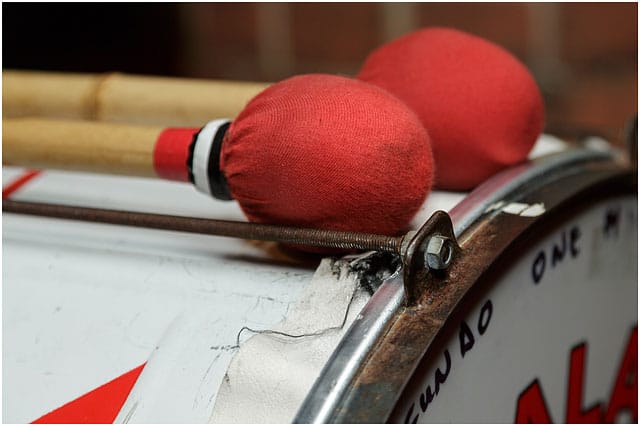 Web Links and References of interest
Batala
Batala: http://en.wikipedia.org/wiki/Batala_(music)
Facebook: https://www.facebook.com/Pompey.Batala
Twitter: https://twitter.com/PompeyBatala
Vimeo: http://vimeo.com/batalaportsmouth
YouTube: https://www.youtube.com/results?search_query=portsmouth+batala
Other
Area 51: http://www.area51.co/
Bestival: https://www.campbestival.net/