Matt has a background of serving the community and has a passion for 'The Dramatic'. During what little spare time that he has available, he is a member of the Portsmouth based, Fort Cumberland Guard.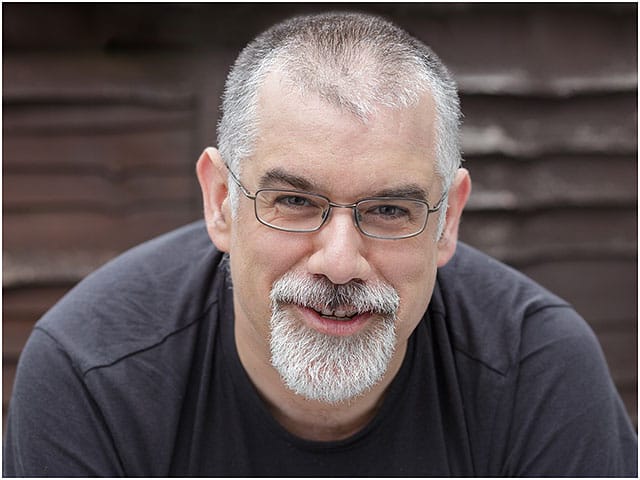 School Daze
Are you local?
Yes, born and bred in Portsmouth. My dad's a Pompey boy and my mum came from Southampton. I have a brother who lives up in Clanfield. But apart from a few stragglers here and there, that's pretty much our family.
Where were your childhood stomping grounds?
I grew up in Cosham for the first twenty-six years, then moved out to Hedge End for a while. Then, as most Pompey people tend to do, I came twanging back on a piece of elastic, never having quite achieved escape velocity [laughs].
… I came twanging back on a piece of elastic
I assume you went to school around these parts then?
Yes, Court Lane Junior School, and then Springfield. That was it for me. I got to the ripe old age of sixteen, when I was supposed to go to college, and decided it was not for me.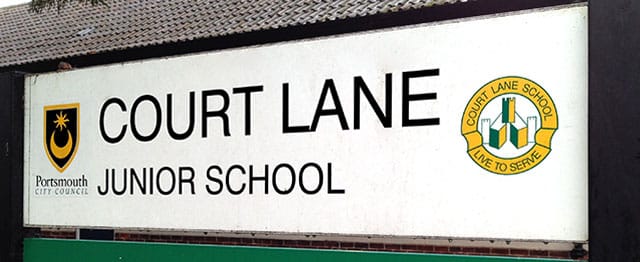 Early Career
What was the first step for you career wise?
Like most people, I had no idea of what I wanted to do and, if I'm honest, I still don't think I know all these years later [laughs]. Because I decided not to go to college, my dad insisted that I look for work straight away. After a short spell on a production line at the Kenwood factory in Havant, which I hated, I was accepted for an apprenticeship in the dockyard. My grandfather had been a Chief Engine Room Artificer in the Royal Navy, back in the 1930s and 40s. Because I'd always liked playing around with engines, I had it in my head that I'd be quite good as some sort of mechanical engineer.

Did you have any experience of working with engines?
I'd done motor mechanics at school, so I figured big engines, little engines, not that much difference [laughs]. However, during the aptitude test, they decided that I wasn't going to cut it in that area, so they wanted me to be an electrical fitter.
big engines, little engines, not that much difference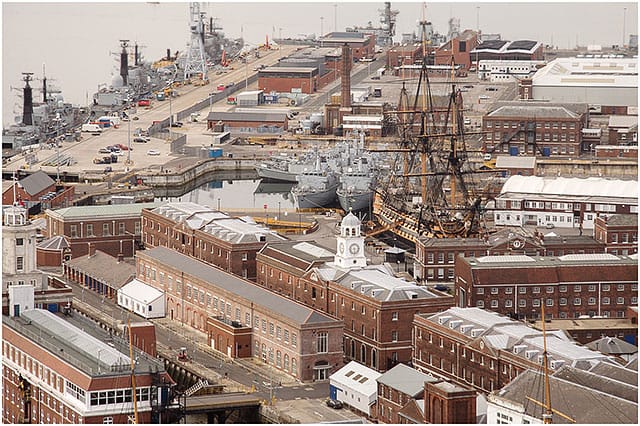 How did that work out?
I'd been there six months when, one day, we had to make a large scale circuit loom. Everything was done by hand to very exacting standards. Cutting threads for the metal conduit, stripping back cable insulation to precise lengths, the cable ends needed the right amount of curvature on the bend, all that sort of thing. I spent ages and ages doing it. I wired it all up and stood back to compare it to the finished diagram. I looked at it and said "yeah, I've actually done it. That looks the biz," you know? Everything in place, all the right lengths and measurements etc. So we throw the big switch to test it, and there was an almighty bang and a flash. When the smoke cleared, the supervisors came over to inspect the remains. They took one look at it, then back at me and said, "you've wired all three phases onto the same terminal". The whole 415 volt supply went kaboom. So, not surprisingly, I decided that playing with electricity wasn't for me. [laughs].
there was an almighty bang and a flash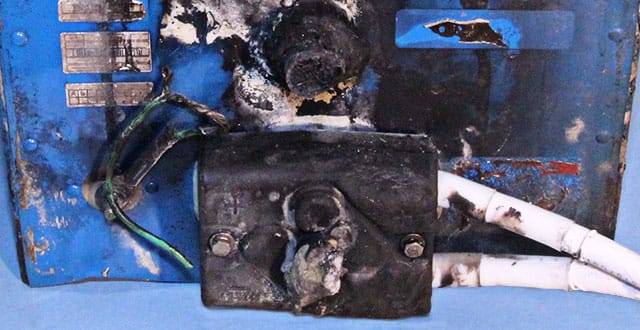 So that was the end of the apprenticeship?
Yep, I quit and got a roasting from the old man; 'you can't just throw an apprenticeship away'. The sort of thing you would expect from a father.
How old were you?
I was sixteen when I left school. So that was two job opportunities that I'd wasted and I wasn't even seventeen yet [laughs]. By now my dad was fully fed up with me, so I was, almost literally, dragged around job centres until I found positions to apply for. The next job was as an office junior at an estate agents down in Portsmouth. That was working in the print room, operating a massive photocopier that was over seven feet long. It did everything except make the tea and was used to put the mail shots together. Somebody would type up the details onto headed paper, add pictures from the in-house photography department, and give it to me to assemble. I would copy it umpteen thousand times and stuff them into envelopes. But after twelve months I was 'let go', on the grounds that I would never make an estate agent. I hadn't bl@@dy well tried; I was the office junior. Anyway, not long after that the company was taken over. You can draw your own conclusions as to why I was really told to leave. [laughs]
I would copy it umpteen thousand
times and stuff them into envelopes.
Back down the job centre again then?
Yep. Then I had a job in a local car audio entertainment suppliers and installers called, 'Road Sound'. Years later, after I'd left, they were taken over by Sextons, who at the time were our bitterest enemy. I used to sell big car stereo systems, back in the days when in-car entertainment had just taken off. We'd gone from the cheap and nasty pod speakers on the back shelf of a car, to the really high end stuff. We also sold mobile phones when they used to be the size of a small handbag. A call in those days was about a pound a minute and the handsets cost about £800 each [laughs]. I stayed there nearly three years I think.
We also sold mobile phones when they
used to be the size of a small handbag

You fancied another change?
Not exactly [laughs]. Part of my job was to deliver products out to the various stockists around the area. I was late in one morning and made a catastrophic error of judgement, which resulted in me writing off the delivery van. After two weeks of skulking around, not being able to look the boss in the eye, I said, "I think that it's about time I left", to which he agreed, saying "yeah, it's probably for the best" [laughs]. To be fair, somebody in our sister branch, in Aldershot, had done the same thing two months earlier, so they weren't very happy about it happening a second time.
Police and Thieves
On the move again?
Yeah. I knew a few people at the time who had joined the police force. They had said what a fantastic time they were having, and suggested that I give it a go. I had a bit of a think about it and decided to apply. However, it soon became apparent that it was going to take quite a while to process the application. So, in the meantime, I got a job with what used to be the Les Smith Auto Parts chain. They were all based around the south coast, and I was taken on as the assistant manager of the Eastleigh branch. I was also a relief area manager for the region, to cover for leave or sickness. The one thing that job confirmed, which I had always suspected, was that I'm not an 'indoorsy' sort of person. Being tied to a desk or workbench, with only a limited view of the world, was my idea of hell. Luckily, the police recruitment school came back to me, although, from start to finish, it took me two years to get in. For various reasons I kept missing the recruitment cut off dates. What's strange is that my dad had been a policeman, and I always said that's the one thing that I would never do. [laughs]. And here I am coming up for my twenty-fourth year.
Never say never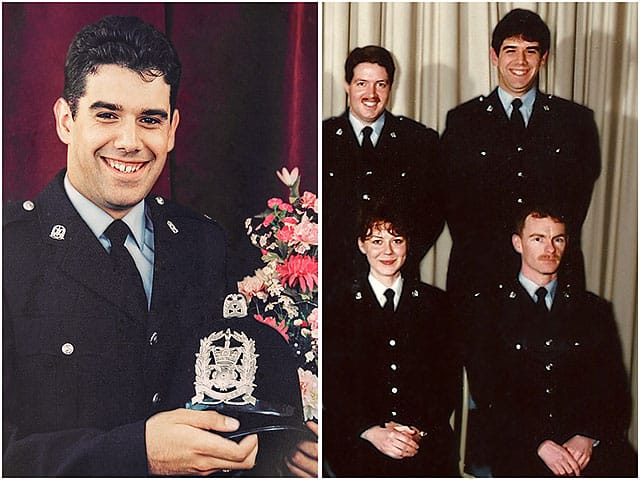 Something a little more long term this time then?
[Laughs]. Yes. I started off as a normal bobby on the beat in Portswood, Southampton, dealing with all the rubbish shoplifters. Then I progressed onto an area car, which meant that I could get to the rubbish shoplifters quicker [laughs]. That lasted for about four years.
it meant that I could get to the rubbish shoplifters quicker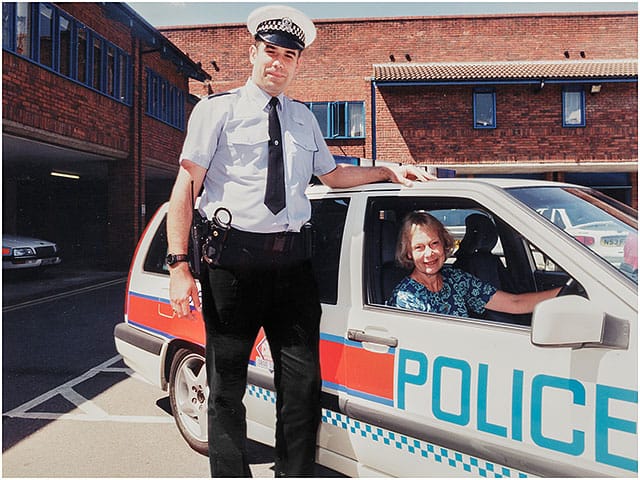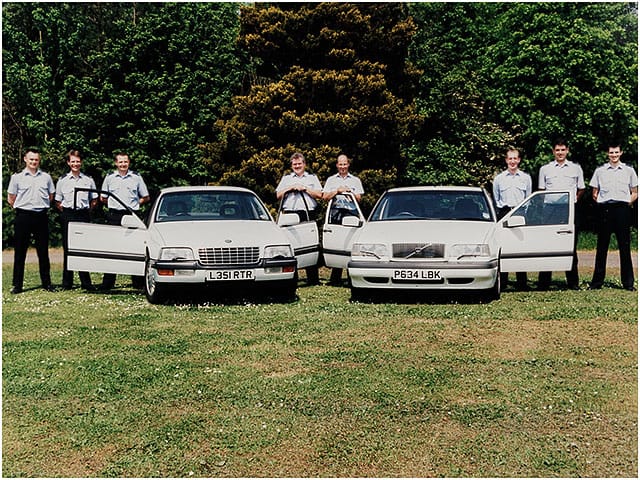 Back to cars again …
Working Traffic was the next step, which is what I'd wanted to do from when I first joined. I love cars and driving, so I was very happy with the move. The Traffic Division taught me to drive properly, and it was great fun going 'Nee Nah', pulling rolled vans out of ditches and things like that. Then, after about four years with Traffic, they asked if I wanted to do a motorbike course. That was like, now you're talking.
They taught me to drive properly, and
it was great fun going 'Nee Nah'
Did you own a bike?
Well, as it happened, I'd just learned to ride a motorbike, so it was perfect timing. I'd wanted to own one since I was sixteen years old, but the old man had always said no. After qualifying, I transferred to Portsmouth, where I became one of the Portsea Island Traffic guys for about five years. With them, I was riding around Portsmouth, dealing with slightly smaller accidents than when I was with the Traffic section, happy as a pig in the proverbial. That was probably the best time for me.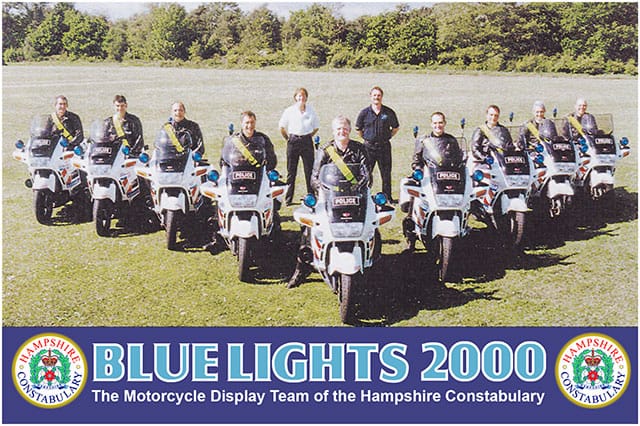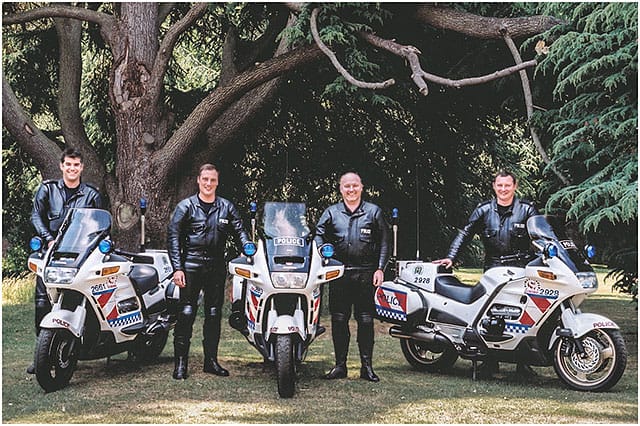 That was at Kingston Crescent?
The general public call it Kingston Crescent, but to us, it's always known as Fratton. Five years on and, one day, my brother-in-law, who was in the Marine Unit of the MOD police, invited me to spend a day on one of the dockyard launches with him. I had a brilliant day going round the harbour on one of the boats, and thought, "I quite fancy this." I was a bit fed up dealing with general Pompey idiots, so I put in papers to transfer.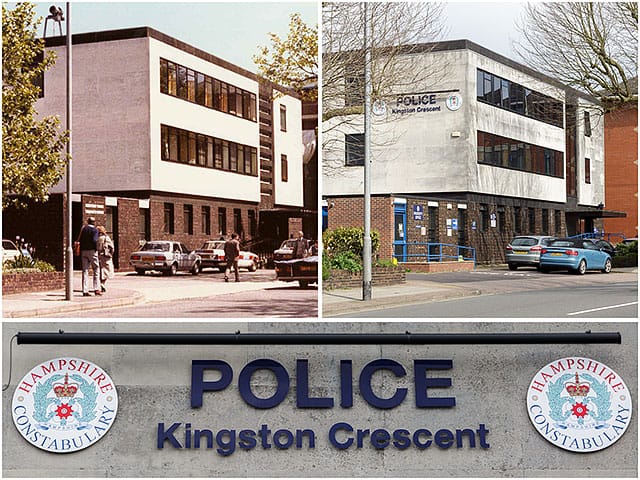 When was this?
That was in 2004, after just under thirteen years of doing the job. I spent about 18 months driving around the dockyard and then they got me a space on the boats. I've been there ever since. I drive a launch, or a Rhib, or whatever it is they want me to drive on any given day. To be honest, the boats and the bikes have been the best times for me because they're outside.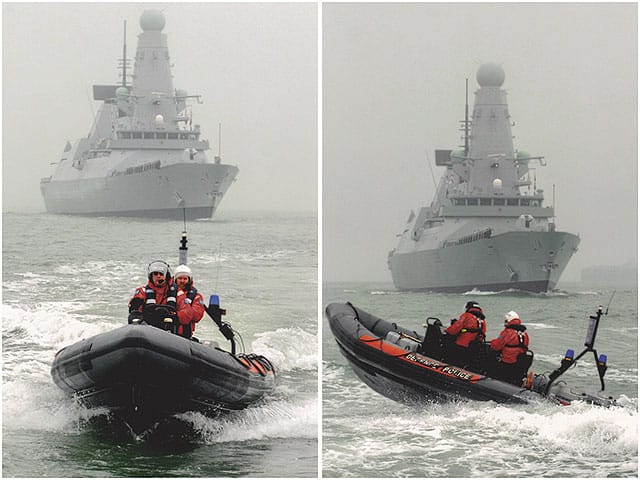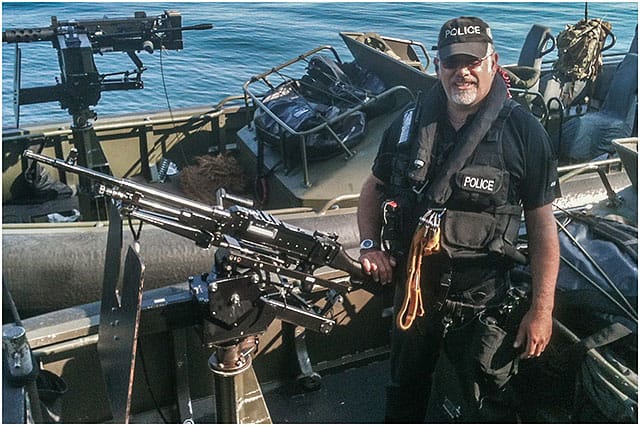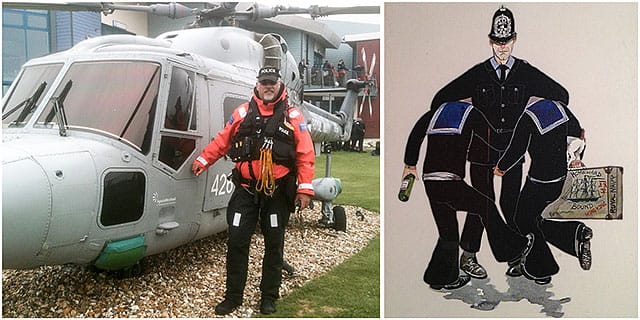 The RNLI
I believe you know one of my Weekend Passions contributors, Simon Matthews?
I know Simon from when I was on the Portsmouth RNLI crew. That was back at the turn of the noughties, as it were. Simon joined a year or two after I did. Actually, I only joined as a result of having taken up scuba diving. Although I loved the sea, and I loved being in, on, near, under, or around water, I realised that I didn't actually really know that much about proper seamanship. While I was pondering about how to educate myself on the subject, I happened to be riding my police bike down by the Hayling Island ferry one day. I rode past the Lifeboat station, and on the spur of the moment, I decide to go inside to see if they wanted any volunteers. At that time, they desperately needed daytime cover, so my turning up at that point was very lucky. Working shifts with the Police meant that I could be available.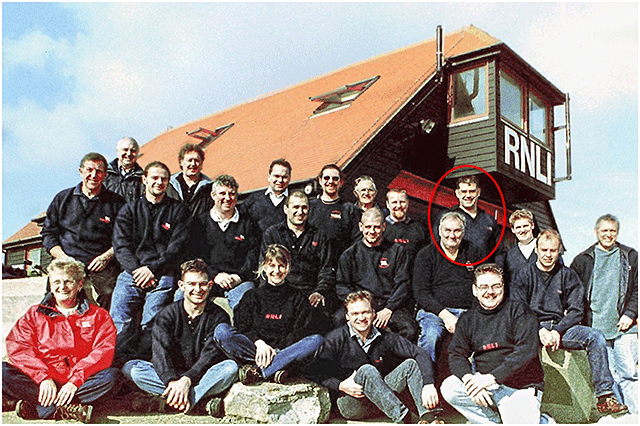 One of the best places for high-quality training on the water.
Exactly. They taught me how to drive a RHIB in atrocious conditions, along with navigation, rescue and search pattern training.
They taught me how to drive a
Rhib in atrocious conditions
That must have served you well for your current job?
That's right. When the MOD sent me up to Scotland for my training, I was totally at home. So that's how I know Simon. I was on the crew for five years before my circumstances changed. I had a 'little un' on the way and the crew mix changed. They managed to get a few more people who lived, or worked, closer to the lifeboat station, which meant that they could respond quicker than I could. At that time, I lived up in Bedhampton and I had nineteen sets of traffic lights to get through. My pager would go off and I would frequently, quite literally, miss the boat. In fact, once or twice, I arrived at the station just as they were returning from a shout. So it seemed sensible to give my place up to somebody else. Which is a shame, because I really enjoyed my time with them.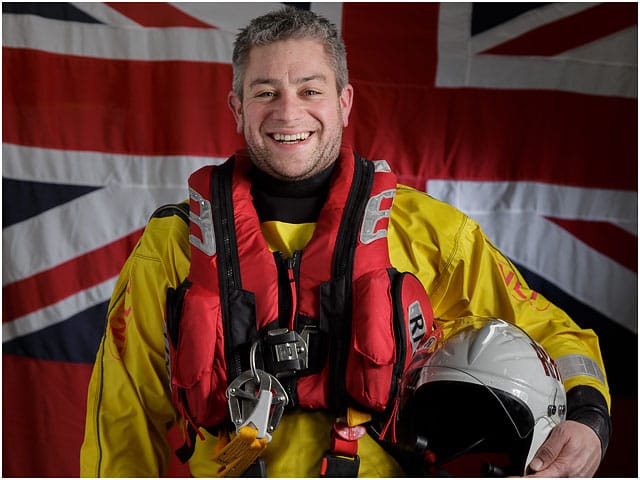 Next time, in Part Two, we talk about treading the boards rather than walking the beat and look at Matt's time in the Fort Cumberland Guard.
Web Links and References of interest
Part two:
Web:https://www.stevehughesphotography.co.uk/on-guard-part-two/ ‎
Portsmouth Dockyard
Web:http://www.historicdockyard.co.uk/
Sextons Car Audio and in-vehicle technology
Web: http://www.sextons-portsmouth.co.uk/
Hampshire Police Constabulary
Web: http://www.hampshire.police.uk/
MOD Police
Web: http://www.mod.police.uk/index.html
The Fort Cumberland Guard
Web: http://www.royalmarinesmuseum.co.uk/blog/item/newsblog/the-fort-cumberland-guard
RNLI: Portsmouth Lifeboat Station
Web: http://www.portsmouthlifeboat.co.uk/