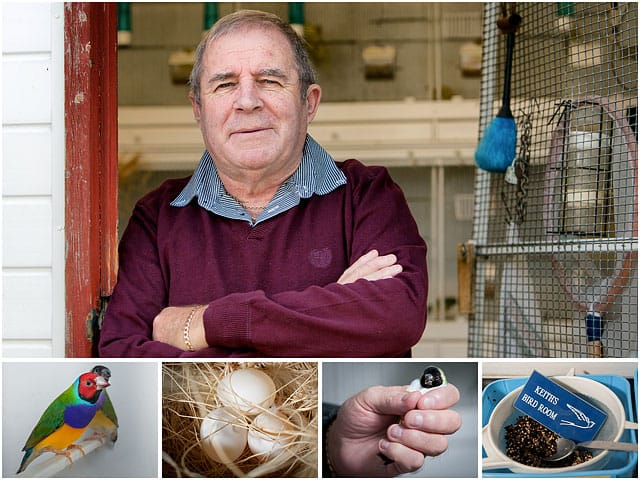 Drum roll for bird keepers
Funny how life twists and turns, isn't it? Take Keith for example. The simple fact of not being able to get a mortgage set him on the strange journey to being an international bird cage builder and breeder of Australian Gouldian Finches…
Despite being a successful professional drummer in Country & Western and popular music bands or as a jobbing session musician for most of his adult life, when it came to settling down to domestic bliss, the bank manager was not Keith's number one fan. In the late 1970's, having 'drummer' in the box labelled 'occupation' was not considered to be valid when it came to getting a mortgage. So Keith's only option, going totally against the doctrine of the 'Rock and Roll' lifestyle he'd been living, was to find steady nine to five employment.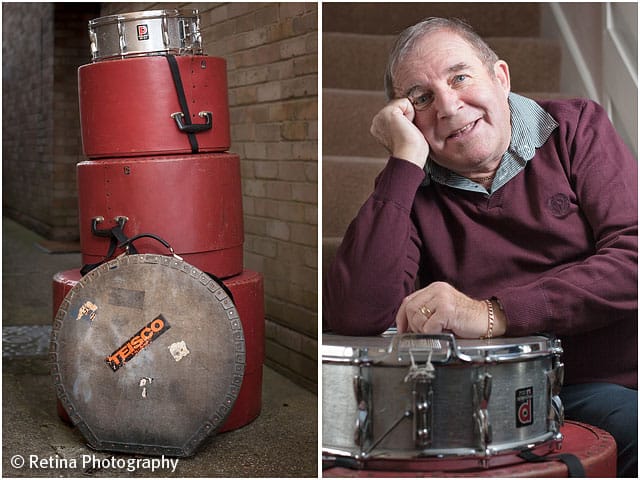 So Keith attended a job interview, on a friends recommendation, for some work in the machine shop of a local site for Plessey Semiconductors, the international electronics company. As it turned out, having no training or experience was not a barrier. When the interviewer, himself a saxophone player, discovered that keith was a drummer, he recognised a kindred spirit and quickly found him a job that required the minimum of training, but kept him busy.
The work place also provided Keith with more than just employment. It's a given that within any large workforce, the chances are that there will be a number of musicians looking for a creative outlet. Plessey was no exception and, within a short space of time, Keith had found, and hooked up with, Dave Triggs (Guitar, Vocals), Pete Handley (Bass,Vocals), and Keith Gladwell (Drums), who were to become the band members for the  Country and Western group 'The Rye Whiskey Road Band'. They were later joined by Mike White (Guitar, Vocals) and Ken Byng (Pedal Steel, Dobro).

Heady days and Keith was, effectively, in common with a lot of musicians, working at two jobs. The day job in the machine shop, and the night job as a professional drummer. It wasn't uncommon to find the band camped out on the works lobby floor, after returning from a late night gig in the north of England, ready for work the following day. The band's record label, as part of a Government tax incentive and Urban Regeneration Scheme, moved to Wales. This meant that the band would also have to travel to Wales to record their albums. Luckily for Keith and the band, Plessey were very accommodating with regard to allowing them to travel to gigs during work time, by a mutually agreed flexible working arrangement. In return, the band would ensure that the company name was prominent within their promotion material. The band eventually went on to record four albums together and were presented with a silver disc, for the album "I Dream of Highways", which Keith displays proudly on his wall at home.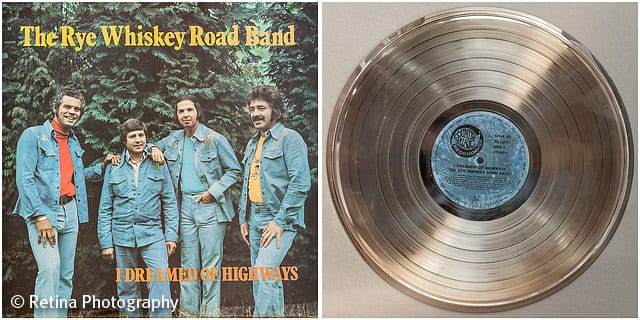 Over the next twenty years or so, Keith, whilst in a variety of bands, played local dances, holiday camps, private parties for the rich and famous and top flight entertainment venues. He once turned down a shot at being on one of the first Opportunity Knocks programs (one of the earliest UK talent shows during the 1970's with the infamous presenter Hughie Green) because of contractual disagreements. A television performance by The Rye Whiskey Road Band was shown on 'South Today' (a regional news programme for the South of England) as part of its twenty-five year celebrations and memories, which prompted a brief band revival. As his touring days starting to dwindle, Keith was looking around for a hobby to occupy his spare time. Having dabbled in Model Railways and a few other pastimes, keeping birds was not high on the list. In fact, it wasn't even his idea.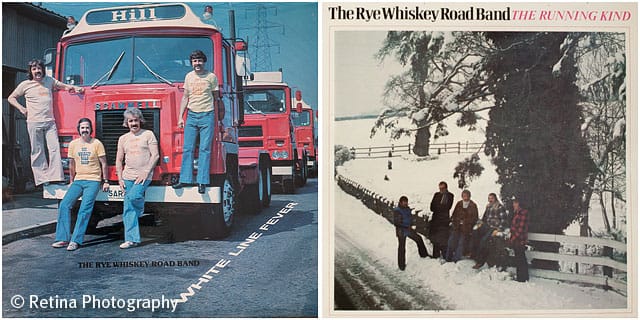 A friend had turned up unannounced one day, at Keith's house, with a present of two Zebra Finches in a cage for his youngest adopted son, with the instruction "you'll have to build an aviary in the back garden now". Of course, eager to please his son, Keith built the aviary. As is often the way, his son soon tired of the birds and Angela, Keith's wife whom he had met whilst working at Plessey, said that the birds would have to go. But Keith, being soft hearted, couldn't bring himself to uproot the birds again, so decided to keep them. It was only then that he realised the problem he had created for himself. The aviary was too small for him to get into to maintain the birds, which meant only one thing; he had to build a larger version.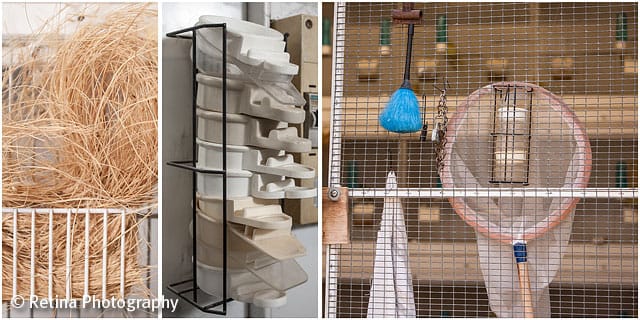 Over the next couple of years the shed size increased, along with the number of birds that Keith had started to collect and, by now, breed. Angela had bought some Red Factor Finches as a gift, which had nearly driven Keith insane. Red Factors require a special diet to ensure that they keep their trademark colour. But Keith became paranoid that the other birds' feed would become contaminated and affect their colouring as well. They had to go. Settling back to breeding ordinary Canaries and Finches he was a lot happier.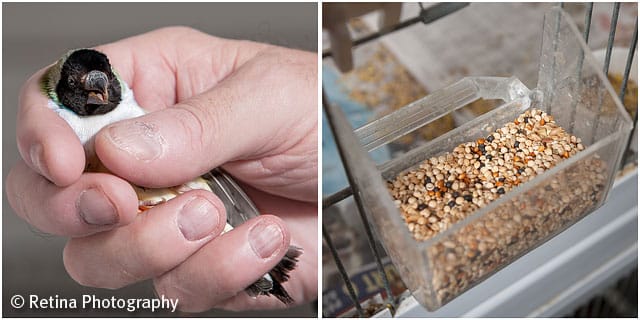 It was around this time that a friend suggested that Keith have a look at the Australian Gouldian Finches as an option. This breed was not one that Keith had considered due to their supposed high maintenance demands. They can be very particular about temperature variations and the way they are handled. None the less, mainly to keep his friend happy, Keith made enquiries. As soon as he saw them he was smitten. Their bright primary colours and gentle demeanour connected with Keith's sensibilities. He joined the Australian Finch Society and immediately set about buying and breeding Gouldians.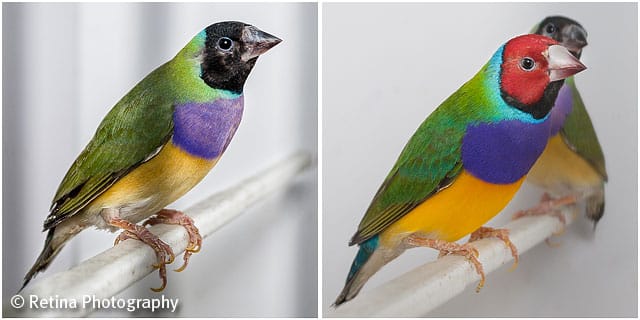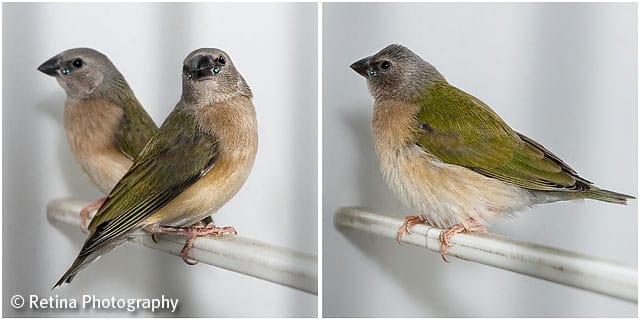 The Gouldian Finches can live for anything up to around five years. The male is more brightly coloured than the female and turns from a dull grey, when first born, to its full colour plumage over a period of six months. The feathers slowly take on their adult colours starting at the tail and finishing at the head. The males beak finally turns an ivory colour, much like an elephant's tusk, when the transformation is complete. The female can take a full year and her beak, in comparison, goes black. Gouldian Finches, in common with many birds have their own mating ritual. When a male is courting a female, he bobs about ruffling his feathers to show off his colors. He expands his chest and fluffs out his forehead feathers. It can be quite comical to watch, at least to us humans, as it's not uncommon for him to get so excited that he falls off the perch.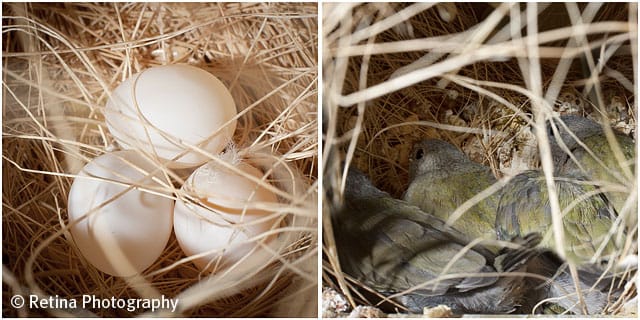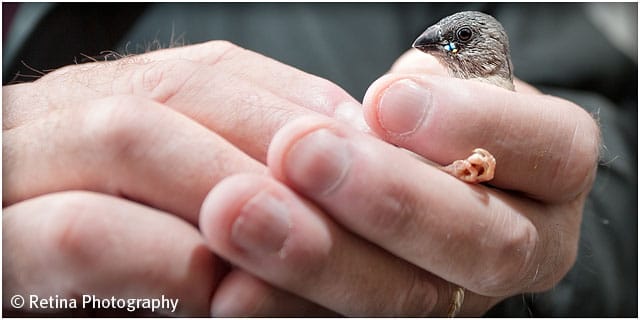 When paired and mated, the eggs are laid in nesting boxes filled with coconut hair, which the birds fashion into a small rugby ball shape, approximately five inches in height. The chicks hatch between twelve and fourteen days later and have unusual fluorescent markings on their beaks. In the country of their origin, Australia, the nests are often made deep inside hollowed out tree trunks. The markings enable the parents to find the chicks beaks in the dark for feeding. Keith doesn't raise his birds using heat, and has found that this has reduced the incidence of breeding failure due to temperature variations. This approach, Keith freely admits, is not for everyone, but it has worked for him. The one thing that he is particular about is that he won't sell birds to anyone who has rigorously temperature controlled environments. The shock of these conditions is likely to kill the birds, so he declines such sales. Keith also doesn't 'ring' his birds. Many small birds can be overly sensitive to having foreign objects attached to them. It's been known, and indeed Keith has one such example, for a bird to peck it's own leg off in it's efforts to remove the ring!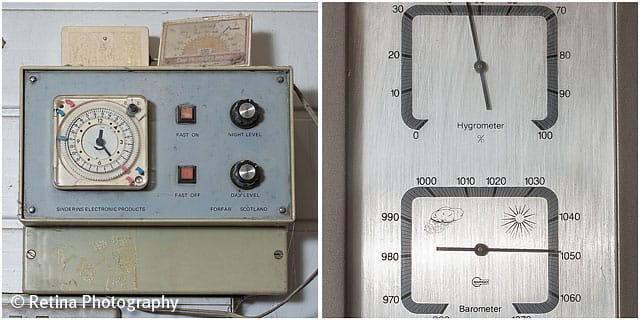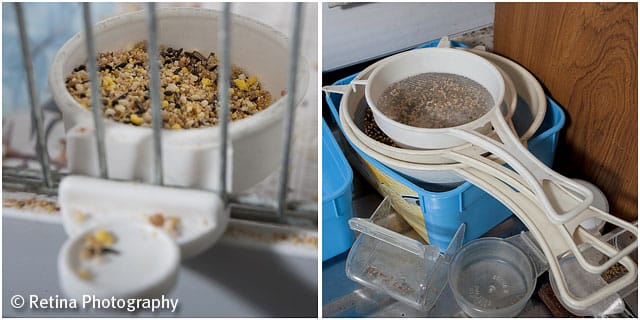 It's now time to introduce the 'corporate shed'. One day at work, word got around that the Human Resources section of the Plessey plant was being relocated and the existing portakabin was to be demolished. Keith's antenna twitched and he spotted the opportunity of gaining a new bird room for home. After discussions with the 'wrecking' crew, he discovered that the existing building had to be removed from site by the end of the day. Undeterred, Keith, after reluctant approval from his boss, requisitioned the company trailer. With the help of some work colleagues, skateboards, and a lot of swearing, they moved the whole thing into his back garden where it stands today. Since it's installation, the bird house has seen several major refits and the addition of running water and electricity for lighting etc. It's also home to examples of the famous 'KG Cages'.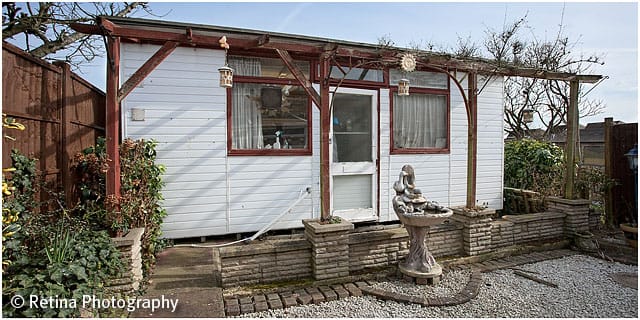 Frustrated at having to repaint his wooden bird cages every year, no small undertaking when you are a bird breeder, Keith decided to put his workshop skills to good use to design a new type of bird cage. Using the heavy duty plastic that soffits and facia boards for houses are made from, he created a new type of modular design that allowed for expansion and variations in use. A fellow bird breed spotted one of the cages at a meet up and asked Keith to make him one. This was twelve years ago, and that first order kick started Keith's bird cage business. It was his son who came up with the simple, but clever, business name of 'KG Cages' and, via word of mouth, they were quickly in high demand. The cages were shown at the World Bird Show which prompted interest from companies in Holland, Belgium, Germany and France. In fact, Pedigree Petfoods, a division of Mars Limited, approached Keith to build cages for a bird room in their research centre. He had stiff competition from a German cage manufacturer but, after extensive product testing and numerous business discussions, he won the contract. In another instance, the 'Budgerigar Society' asked for some cages for a number of judges who wanted bird rooms built. His expertise and reputation was spreading.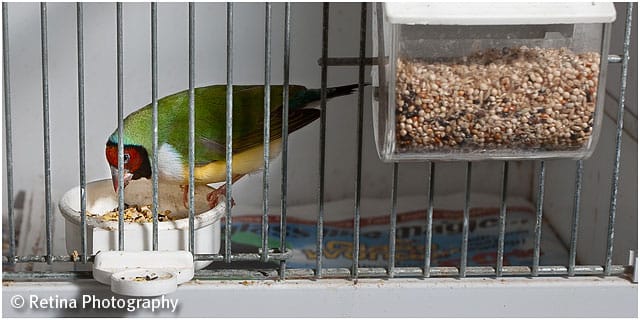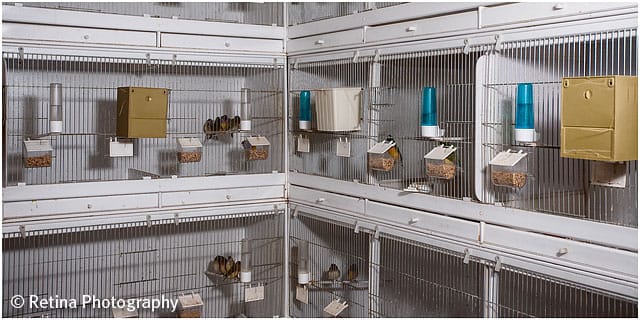 The cages can be used singly or grouped together. What's unique about the design, apart from being made of durable plastic, is that when aligned horizontally, the adjoining side walls can be removed to provide a 'flying run' for the birds. The more cages, the longer the run. Keith uses this approach extensively himself for his breeding programme. When a pair of birds are mating, or are with young, they are constrained to a single cage with a nesting box attached on the outside. When the chicks mature, the cage side walls are removed and they are given a free run of five or six cages. This may come as a surprise to some people who are not familiar with bird breeding conditions. A few years ago Keith was asked to give a talk and show his birds to a local Women's Institute group. The sixteen ladies, whilst very interested in the talk, had some hesitancy in seeing the birds in person. Some were positively hostile towards the idea of keeping birds in cages. It was only when a handful of 'brave' souls ventured into his bird room and came back enthusing about the conditions, and how wonderful the birds actually were, that the others were won around.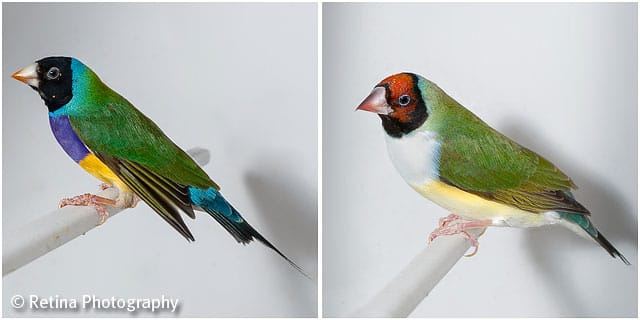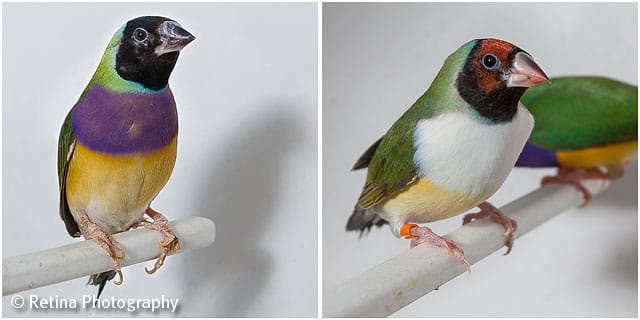 The kicker for the winding up of our story, is that in the middle of last year (2011) Keith was beset with advanced problems with his eyesight. With the loss of the sight in one eye completely, and the other's vision highly degraded, he has been forced to shut down the cage building business. He says he has no regrets but, in true 'Keith' style, rather than sell the business and associated contacts, he essentially gave it away. He sold the manufacturing stock and equipment, but not the business itself. In a grand gesture of goodwill, he gave everything associated with the business to friends, and fellow bird product business couple, Barry and Jessica Staff at 'BJS of Worcester'.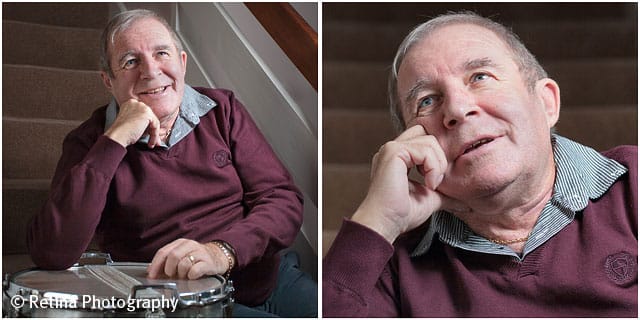 However, Keith's biggest challenge is just around the corner. At the same time as discovering he had failing eyesight, he was diagnosed with the prospect of imminent kidney failure. In a touching gesture of love and solidarity, Angela, now his wife of over thirty years, has volunteered to donate one of her kidneys to him. They've had a tough eight months, and Angela has had to have rigorous and extensive health checks to ensure suitability for the donation. With the positive attitude that has got them both this far, they consider it as just another speed bump in the road. Not the end of something, but a new beginning. Drum roll if you please.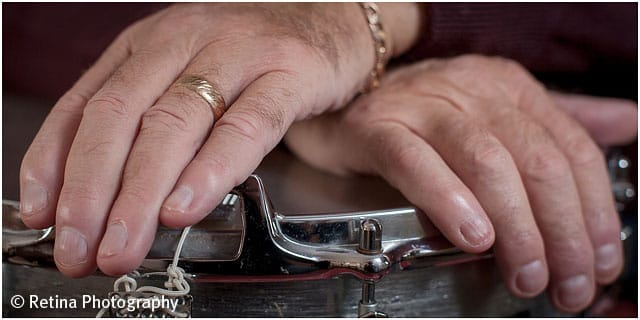 Additional Links
BJS of Worcester – (Barry & Jessica)
Riverside Aviaries (Cheryl and Ray)
The Australian Finch Society