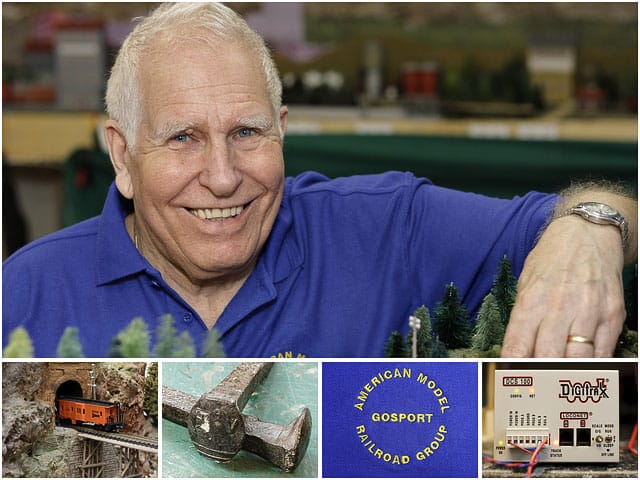 Young (ish) Turks go loco
Railway enthusiasts, Allan is the first to admit, get a bad press in England. The general public have a view of them as a niche group of, mainly, men with minimal social skills, who are basically grown-ups playing with children's toys …
Nothing could be further from the truth of course, and model railway enthusiasts, in particular, usually have a wide range of skills that many men would be proud to have, and they are only too happy to share their passion for the hobby.

Allan had his first train set as a boy at around six years old. A simple affair by todays standards. The set consisted of an early Hornby 'O' gauge wind-up locomotive and three wagons, on a single oval track, probably no more than a few feet square in total area. Allan was fascinated from the word go, but this was also around the time, 1939, that World War II broke out, so, as you would expect, normal life was somewhat interrupted for the next six years. By the time the war had ended, Allan's interests had been diverted to other pursuits. The dream of a 'proper' model railway was still in the back of his mind, but it would be another thirty odd years before he would return to his first love.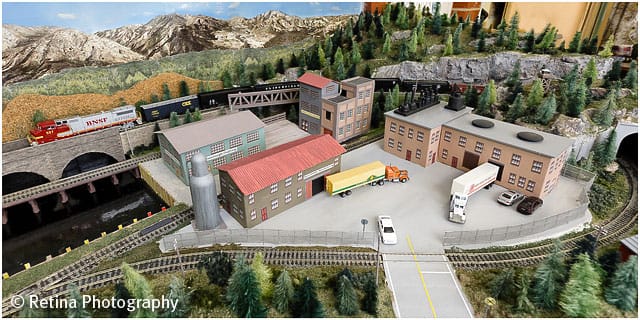 Hailing originally from Kent, Allan has lived mainly along the south coast of England. Apart from a brief spell in Cornwall, he eventually settled in Hampshire in an area known as Gosport. All of his adult life, Allan has been involved in electronics and engineering or working with his hands. Having somewhat itchy feet as a young man, and fancying a change from his first career as a test engineer, Allan invested in some derelict properties in Cornwall and tried his hand at property redevelopment. He found that his work ethic, attention to detail, and the high standards that he was used to as an engineer, were a natural fit. After a number of successful builds, he was offered the chance to build sixteen split level houses in the same area, but due to a change in personal circumstances, he was forced to turn down the opportunity. It was after returning to engineering, at a Cornwall based appliance controls company, that he met his wife of over forty years, Sylvia.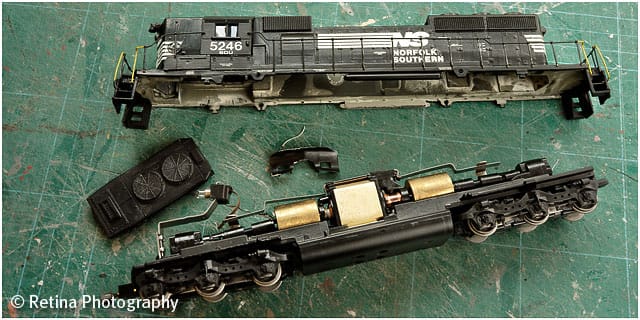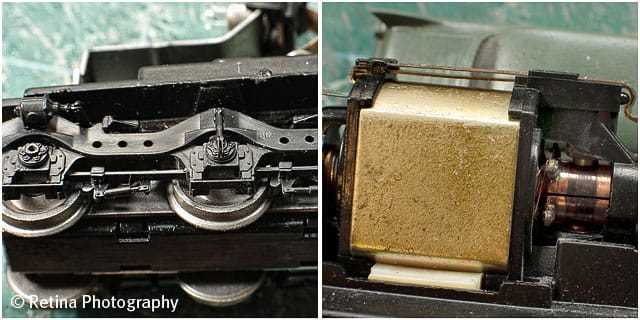 It was a number of years, with some false starts and a couple of local moves, before the happy couple found the house that they have now considered to truly be home. Once settled, it was then that Allan was finally able to take up his hobby of model railways properly. Like most UK model railway enthusiasts, Allan followed the fairly standard route of building layouts with British locomotives and carriages but using the 'N' gauge (see link at end of this article for an explanation of the various model railway gauges and scales). It's a common sight at model railway conventions and meet-ups, to see the operators having to 'encourage' their trains, or place them back on the tracks after a derailment. Frustrated with this approach and seeking an alternative, Allan decided to switch to the American outline models using the same gauge but being far superior in traction, around this time he joined the British Region of NMRA [National Model Railroad Association of America] this is the group who organised the standards used by the manufacturers today.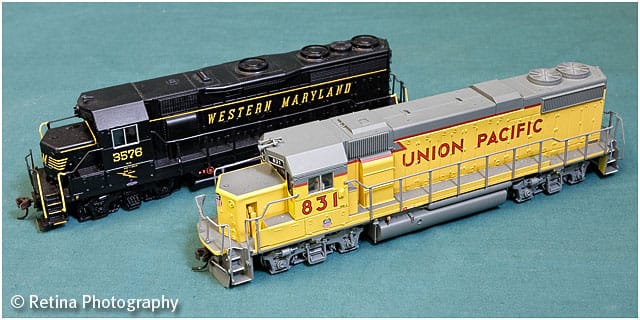 The locomotives are heavier, more robust, and the extra weight means that less time is spent putting the trains back on the track and more actually running them as intended. With around twenty UK dealers selling American Railway model rolling stock, the search for locomotives and carriages is not as easy as seeking out the British equivalents locally. The Internet has made it a lot easier of course and, with a vast world-wide following, there isn't a shortage of willing suppliers. Interestingly, the British system has started to introduce diesel locomotives with four or five car sets, which are able to get greater traction, moving closer to the American approach.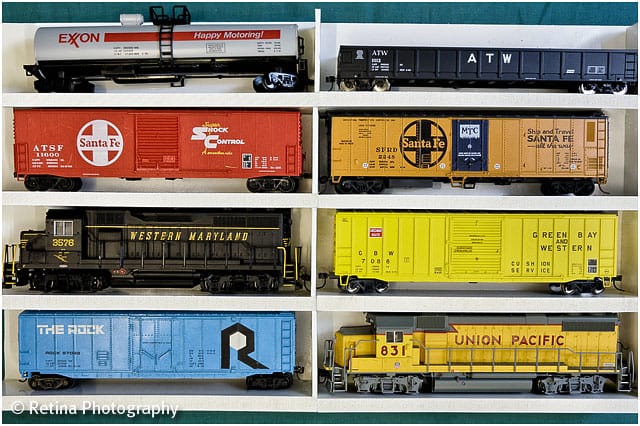 Eventually, seeking like-minded enthusiasts, Allan went along to meet the nearest local group of British region of the NMRA. Unfortunately, the nearest group was in Poole, Dorset. With a round trip of about a hundred miles, this was a bit of a trek from Gosport for a days entertainment, even if it was only every three months. As luck would have it, a chance conversation with the club 'tea lady', resulted in Allan learning that the latest recruit, Roger, was from Allan's home town of Gosport. The two men exchanged details and arranged to visit each others homes to see their railroad layouts. It made sense that they should car share for travel to the Poole group meetings and, during one such journey, Allan commented that, 'If there are two of us, you know there might be three of us'. Little did he realise what this was to lead to. As members, their names and details were entered into the group NMRA directory. This is essentially a list of all the UK members, which numbered around six hundred at the time. For comparison the NMRA world wide had in excess of twenty-six thousand members.
Fate stepped in again, and not long after the publication of the next directory, Allan had a phone call from a member who had just moved to Gosport and wanted to meet up. Spurred on by the interest, Allan decided to put a card in a local model shop window, seeking other local enthusiasts. This resulted in another two hobbyists making contact. This was the nucleus of a fledgling local Gosport group. The first adopted name was 'The Turk Town American Model Railway club', but this was soon changed to the simpler, and a less contentious, American Model Railroad Group of Gosport or AMRG for short.
[See Footnote for an explanation of the origins of 'Turk Town']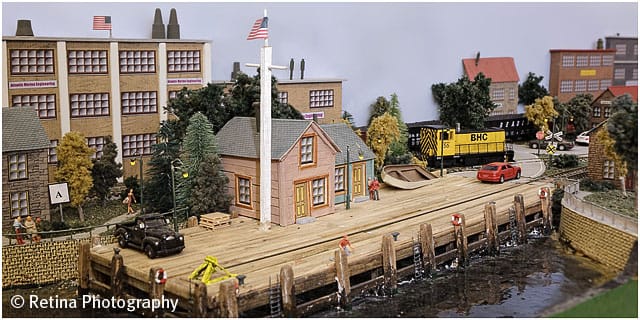 With over forty-two meetings under it's belt during ten plus years, the group has grown from the original two like-minded individuals, to thirty-six regulars. With visitors from Poole (ironic isn't it?), Oxford, Basingstoke and Guildford, it's not uncommon to have in excess of seventy attendees at the quarterly meetings (details of the next meeting below) at St Mary's Parish Centre, Green Road, in Alverstoke, where the group convenes. For club exhibitions, there is the sale of teas and coffees, and the entrance fee of £1, to cover the cost of hiring the hall. It's an inexpensive days entertainment and kids love it. Parents or grandparents are more than happy because the children are quite, occupied, and out of trouble. The club has had some really nice feedback from these events, so watch out for posters in Gosport or the surrounding area advertising the next exhibition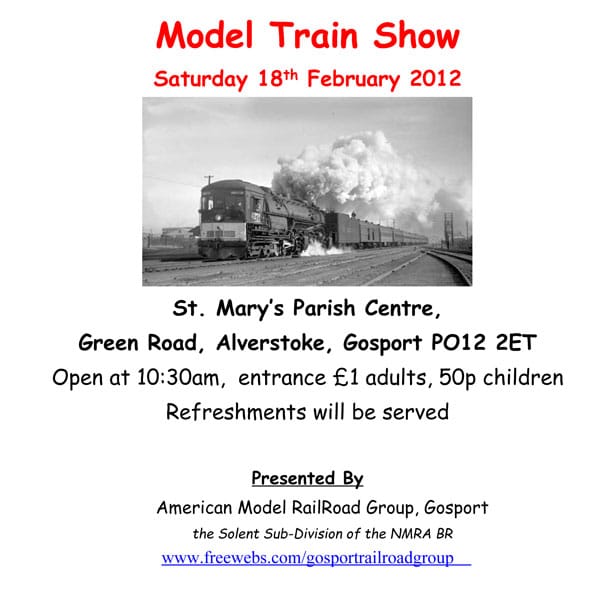 From the outset the group, under Allan's stewardship, has taken a different and friendly approach when putting on public exhibitions. Most railway modellers are reluctant to allow the public, let alone children, have a 'hands on' experience with the trains and layouts. The AMRG is always seeking to encourage the exact opposite attitude and welcome the public and the children to 'have a go'. Allan strongly believes that this is the right way to improve the public perception of railway enthusiasts and to possibly persuade younger members to explore the possibilities of the hobby. As a teenage boy, Allan had seen the Reverend Wilbert Awdry, of 'Thomas the Tank Engine' fame, in a railway show at the Horticultural Hall in London sometime around 1947/1948. It left a telling impression on Allan, Awdry, still wearing his dog collar, looked more than happy with a crowd of children telling them his stories while driving trains.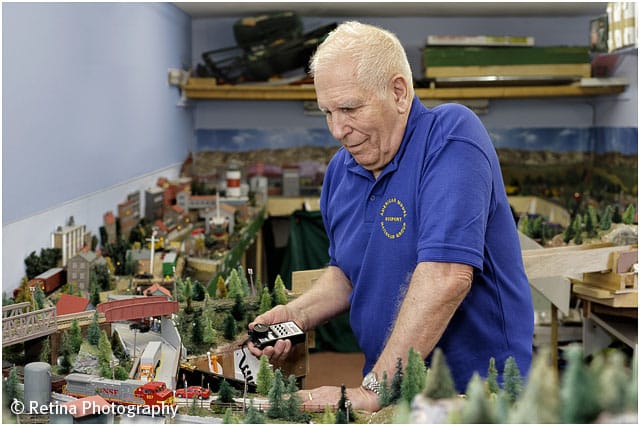 If the truth be told, Allan actually gets more enjoyment from building the layouts and watching others use them, rather than actually running the trains himself. He says that nothing pleases him more than having a few like minded enthusiasts round for an evening, getting stuck into using his layout, with him standing back watching them enjoy themselves. At conventions he is happy to be the 'meeter and greeter' at the door when a show is put on, chatting to folks about the hobby and the club. One of his biggest thrills is spotting a returning face from a previous show, knowing that he may have a 'convert'.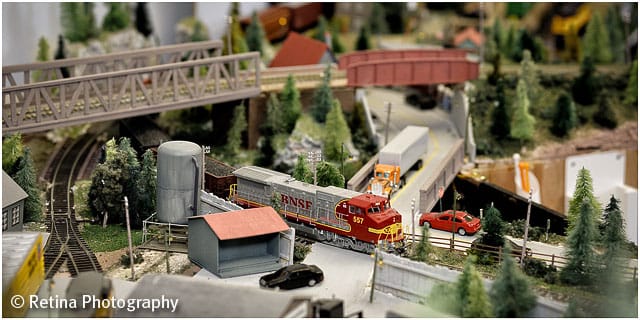 The average railway modeller has quite a range of skills that are generally not really appreciated, especially by the media. But not everyone goes to the same lengths for authenticity or realism. At one end of the spectrum is John, one of the AMRG members, who specialises in the representation of the American Durango & Silverton narrow gauge Rio Grande train in the Rockies, albeit without the real life 400ft cliff top drop, running on four paste tables and following a timetable. Every element is carefully considered and authentic in it's representation. On the other hand, there are those who want a very basic set-up, all finished, where you just put the train on the track and let it go. John is often seen with two or three children driving trains on his layout, rather like the Pied Piper.

Allan's approach is somewhere in-between having recently swapped scales from 'N' to 'HO' he has completely built what you see within the last year, His layout is more of a mixture of styles and periods, but is nonetheless impressive, and carefully built with a true affection for the craft. A firm believer in making, quite literally, the most of what you have at your disposal, he has designed and built a multitrack layout, in part of his large garage, on purpose built staging. Many modellers are competent artists, with a vision for scenes or matching landscapes, and Allan is no different. Each section is an imaginary scene in miniature, all adding up to an approximate 20ft by 9ft layout, with an eclectic mix of dioramas. Most of the elements are home-made from everyday items, such as food packaging and toiletry containers, with ingenious use of 'hairy' string, unravelled and dipped in dye, to create trees and other landscape shrubbery.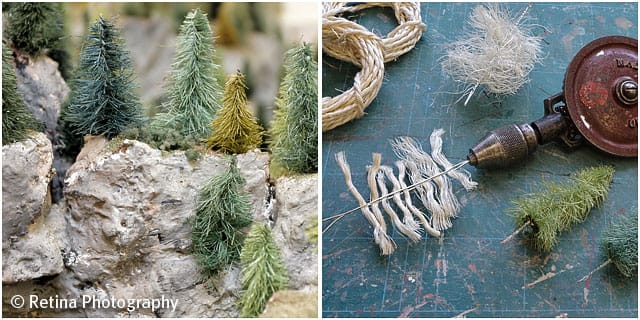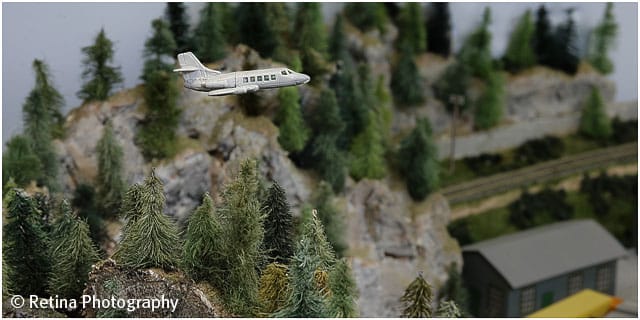 True enthusiasts, such as Allan, are more than capable of carpentry, mechanics, engineering, some electrics and, latterly, electronics, all to varying degrees of proficiency of course. The beauty of model railways, or railroads, is that they cater for a wide cross-section of hobbyists. From simple hobbyists who want a very basic set-up, through to the serious enthusiasts who want to know every rivet, nut and bolt. There are even those folks who have been known to concentrate solely on scenery creation.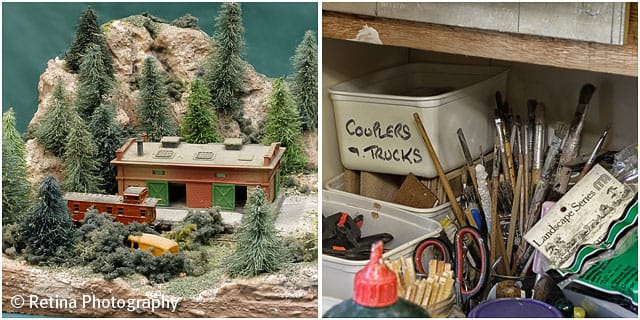 Modern railway layouts are no longer 'live' in the old fashioned sense of the word, having been replaced with locomotives containing microchips that are controlled by complex hand controllers. The level of control has increased greatly. With such systems, subtle micro adjustments are possible for each locomotive, and the number of the trains running is only limited by the size of the layout.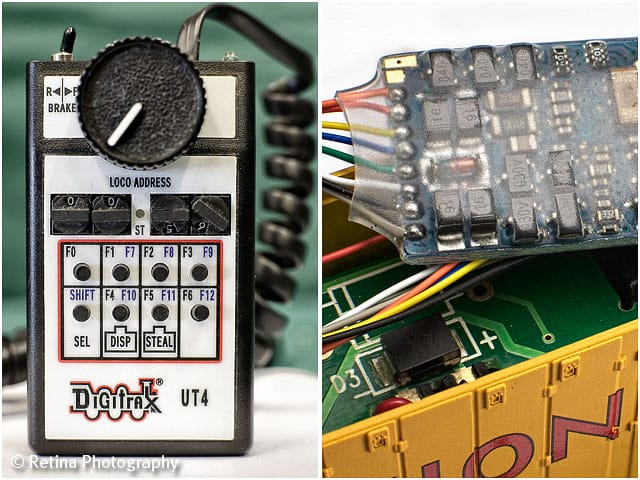 In America where railroad modelling is much more widely accepted, with enthusiasts in all walks of life from doctors, surveyors and computer wizards, more than happy to publicly profess their passion for the hobby, huge layouts have been created. One such 'N' track modular layout, in which club or group members each brought 'sections' or 'modules' (possibly originating as part of a home layout, but without a start or end point) and added it to others, has been counted at over 800 modules. The time from sending a train off to its returning could be well over an hour!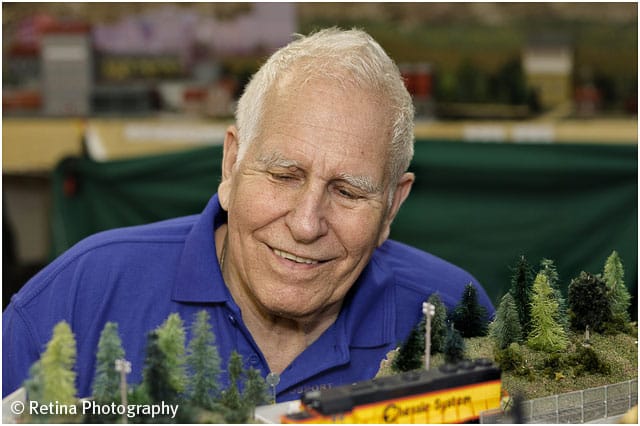 Sylvia, Allan's wife, is justifiably proud of what her husband has achieved. Not just his own excellent railroad layout, but for his community spirit and willingness to encourage others, especially children, to be involved. It's often said that men never really grow up, and going from a boy of six years old to being a grandfather, whilst remaining true to your dream, is quite an achievement. What better advertisement could railway modellers wish for.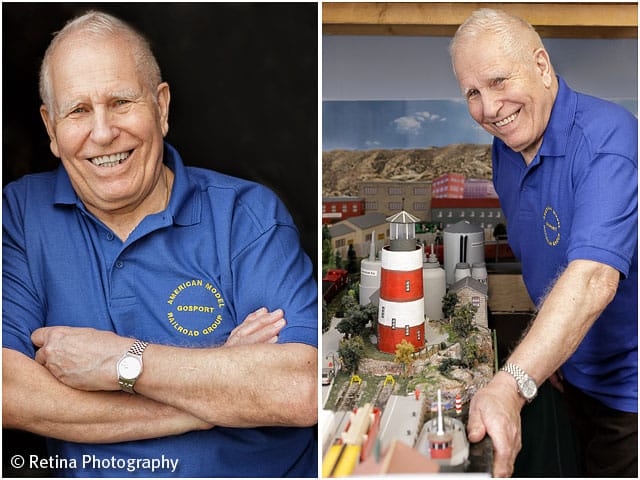 Wikipedia explanation of the origins of the Model railway HO scale:
http://en.wikipedia.org/wiki/HO_scale
Footnote:
[In November 1850, two ships of the Turkish Navy, the Mirat-i Zafer and Sirag-i Bahri Birik anchored off the Hardway – Gosport. The visit lasted several months and during this time some of the members of the crew contracted Cholera and were admitted to Haslar Hospital for treatment. From those who were admitted, most of them died, and other sailors died because of training accidents. In total, 26 died and were laid to rest in the grounds of Haslar. These graves have led to the nickname of Gosport people being referred to as "Turkers" and Gosport as "Turktown": Source Wikipedia].
Club web site:
http://www.freewebs.com/gosportrailroadgroup/
The NMRA British Region web site:
http://www.nmrabr.org.uk/
The NMRA YouTube Channel
The NMRA Facebook Page