Portsmouth Warriors – cheerleading training , competitions and more
2.
Portsmouth Warriors – cheerleading training , competitions and more
Last time we spoke to Ellie, we had the lowdown on the background of cheerleading and how she was captivated from the age of seven. Now for the serious stuff with the Portsmouth Warriors.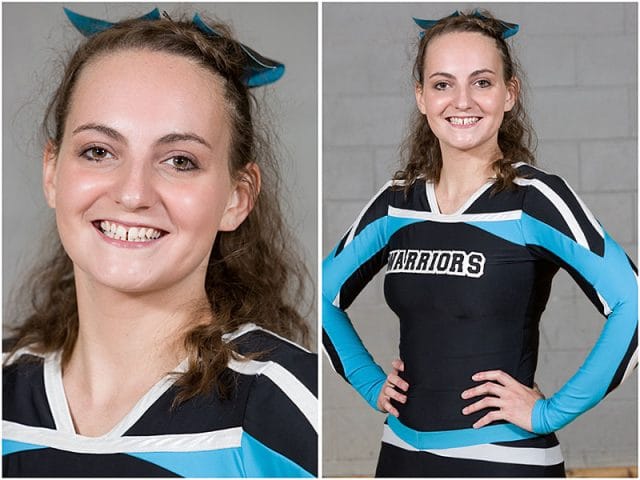 Training
Where do the Warriors train?
We have training sessions five times a week at the Charter Academy in Portsmouth. Funnily enough, when I joined the Portsmouth University team, we used to train at Charter. Since then I've been in lots of different halls, but I've come full circle back to Charter again. My team trains twice a week, which is fairly standard. I have been in a team that trained once a month, but that was an intensive weekend of sixteen hours training.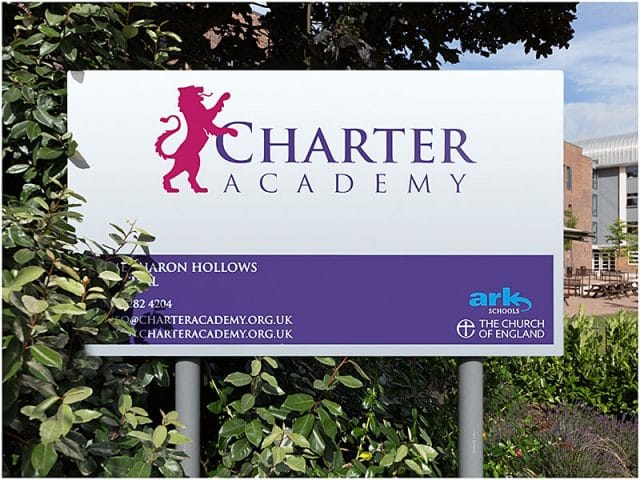 Do you prefer the training to be spread out?
The intensive weekend training was for the BCA All Stars team. That was only because the team members were spread out across the country, and it was the only practical way of training as a team. We competed in the International Championships in Florida, USA. We had the time of our lives at Disney World [laughs]. Two years in a row 2012 and 2013. By then I had started the Warriors.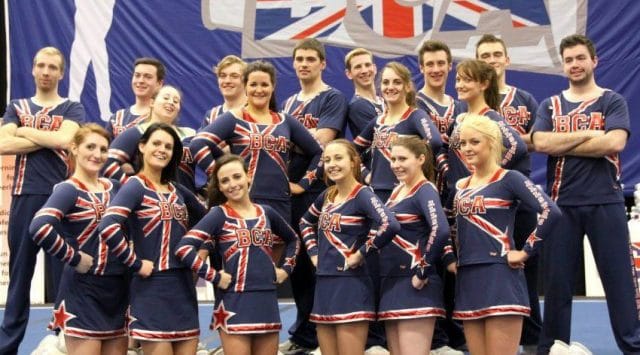 You're the head coach at The Warriors, how many others are there?
I have four assistant coaches.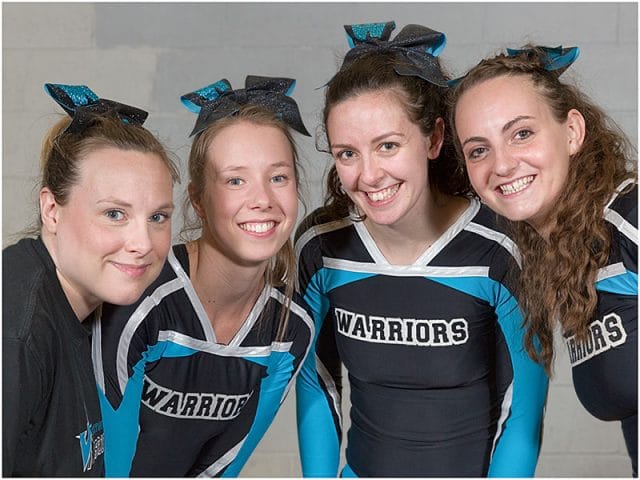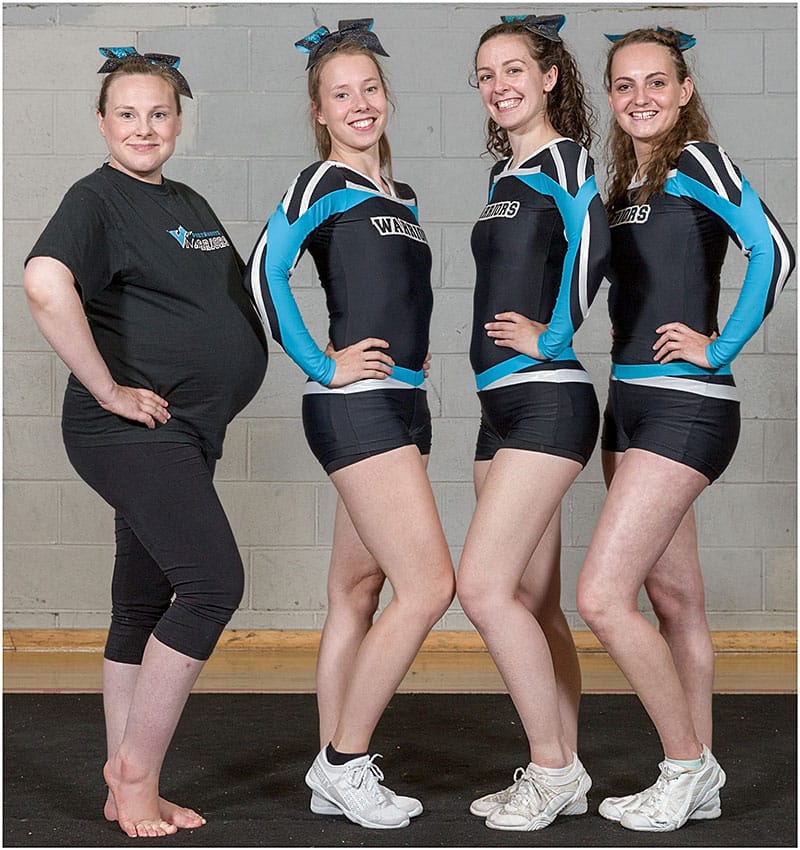 What do you need to be a cheerleader?
Number one is definitely enthusiasm. Cheerleading tends to be something that people haven't tried before. More and more people are getting into it at a young age, but it's not an easy option. You really have to want to do it and be prepared to work hard at it. It tends to come more easily to someone who has done gymnastics or dance before. Because it's a team sport, you also need shed loads of commitment. If you don't turn up to train, your stunt team can't train, which in turn means the whole routine can't be done.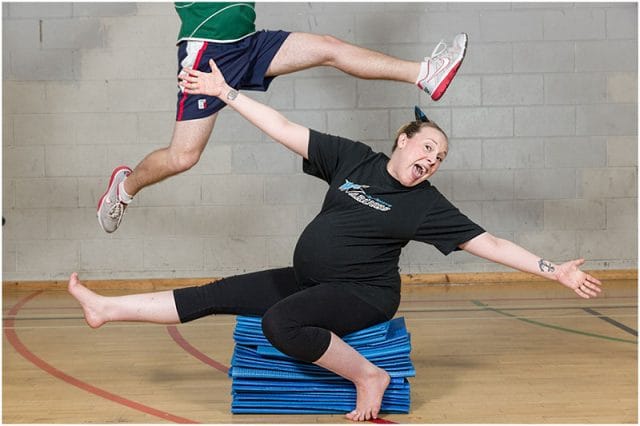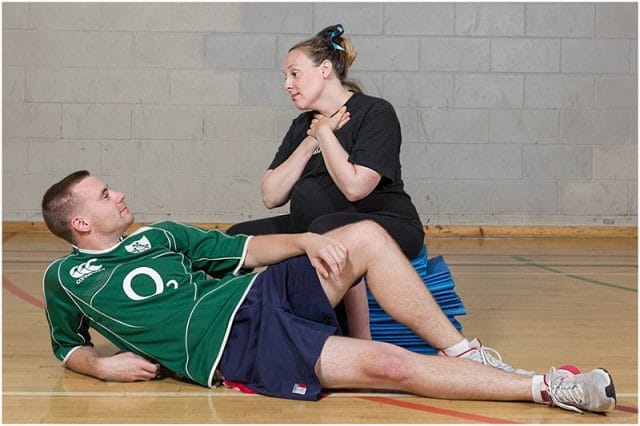 That requires a lot of commitment.
For my teams, I only allow them to miss training up to two times. If they miss three, they're off the team for that competition. I know it sounds harsh, but there's a lot riding on us pulling together as a team. They will always be a Warrior, but I don't allow them to compete in the routine that they've missed. Obviously, family emergencies or having a contagious virus don't count, I'm not that much of a tyrant [laughs]. If they're slightly ill, I do expect them to come to training and watch or get involved where they can.
Three strikes and you're out
Who designs the routines?
I do the choreography, but I do get input, inspiration, and suggestions from other team members. A lot of it is based on feedback from competition judges. If we get compliments on certain parts of a routine, for example, I might build on that specific aspect or create a routine similar to it. I've done a judging course myself, so I know what sort of thing they are looking for, which helps. As long as it's a legal move.
It's a constantly evolving sport, so we're always adding ideas to our routines.
How is the training broken down?
It's all strength and skill based. Each team will do two hours, as a team, of anything and everything, and then we all work together for one hour of gymnastics and conditioning. We always have warm ups and stretching, obviously. We practice jumps and gymnastics, and then, no matter what level members are at, we work on our basic skills before moving on to the more difficult stuff. After that, it's into the stunts and then we finish off with general conditioning and a deeper stretch.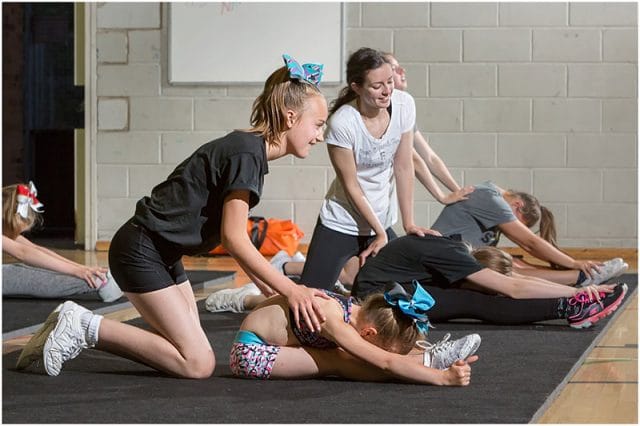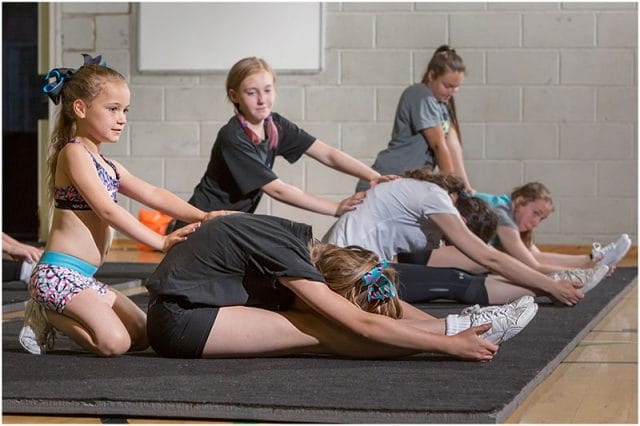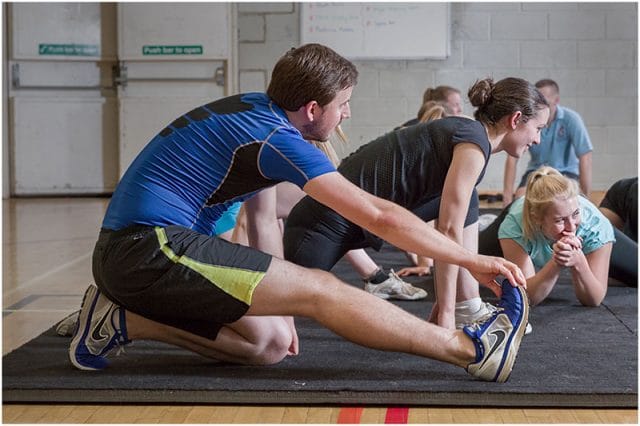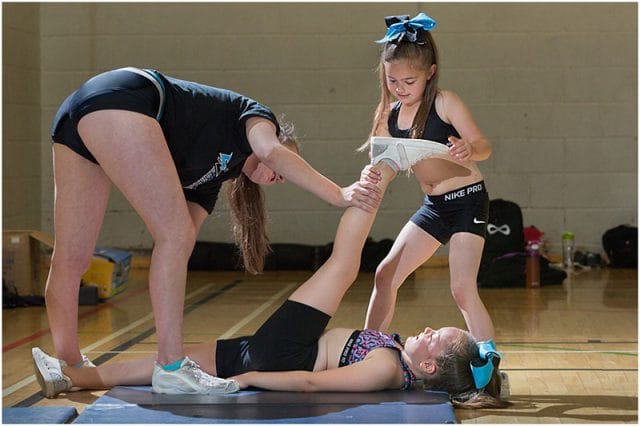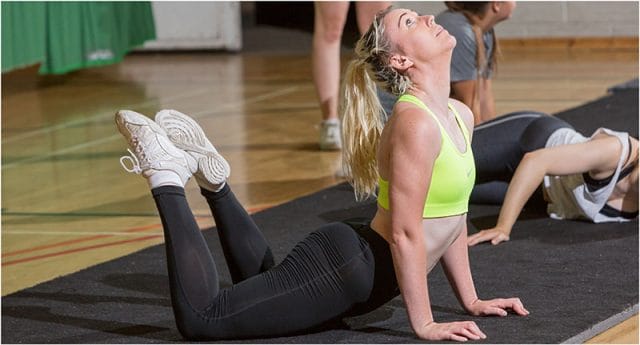 None of your training involves equipment other than mats?
That's right, it's all floor routines. We compete on a sprung floor but practice on a dead floor, which can be quite tricky for athletes when they first get to a competition.
I assume that it's outside of the budget for training centres to have a sprung floor?
I think it's about £38,000 for a sprung floor, so yes, just a bit [laughs]. But some gymnastic centres have them, and they're close to the size that we use. However, most of the clubs don't allow athletes to practice on them whilst wearing trainers. That's one of the main differences between gymnasts and cheerleaders, we must have footwear for safety reasons.
Are they special trainers?
Yes, they're designed with hand grips and can cost up to £100 a pair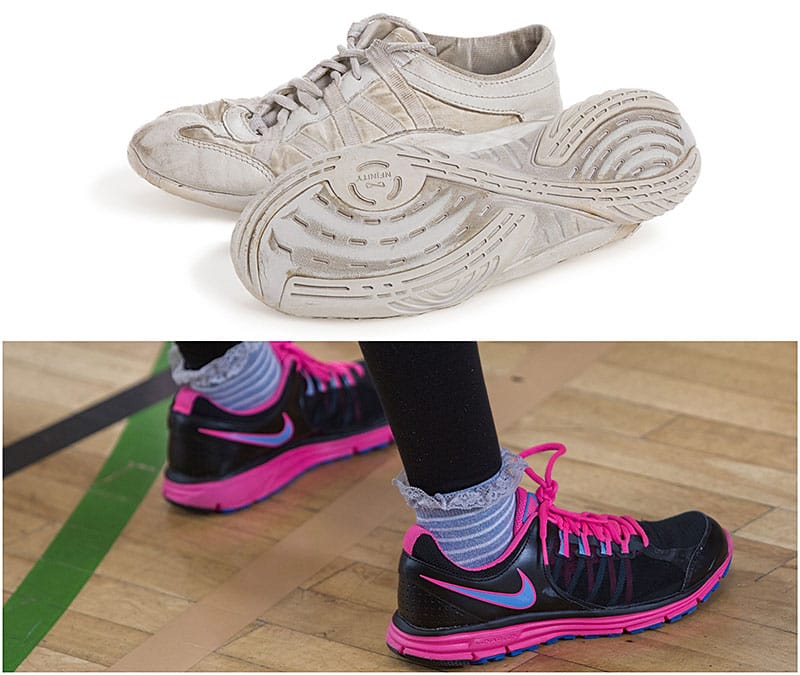 Competitions
Do you thrive on competition?
I love it. I joined the Portsmouth University team when I first arrived and by my second year, I had become their coach. I took them to competition for their first time.

Who organises them all?
There are lots of event providers within the UK. They are the ones that put on the competitions, run the training camps and the coaching courses etc. There's about six of those.
Where are they held?
All around the UK, at some of the largest convention centres in the country. The NEC Birmingham, Telford International Centre, Echo Arena Liverpool etc. Bournemouth International holds one of the largest competitions in the UK.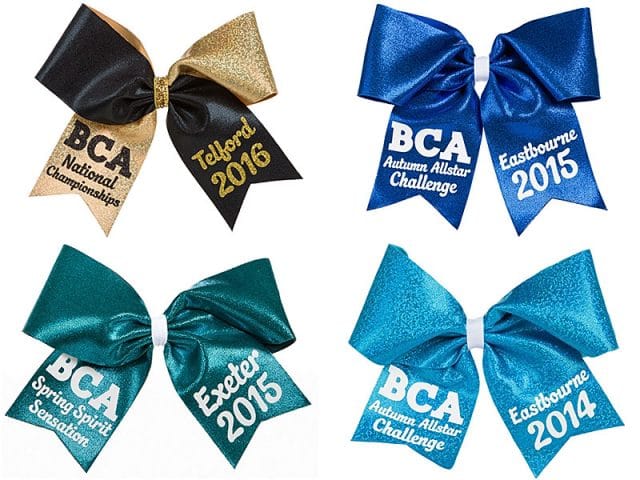 Held over a weekend presumably?
Two days usually. The BCA nationals are held over four or five days when they have the University nationals, followed by several different days of competing.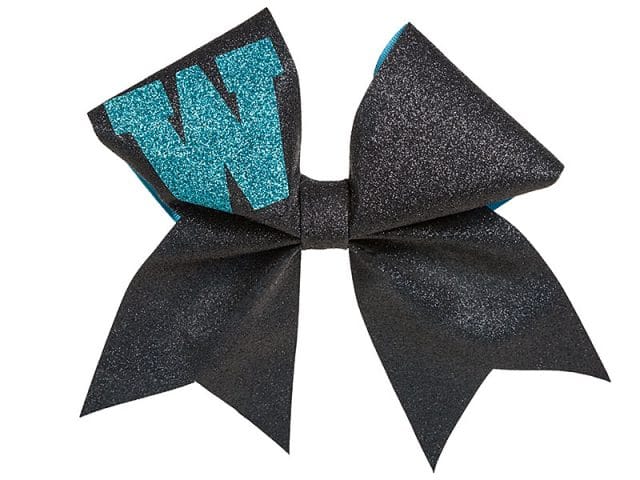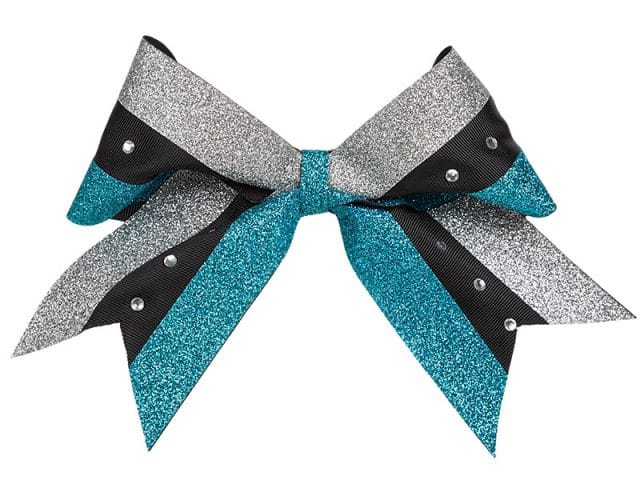 Hundreds of teams?
Thousands [laughs]. Competing at the nationals starts at seven in the morning and won't finish until around nine at night. Then we have the awards after that. It's a long day [laughs].
And each routine is around 2.5 minutes?
Not around, they are exactly 2.5 minutes. That's one of the rules and they are very strict about it. If you go 1 second over you lose points!  Stunting routines are 1.5 minutes. The number of routines that are shown can vary from anywhere between 5 and 13. It all depends on the number of groups, teams, squads and how big the event is.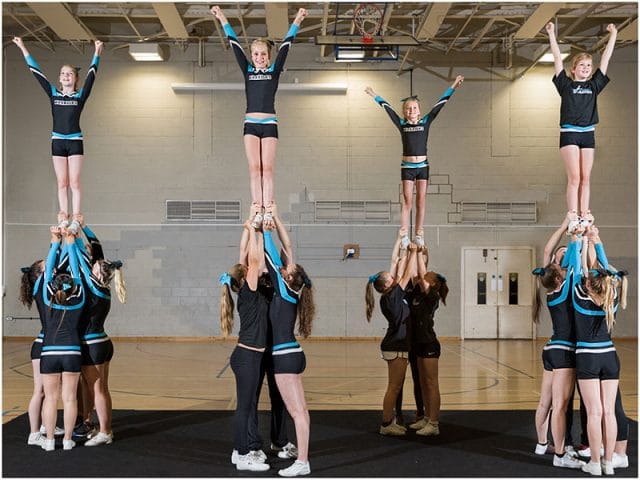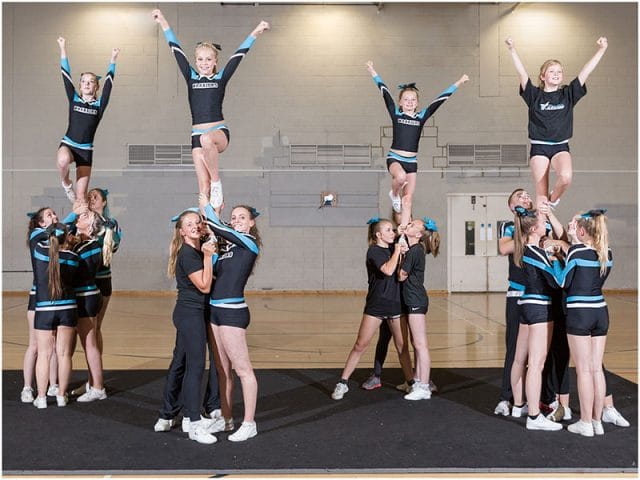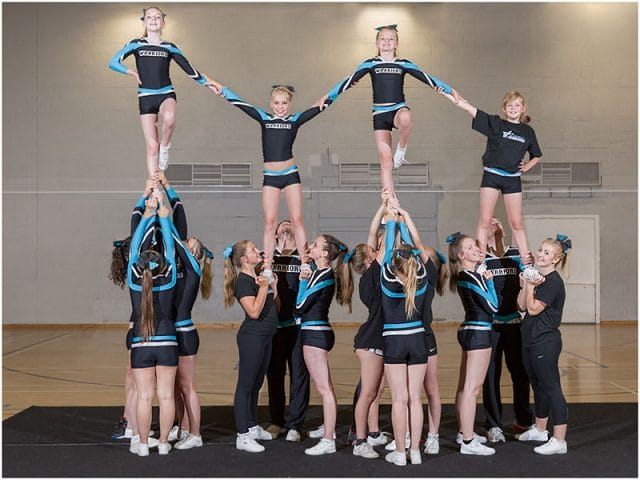 How many competitions do you enter each year?
It varies. Last year the Warriors we took part in three; next season we're aiming for four.
Do you have any coming up?
Our next one is in December [2016], which is the beginning of our season.
Any ideas where that will be yet?
The competition will be held at Southend on Sea, assuming that the Warriors will be ready for it in time.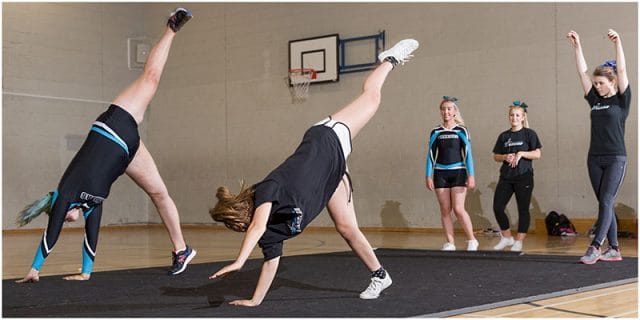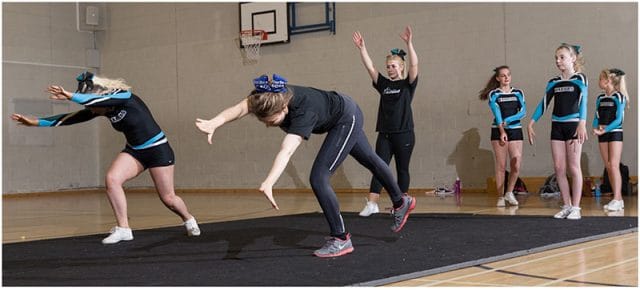 How far in advance do you have to commit to taking part?
Most event providers will expect you to confirm about three months in advance. So I need to know that the athletes are ready and that we have a routine in place by then. There's an entry fee per person of roughly £25, plus arranging transport etc.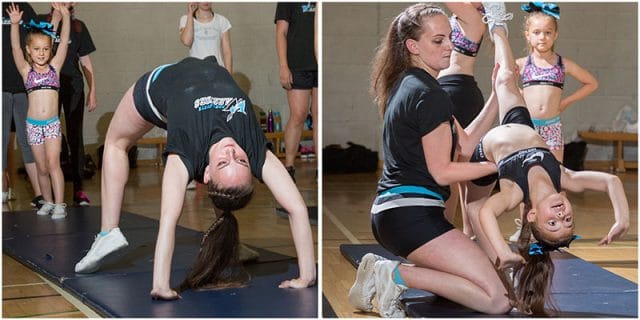 Further proof of commitment by the members.
That's the thing, you have to really want to do it. Not only are you giving up a lot of your time, but also parting with your own money.  I try to keep costs down as much as possible. We are one of the least expensive teams in the UK for subscriptions. I don't force anyone to buy any merchandise or T-shirts or anything. I'd rather they save all their money for the essential items.
I tell the young ones to save all your Christmas and Birthday money just for cheerleading
What aspirations do you have for the Warriors?
Carry on getting lots of trophies at competitions [laughs]. We are soon to have our junior level 1 team competing for the first time. I don't care where they are placed or how they do, I just want them to enjoy themselves and come away thinking that competitions are a good thing.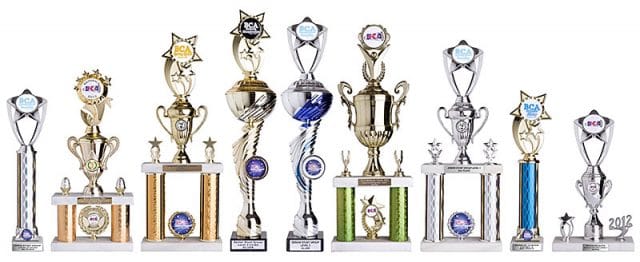 Rules and regulations
What is considered to be legal or illegal during a competition?
The rule book is quite long. It's very, very difficult to keep track of; the rules change all the time. Paramount is the cheerleaders and teams' safety. I've been on three or four coaching courses and I'll never teach something that I don't personally know or fully understand. Progression is something we use all the time. Basically, it means that you cannot take on a more complicated, or challenging, move until you've mastered the current skill level. This is to avoid injury and we do whatever we can to keep an athlete safe. As you can imagine, when someone is flying ten feet in the air, it can get very dangerous if people don't know what they are doing.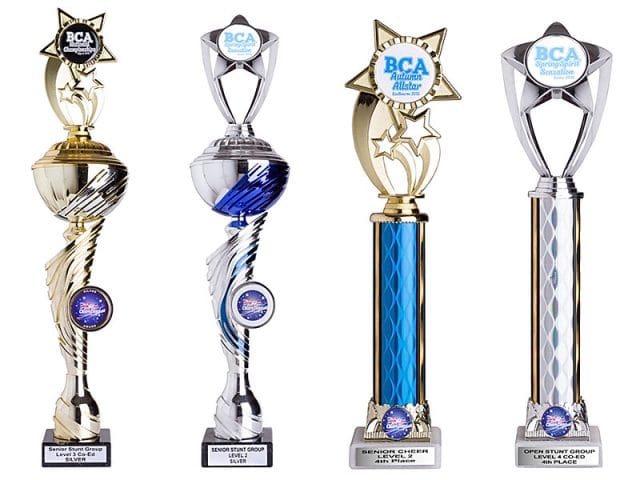 From what you're saying, you can be marked down for safety infractions during a competition?
Absolutely. And it can be very embarrassing if you get called to the judges' tables. They either give a warning or show you a video pointing out what you did wrong, and why it's illegal and tell you to remove it from any future routine.
Is it like gymnastics where the marking is very close between teams?
Yes. In our division, Senior Level 2, there can be as little as three points difference between the top and twelfth place. It's so, so close. But that just shows how good everyone in the UK is now. The judges are looking for even the tiniest infractions.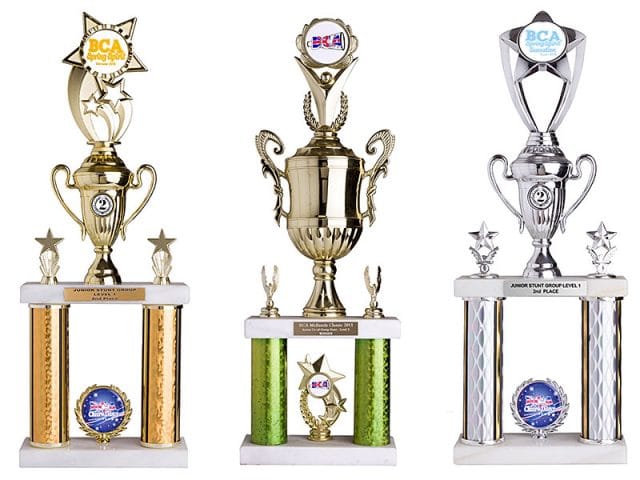 How are the routines scored?
They are broken down into parts and scored by three judges [Stunting, Gymnastics & Jumps, Overall routine]
Motion, technique or dance [10]
Jumps or tosses [10]
Tumbling [10]
Stunts [10]
Pyramids [10]
Formations and spacing [10]
Execution [10]
Showmanship [10]
Choreography [10]
Overall impression [10]
We are also scored up to 9 based on the level of difficulty, then up to 1 for technique.
You are what you wear
Do you have any sponsorship?
Not at the moment, but if anyone would like to give us that support, I'm more than happy to talk to them [laughs]. Because cheerleading is still not considered to be a sport, we can't apply for sports funding. Obtaining any kind of financial support is very difficult for us.
Who decides on your outfits?
I do [laughs]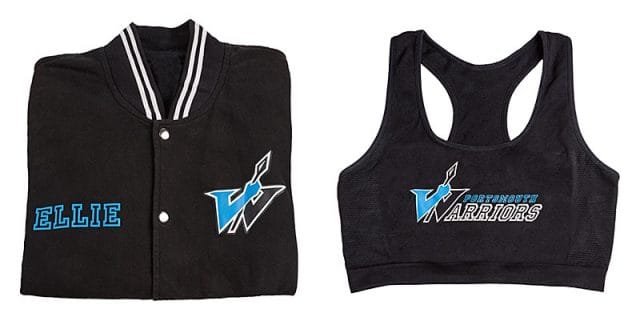 So you're a bit of a fashion queen as well then [laughs]?
Not a fashion queen, but I do like to keep control of everything [laughs]. Because Warriors is obviously representing me, I like to keep a close eye on what is happening and the way we are viewed in public. I've had ten uniforms over the years, so I've got a pretty good idea of what works and what doesn't. Having said all that, next year, the 2017 season, we'll be having a design competition where our athletes will be able to put some of their ideas forward.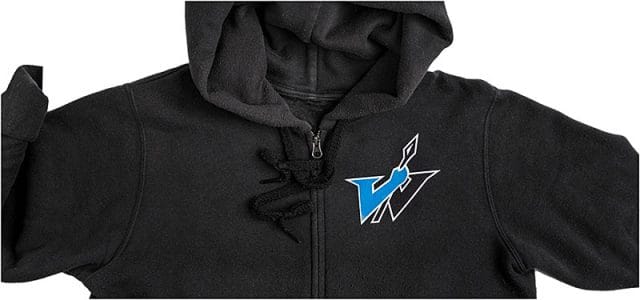 Is there a specific style?
You do get certain fashions, but really we stick with something that will make our athletes feel the most confident and comfortable. There's no point in having something that is totally impractical.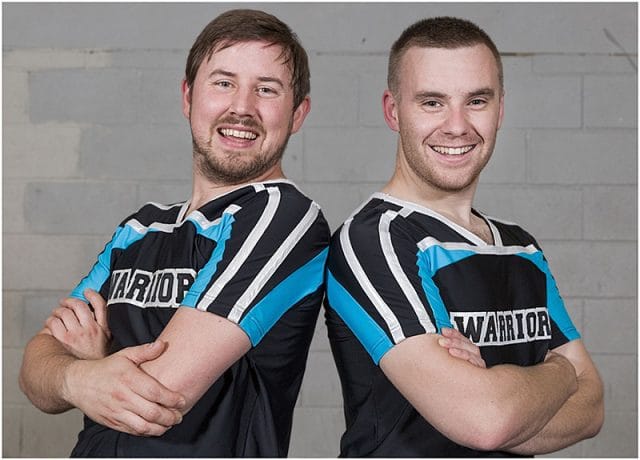 Do members have to buy their own uniforms?
Yes, unfortunately, the squad doesn't have the funds to pay for everyone's outfit. They are all made to measure, so we wouldn't be able to get any discount anyway.
How much do they cost?
About £100 each.
The best and worst things about cheerleading
What would you say was the best thing about cheerleading?
I would say that cheerleading is one of the most inclusive sports in the world. It needs anyone and everyone because otherwise the routines just simply wouldn't work. It doesn't matter what size or height you are, lots and lots of disabilities can be included in a fully able team. I've seen cheerleaders with one arm, one leg, blind cheerleaders, absolutely everything. This is why I love this sport. I genuinely believe that if somebody wants to do it, they can. We will find a way of making it work.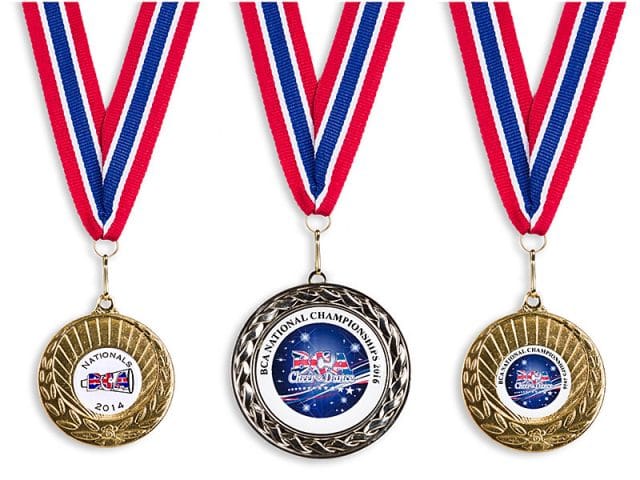 What's the worst thing?
Unfortunately, our history is against us and the part that I don't agree with is that it is quite image driven. If you're working hard to create something amazing with your teammates, then it shouldn't matter how you look.
Cheerleading is a sport where it's OK to be sweaty and not always look your best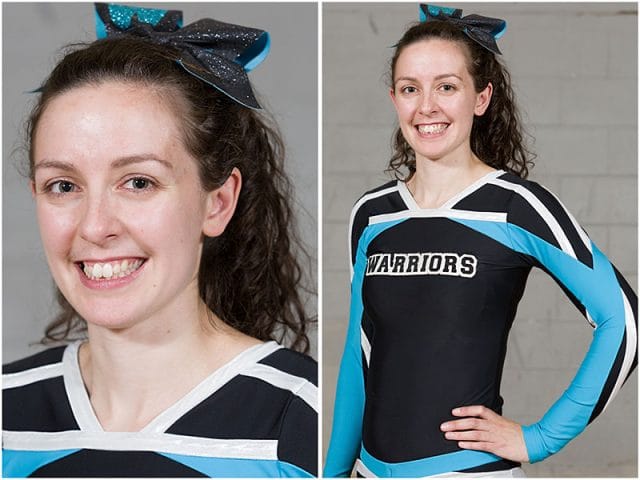 All sports capitalise on merchandise.
There's a massive market for the sports clothing, the bows, the highly coloured sports bras, all sorts of things that are aimed at the teenage girl demographic. But that's where the dilemma is. If you are performing in front of the public, you want to feel confident about yourself. When all's said and done, it's still a performance sport, so there is a visual aspect to it.
Do you restrict how the Warriors present themselves?
We don't wear a lot of makeup, we don't fake tan. I would never allow anyone to have fake hair, although some teams do have hair pieces. That's not the image we're going for.
We're athletes and we're trying to get the sport taken seriously.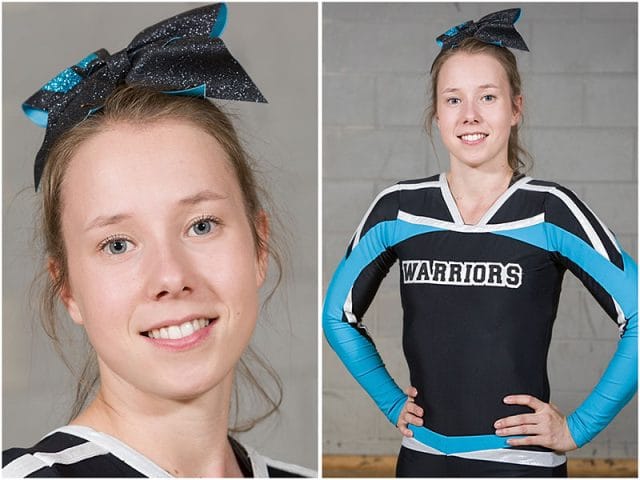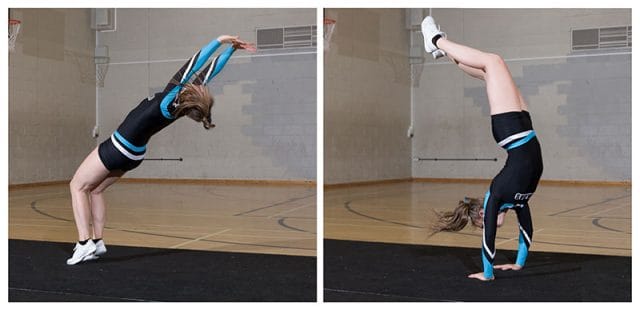 You clearly have very strong views about the image of cheerleading
I do have a tendency to go off on a rant every now and then [laughs]. This is going to sound weird, but being part of a sport that has these horrible stereotypes associated with it, the short skirts, fake hair and the pompoms thing, helps to build my young athletes into stronger, more confident people.
How do you mean?
They have to battle against the perceived image all the time. But they can confidently say, 'I love what I do, you're wrong about what cheerleading is, but I don't care. Let me tell and show you what it really is'. If they still can't convince that person, they have the strength to say 'that's OK, you're entitled to your opinion' and walk away. Quite honestly they are all amazing, they're the best ambassadors that we have for the sport. I'm always saying to them that we don't care what people think because we know how wonderful it is.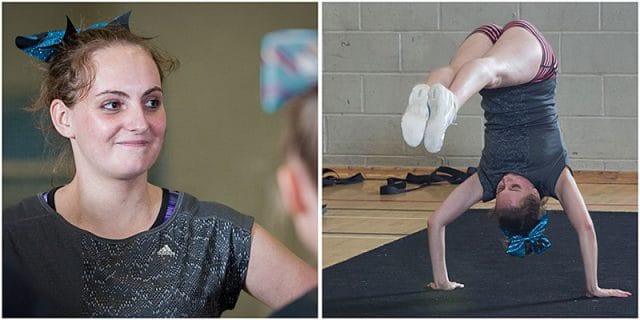 Editors note:
Thank you, Ellie and all the members of the Portsmouth Warriors, for your time and enthusiasm during the training sessions. Good luck with the new season competitions.
Web Links and References of interest
Portsmouth Warriors Cheerleading Squad
Web: 
Facebook: https://www.facebook.com/PortsmouthWarriorsCheerleadingSquad/
Twitter: https://twitter.com/portwarriors
UK's original Cheerleading event provider
Web: http://www.cheerleading.org.uk/
SportCheerGB, the Governing Body for the sport of cheerleading in the United Kingdom.
Web: http://scgb.org.uk/
United States All Star Federation
Web: http://www.usasf.net/
European Cheerleading Championships
Web: http://eurocheer2016.com/
International Cheer Union
Web: http://cheerunion.org/home/