A mans best friend is his shed – Part two
2.
A mans best friend is his shed – Part two
Welcome to part two of the Men's Shed story, for an introduction and a short history of the Men's Shed organisation, see part one here. Here we continue the interview with Phill Strawn and Noel Collyer, two members of the Havant Shed.
The story continues …
Noel, you said that Mind had been instrumental in getting the Havant shed started?
Noel: Yes, it's been a really good place for anyone who has experienced mental health problems and has needed to get used to being with other people again. It's a safe environment, which doesn't judge you, and provides opportunities to integrate with the local community. That's one of the reasons that MIND was happy to give support in starting up the Shed.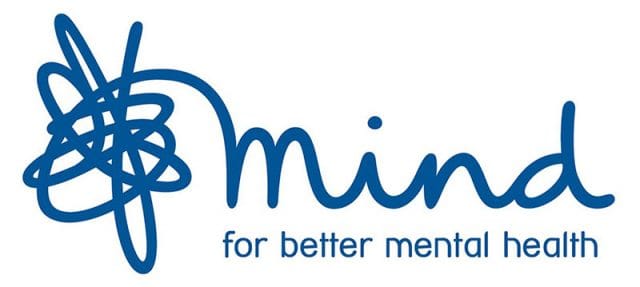 I see you have wheelchair access
Phill: We have a number of members who use wheelchairs or electric mobility scooters. We've become so popular that we have people who travel, in their scooters, from the top end of Leigh Park and Portsmouth. Some aren't able to get involved in the physical projects, but are happy to come along for a chat with a cup of tea and a biscuit or whatever.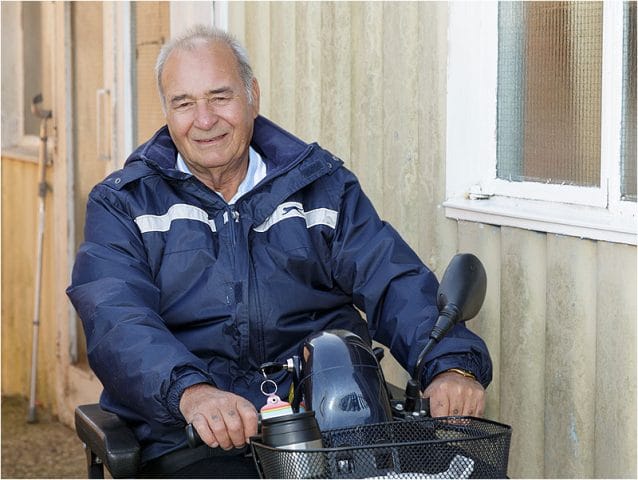 Stops you sitting at home and staring at four walls
Noel: Exactly, that's one of the quickest ways to experience depression. Isolation and the feeling of not being any use. We have men here who, and they will openly admit it, have had a nervous or mental breakdown in the past. The Shed has helped them no end.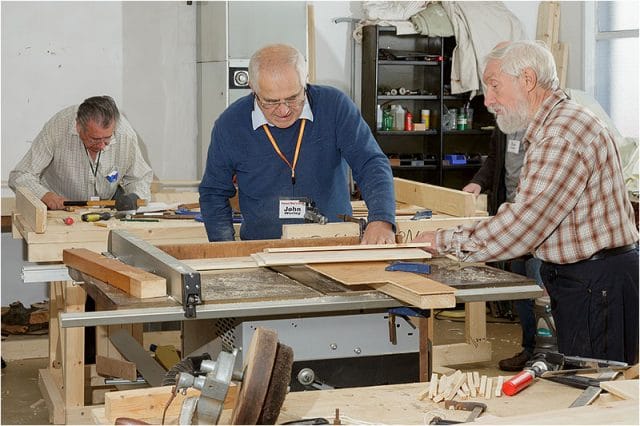 Do you need a recognised skill to join?
Phill: It's not a requirement. It's handy if you have one [laughs], but no, it's not mandatory.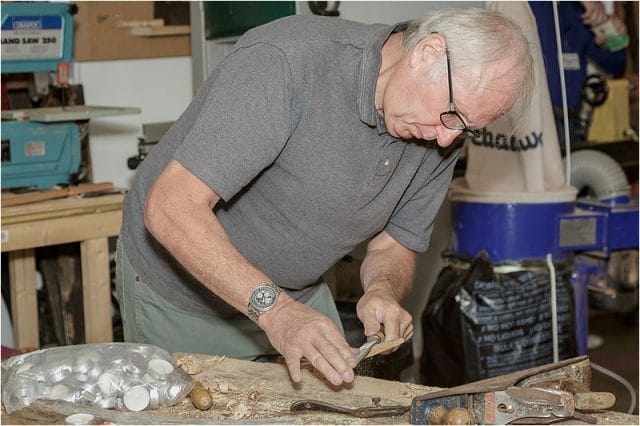 Is there a management structure at all?
Phill: We're required by law to have a certain amount of organisational structure. John Worley is the Chairman and we have Julie Parker our Treasurer with Simon Ferre as secretary and a handful of others. But, as far as who decides what happens, it's been fairly democratic. Ideas are suggested internally, or brought to us by local requests, and we work together to get things done. We don't have a leadership as such.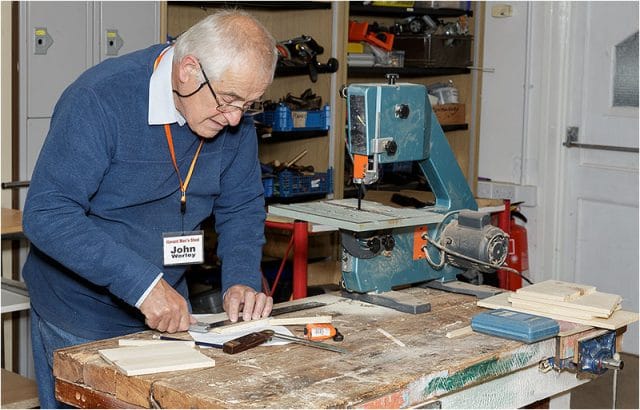 What's your role here in the Shed, Phill?
Phill: I've been dubbed the Almoner. A sort of mediator between any disagreements or differences of opinion. Not that I'm in demand for that sort of thing really. We're all grown ups and rub along together quite nicely.
REF: Almoner
The title "almoner" has fallen out of use in English, but its equivalents in other languages are often used for many pastoral functions covered by chaplains or pastors.
How does Havant Shed fit in with the rest of the Sheds, so to speak?
Noel: I'd say that we are more of a federation than an association. Each shed is individual, with it's own budgetary constraints etc.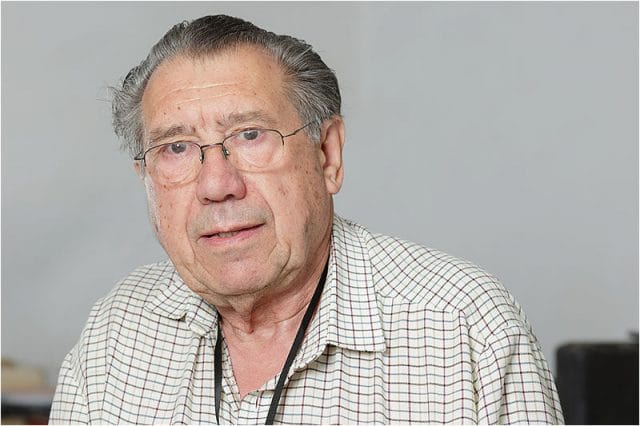 So there isn't someone from 'on high' that comes around to check up on you or anything?
Phill: No, we're all independent of each other, and from the UK Men's Shed movement itself. Their role is to promote the 'idea' of Sheds, but not to manage them in any way.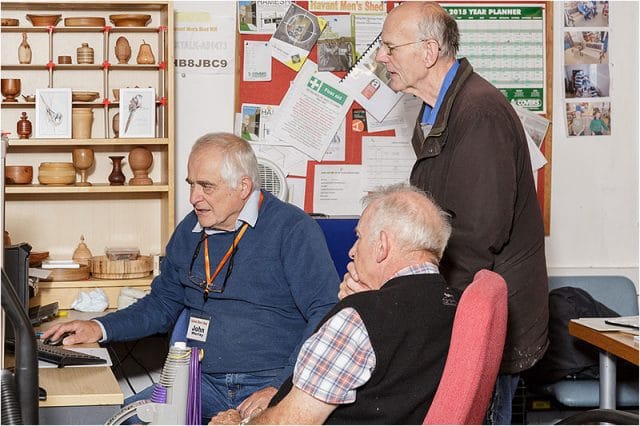 How long has the Havant Shed been going?
Noel: We started the association back in June last year [2014], by the time we had been granted the keys to this location, it would have been about September time.
Phill: It started to really take off  January/February of this year. More and more people have shown an interest in joining. On average, we have an attendance of about fifteen people every day that we're open. But we've had as many as twenty-four. As you can imagine, that gets a little bit noisy and very busy [laughs]. That's how we want it though. Everyone occupied, doing something.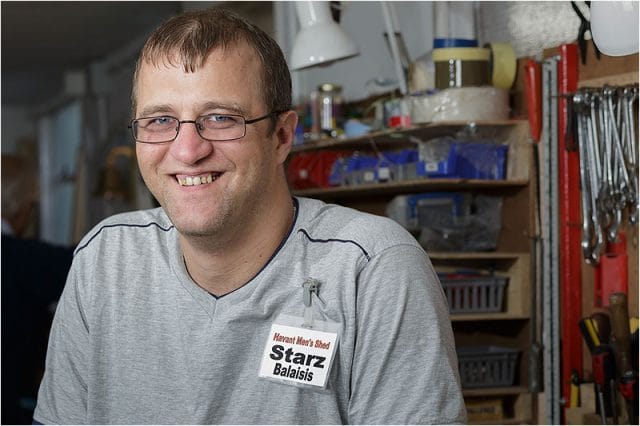 Does being a member of Havant Shed mean you can go to other Sheds around the country?
Phill: There are no rules and regulations about that sort of thing. Anyone can go to any Shed that they choose. There's no restrictions. In fact you don't have to be a member to visit. Any member of the public can walk through that door and they will be made to feel welcome. Obviously they won't be permitted to use the machinery, or tools, because of insurance constraints, but they can watch us working if they want to.
You must be quite hot on Health and Safety then?
Phill: Everyone who works on machinery, or is using tools, is always supervised. They never work alone. Everyone has done, at least, some basic first aid training.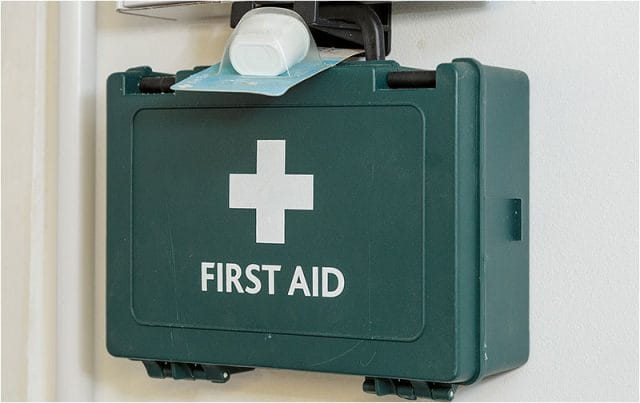 Do members have to pay a subscription?
Phill: Yes. We have a two tier subscription running at the moment. Members can pay £15 for a year, or a sort of pay as you go scheme which is £7.50. If you take the second option, each time you visit you throw something in the pot. There's no rules on what that is, it's really what people can afford or feel comfortable with. It usually seems to be a £1. Of course, that works out dearer for them that way, but it suits some people, and it's a bit lighter on their pocket to start with.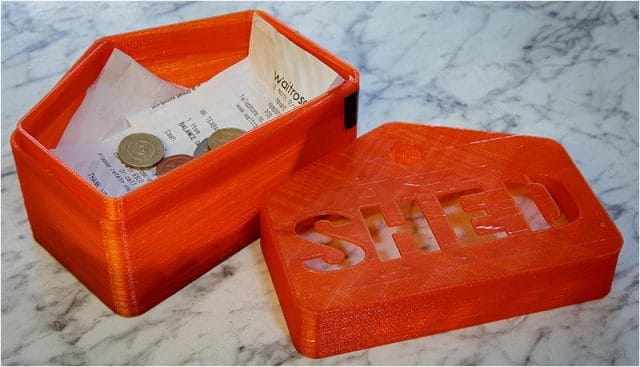 What sort of cooking facilities do you have here?
Phill: We can provide basic lunches. I can cook up a bacon sandwich or simple fried meal; something like that. When we eventually get the kitchen sorted out, we'll be able to extend what's on offer.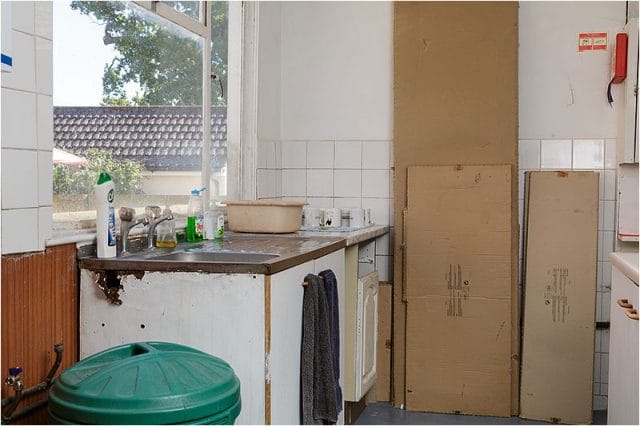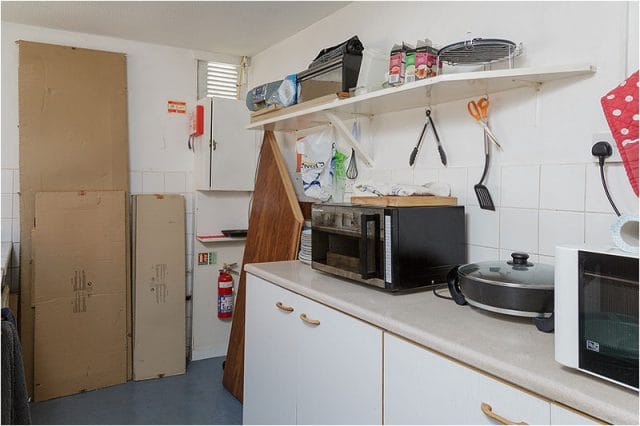 Is there any rivalry between the Sheds?
Phill: To be honest, we don't really have a great deal to do with the other local Sheds. Obviously, if we need some help on something, we can give them a shout. The same is true for them, of course.
You're not competing for sponsorship or funding?
Phill: No, those businesses etc that have been kind enough to give donations are all local to us. ASDA is a good example. The Havant branch has donated to our Shed, and the Waterlooville store has donated to the Waterlooville Shed. Each Shed has its own patch I suppose, but there's no rivalry in that respect.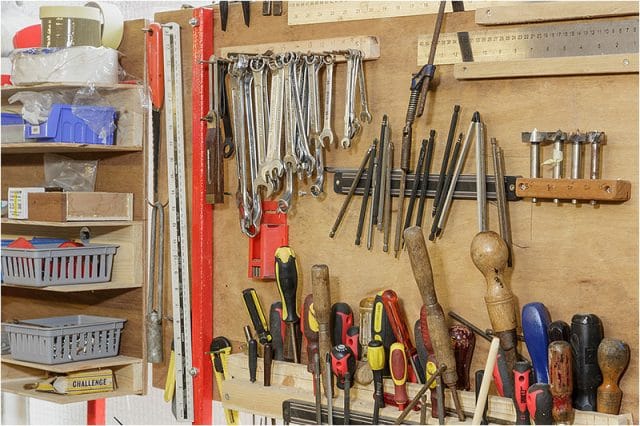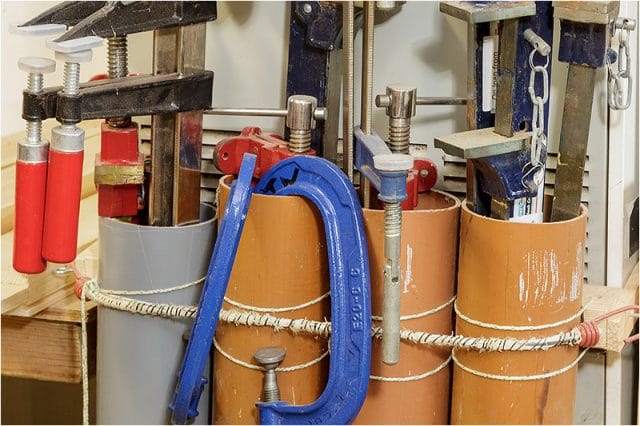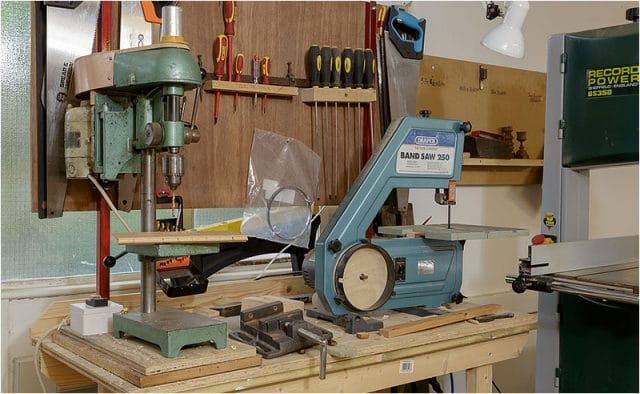 Is there any kind of Sheds convention?
Noel: Last summer we did actually host a South Eastern get together. We had the UK organiser come along with some of the Irish Men's Shed association members, and the Australian founder [NAME] come over as well.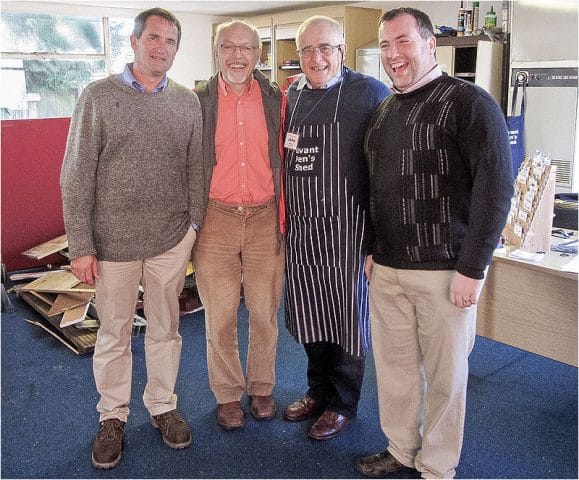 How did that go?
Noel: Yeah, very well. This place was still being built at the time, so we borrowed a local scout hut for the meet up. People from other Sheds in the area came along for the day. That got us some publicity on the local TV.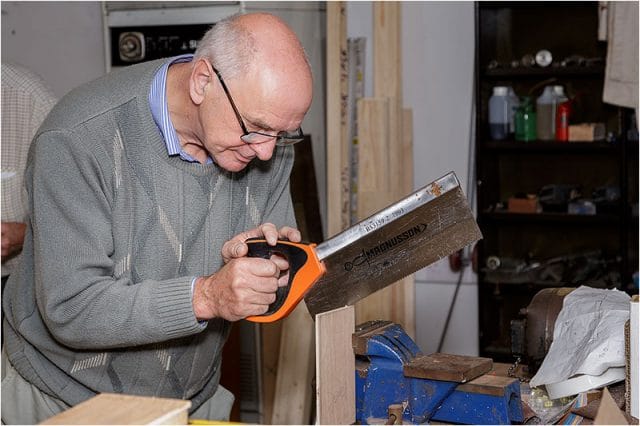 Has the idea of a Men's Shed been adopted in Europe?
Noel: Not too sure about Europe. It seems to be predominantly an Anglo-Saxon idea. So Australia, Ireland, England, Scotland, …
Phill: If you can swear in English, there's likely to be a Shed movement nearby [laughs]
If you can swear in English, there's likely to be a Shed movement nearby
What are your opening hours?
Phill: We open 09:00 through to 15:00, Monday, Wednesday and Friday. We ask anyone who intends to be here after midday to let us know in advance, so we can make sure that there's first aid support and supervision where needed. We're quite flexible with the times though. If there's nobody around at midday, and we're not expecting anyone in the afternoon, we'll most likely pack up early for the day. There's no hard and fast rules where that's concerned.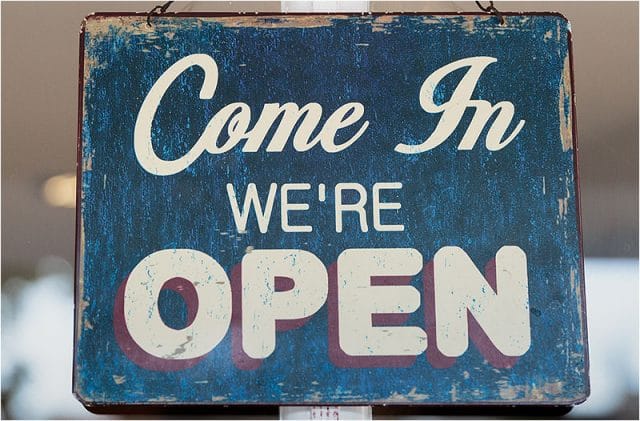 We tried opening on a Saturday, but nobody wanted to get up.
What would you say has given you the most publicity so far?
Phill: It's probably been making the benches. We made a bit of a splash making those for The Rowans Hospice and Elizabeth Foundation. We don't seem to get much publicity in the local newspapers, not sure why, not really. It's mostly been word of mouth from all the small jobs we've done in the community. We have a Facebook page and occasionally post short articles in Streetlife [district specific on-line community forum and chat room].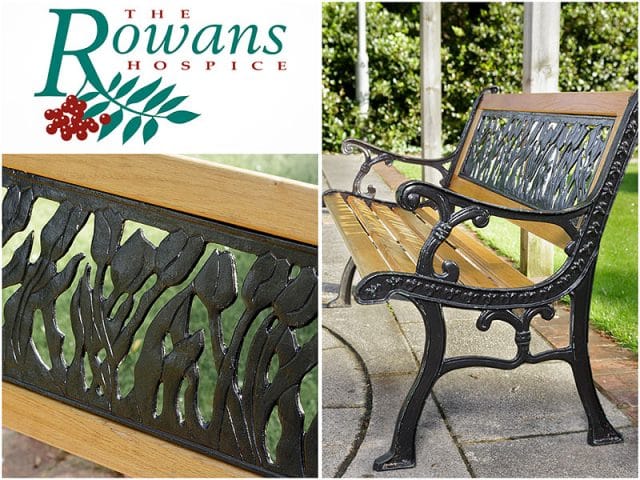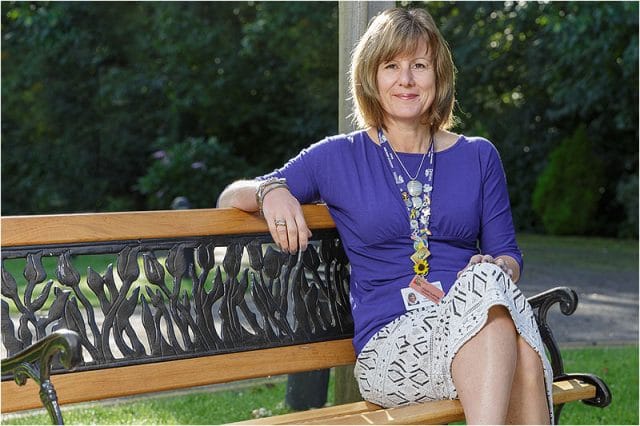 Any big projects in the pipeline at the moment?
Noel: The major ones are the building works for this place really.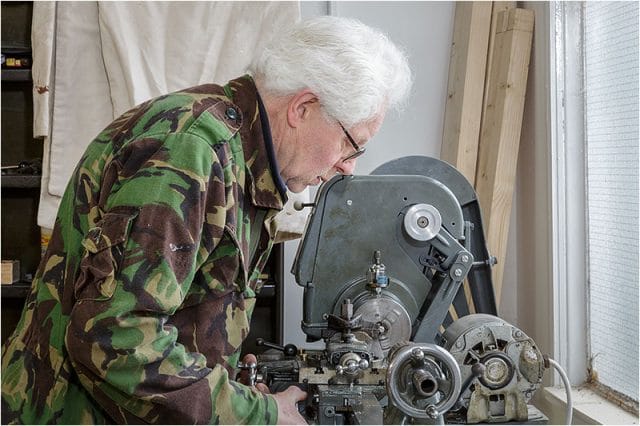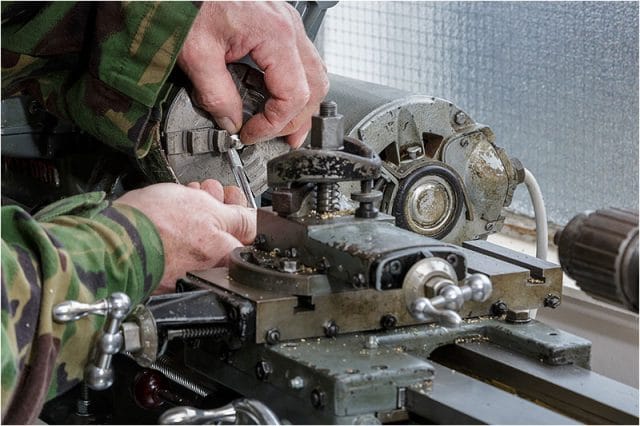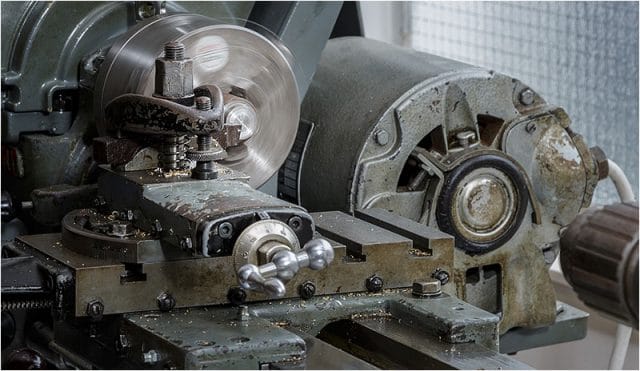 Could a Shed be considered a sort of therapy session then for some people?
Noel: It has a role to play, but it's not a replacement for proper healthcare, of course. MIND feed through clients when they've been through trauma of some sort or another, and have decided that the time is right to mix in with other people again.
Phill: For example, we have a young lad visit us who's had some mental health issues, and he spends his time building a model aeroplane. He'll sit and watch what we do, go and have a cigarette, and then dabble at his own thing. It's given him something to focus on. Hopefully, it's helping.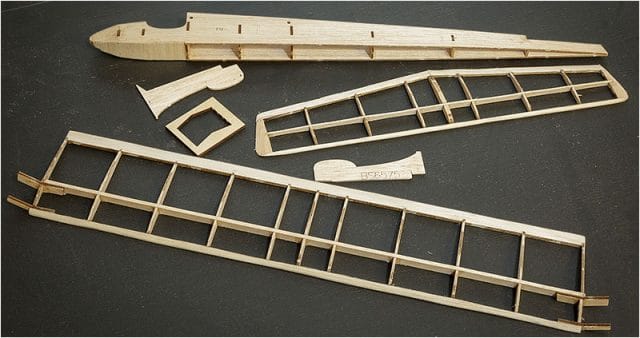 Are you involved with any community events at all?
Phill: This is our second year of helping out at the Bedhampton Show, and some of our members are volunteer stewards at the Race for Life [Annual charity fun run to support the Cancer Trust]. We actually had a stand at the Bedhampton show this year; the interest from that got us nine new members within six weeks. So that was very successful.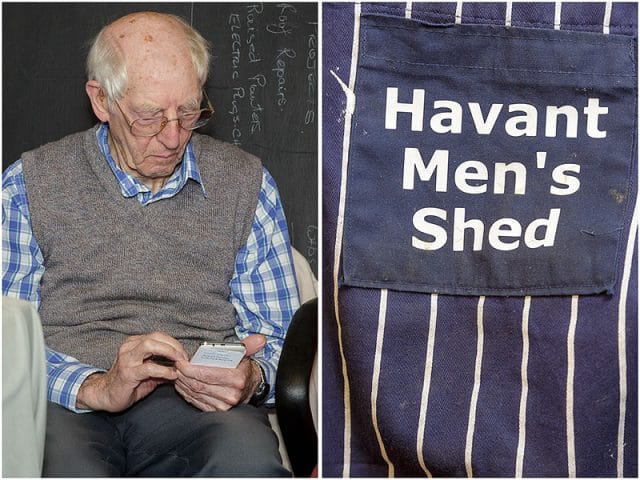 Are you actively touting for new members?
Phill: We don't need to, word of mouth is bringing new members all the time [laughs]. There's still room for growth.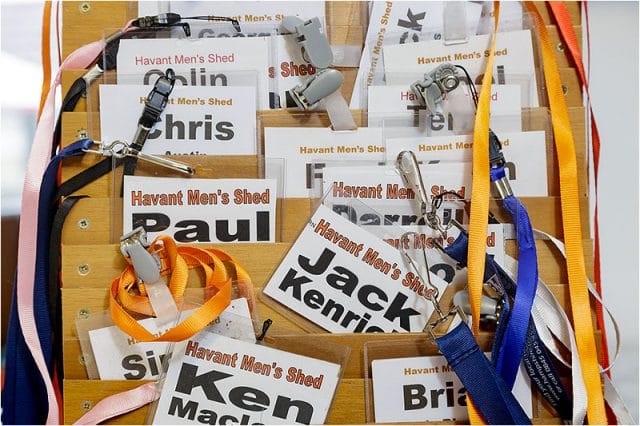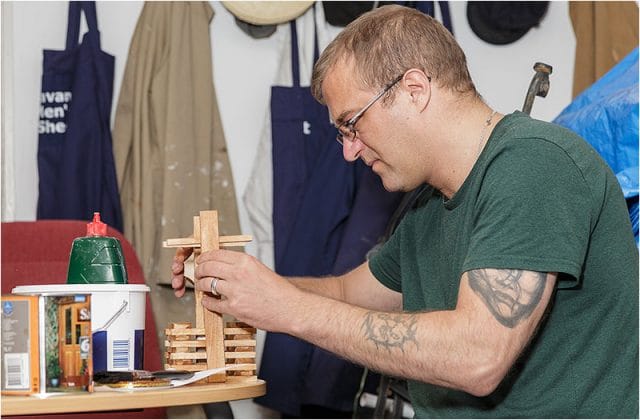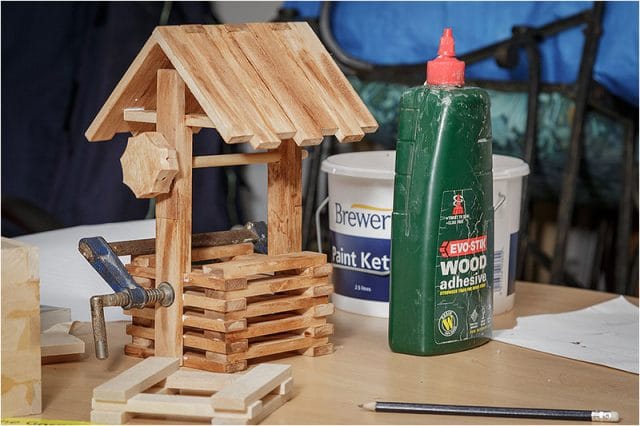 Is there any one thing that you need more of?
Phill: Funds [laughs], we could do with more money. As we mentioned, the building still has quite a bit of work that needs doing to it. We're hoping for a grant to do the roof, but everything has to be paid for somehow, of course.
We are not a registered charity, so we're dependent upon donations, sponsorship and goodwill.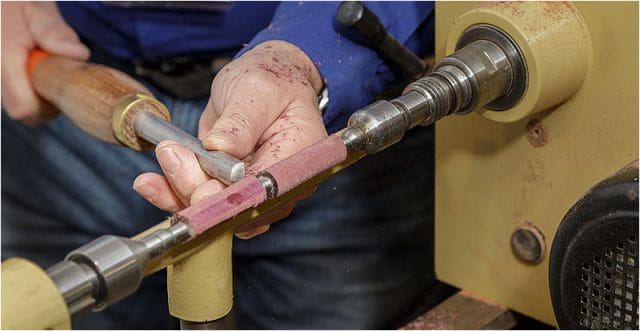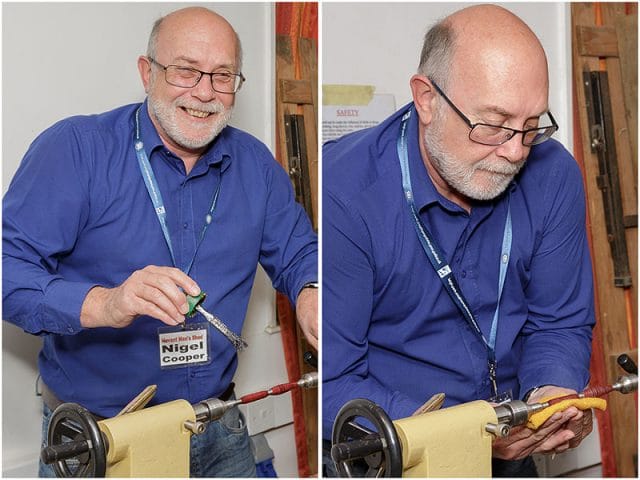 How about materials?
Phill: We're OK for softwood and, as I said, Covers of Chichester have been very good to us with supplying timber. Hardwood, especially oak, is always in short supply, which is what we've been using for the benches project. We're alright for screws and nuts and bolts and suchlike.
Anyone who wants to donate a minibus or a large trailer – we wouldn't say no!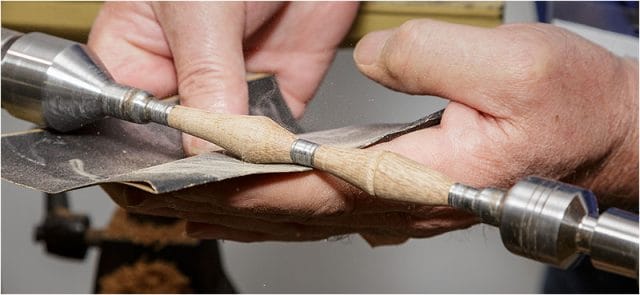 Do you charge for the work that you do?
Phill: If we do a little job for someone and they say 'thanks for that, what do I owe you?', our response is, 'you don't owe us anything. If you want to make a donation that's very nice'. We don't stipulate how much it should be, or expect it. If they want to give something, no matter how small, it's all gratefully received.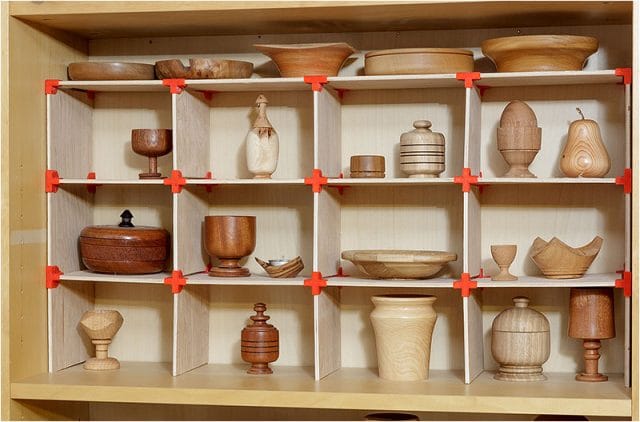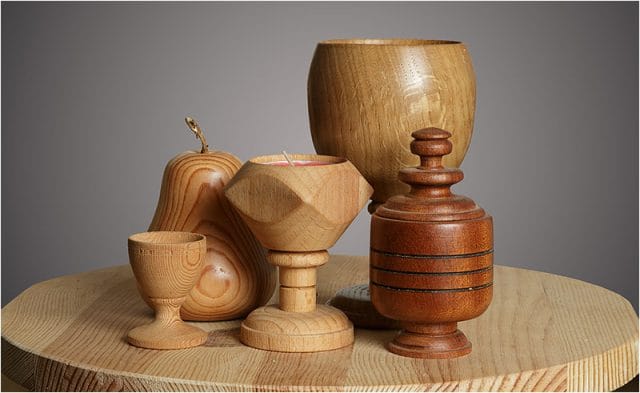 Are all the members retirees?
Phill: Either that or unable to work because of injury or other health problems. But they are still able to contribute, and that pleases them, and it pleases us.
Noel: Even if they just want to come in to play board games and have a chat, read the paper or whatever.
Phill: We don't care what they do. If they're happy to be here, that's good enough for us.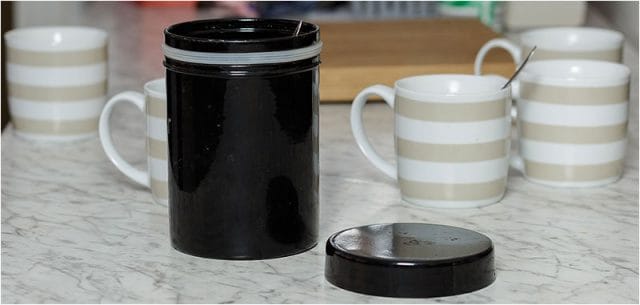 What did you retire from Phill?
Phill: I had five years in the Royal Air Force as a Chef and, when I left, after several jobs, I became a professional HGV driver. I did that for the rest of my working life, about thirty- four years. Then, one day, I had an accident at work, which dislocated my shoulder, and I had to pack the driving in. They were going to operate, but as I was close to retirement, I chose not to have it done, and finished early instead. I miss the travel. I used to cover the whole of the south coast. I loved it, but I don't miss the long hours that went with the job. I would get up most working days at 04:30. Now I get to lay in and get up at 06:30 [laughs]
Now I get to lay in and get up at 06:30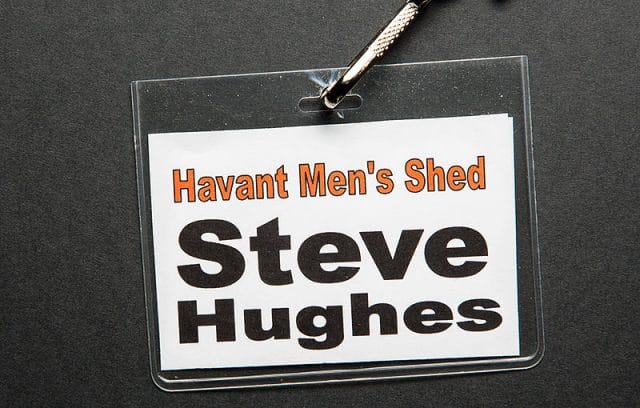 OUTRO
For further information about the Havant Men's Shed and the organisation in general, feel free to make contact, drop by for an informal chat, or take a look at the Internet links below.
Web Links and References of interest
Havant Men's Shed
Web: http://www.havantshed.org.uk/
Facebook: https://www.facebook.com/Havant-Mens-Shed-515200558585956/timeline/
Twitter: @HavantMensShed
UK Men's Shed organisation
http://menssheds.org.uk/
Australian Men's Shed organisation
http://www.mensshed.org/what-is-a-men's-shed/.aspx
Horndean Ladies Shed
email: [email protected]
Waterlooville, Hampshire, PO8 9LJ
Wikipedia
https://en.wikipedia.org/wiki/Men%27s_Sheds#Men.27s_Shed_Associations_and_Affiliated_Associations
The Guardian Newspaper
http://www.theguardian.com/society/2014/oct/07/mens-sheds-movement-isolation-loneliness-mental-health
2014 documentary about the Men's Shed movement
http://www.bettershedthandead.co.uk/
Charities and organisations working with The Havant Men's Shed
MIND
http://www.easthantsmind.org/
The Rowans Hospice
http://www.rowanshospice.co.uk/
The Elizabeth Foundation
http://www.elizabeth-foundation.org/

Naomi House & Jacksplace
https://www.naomihouse.org.uk/
Hampshire neighbourhood police
http://www.hampshire.police.uk/internet/my-neighbourhood/havant/havant/barncroft-and-bedhampton/

The Race for Life cancer research
http://raceforlife.cancerresearchuk.org/index.html