Carving out a niche for everyone
1.
Carving out a niche for everyone
The Solent Guild of Woodcarvers and Sculptors is run entirely by volunteers and is aimed at anyone interested in all aspects of carving, whittling, sculpting and other wood related activities.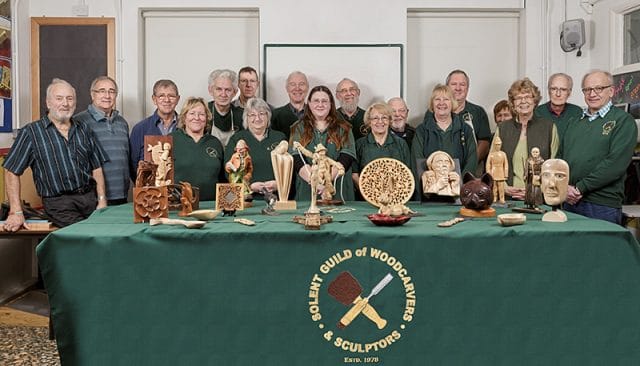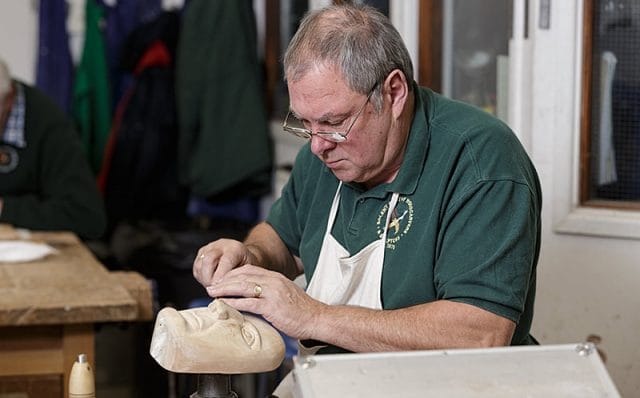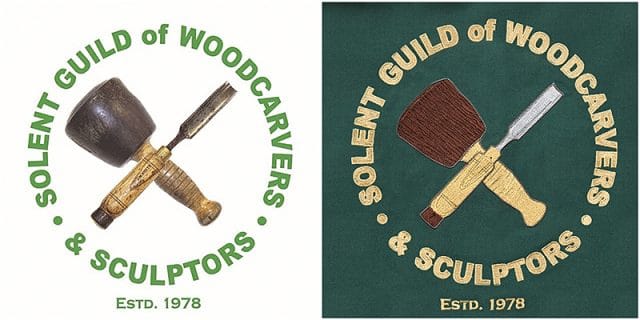 Guild secretary John Vardon tells us about the Guild and its history.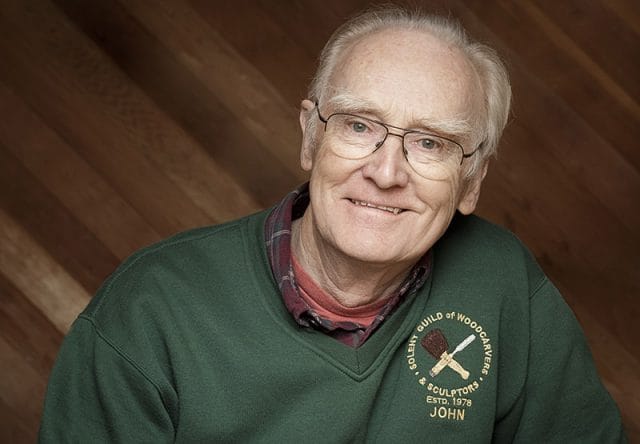 When did the Guild start-up?
The Guild was founded in May 1978 by the late James Bell, in conjunction with three others – Vic Flower, Bill Judge and Stan Callan. At a meeting in Cosham on May 18th of that year, which was attended by twenty people, the Solent Guild of Woodcarvers and Sculptors was officially inaugurated. Several Members, those who joined during the first few years, are still Members of the Guild today.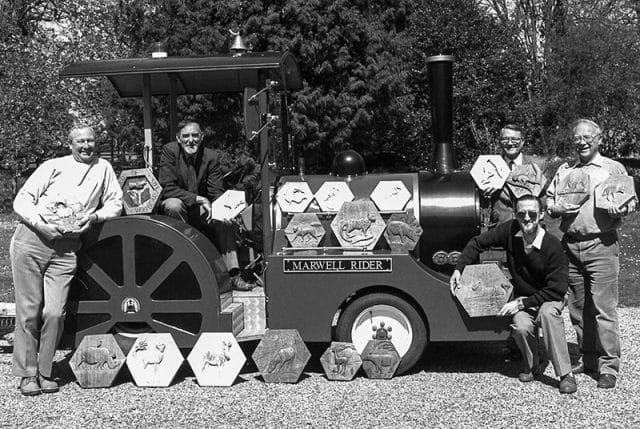 Are you still based in Cosham?
These days, although we're centred on Portsmouth in Central Southern England, members, whose ages range from 16 to over 90 years, are mainly from the Solent area, but some come from as far as Petersfield and Selsey. Our club carving days are held in the Design & Technology workshops of The Portsmouth Grammar School.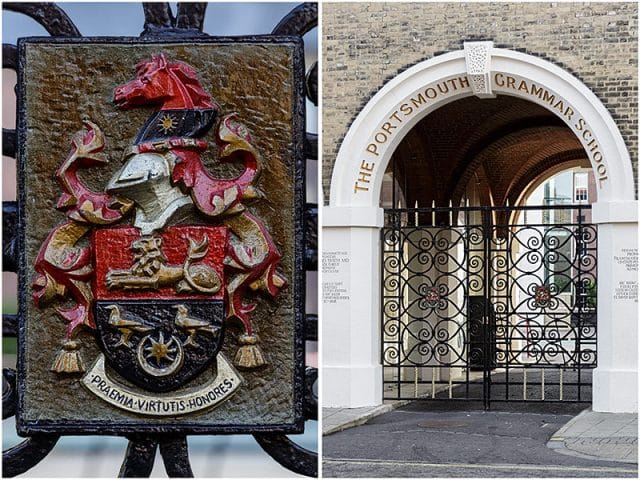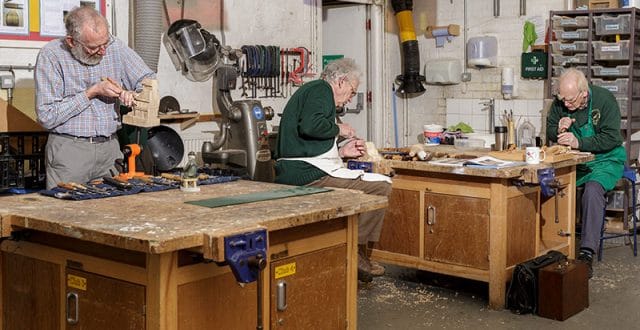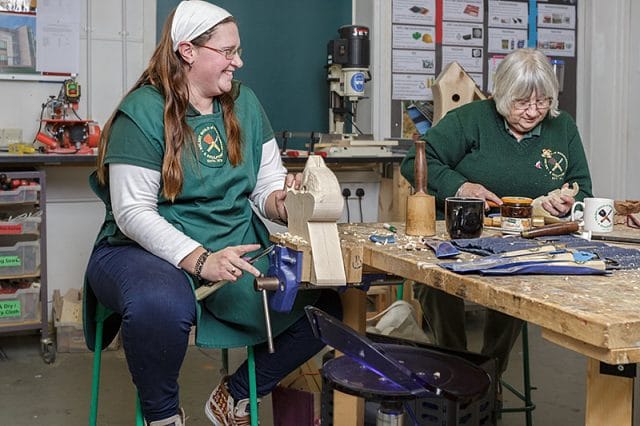 Why was the Guild created?
The founder members were all keen to promote the craft of woodcarving. At that time, they felt that it wasn't really fully supported in the Solent region.
How are you organised?
As well as 'full members' we have social members and occasionally we may have a junior member who is under 18 years We are 'managed' by a committee of our members.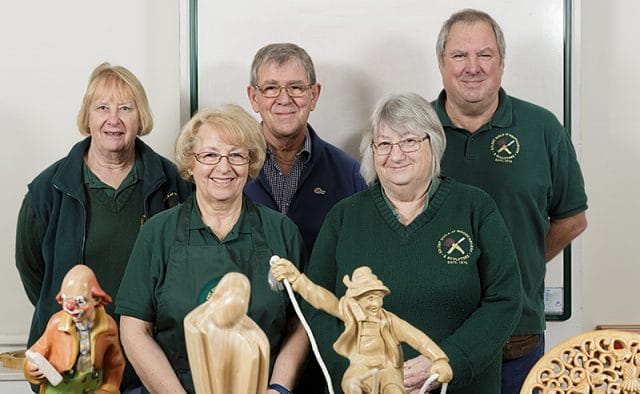 In 2016 the committee members were:
Chairman: George Palmer
Secretary: John Vardon
Treasurer: Jean Cripps
Newsletter Editor: Lin Palmer
Social Secretary: Gill Sadler
Ordinary Member: Sandra Barnes
Ordinary Member: Doug Phillips
How many members do you have?
In the early days we grew to over one hundred, but at the moment we have around fifty members of both sexes, across a wide range of ages. Like other woodcarving clubs, we find it difficult to encourage young blood and convince the younger ones that carving and other wood related activities is for all ages, male and female alike. Membership is open to anyone interested in woodcarving, there are details of how to apply on our website.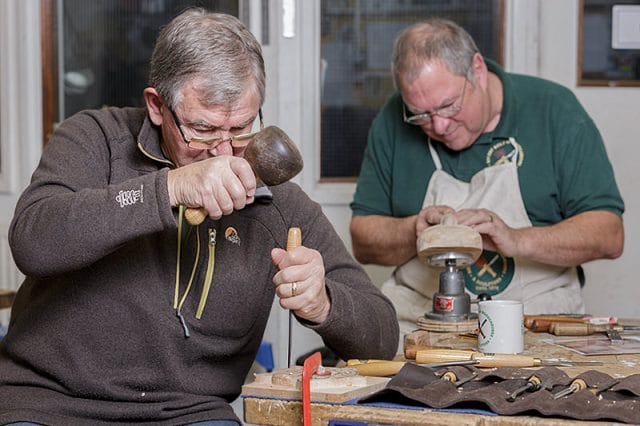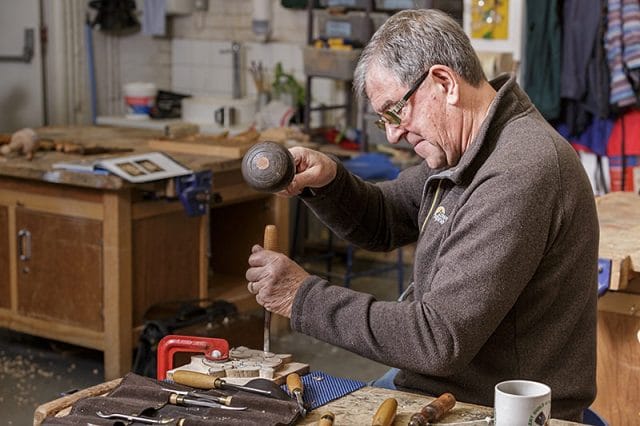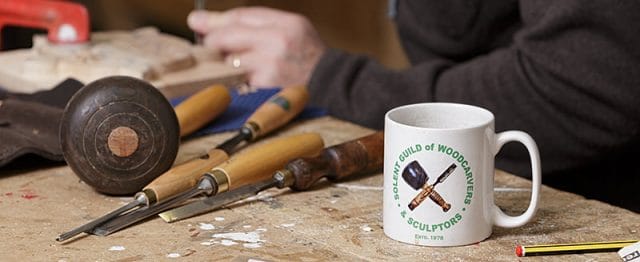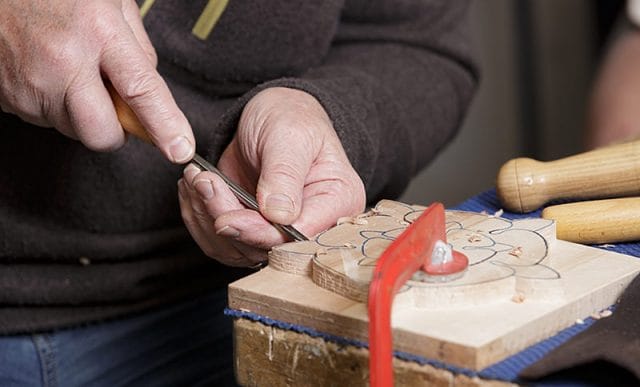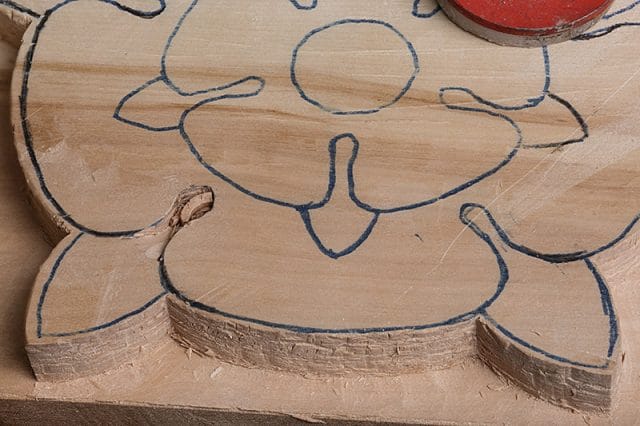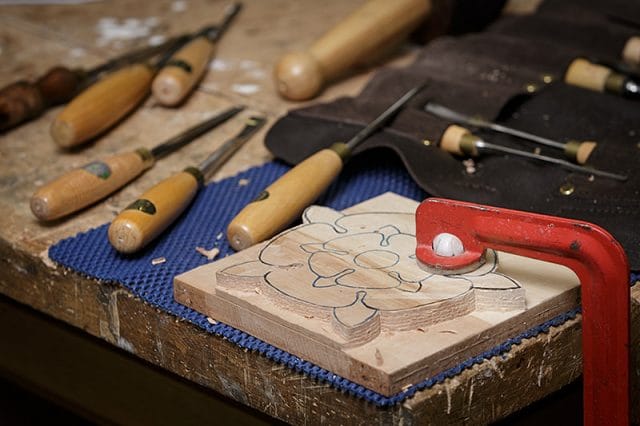 I guess you have quite a wide range of experience among your membership?
Indeed, our members are many and various; some are practically beginners and others have carved for most of their lives. The styles and methods are just as varied. The whole range of carvings is covered, with some members specialising in relief, some in 'human form', and others in birds, fish, etc. We're always delighted with this variety; every individual is important for their particular contribution, whether it be flair, experience, youth, exuberance or meticulous workmanship.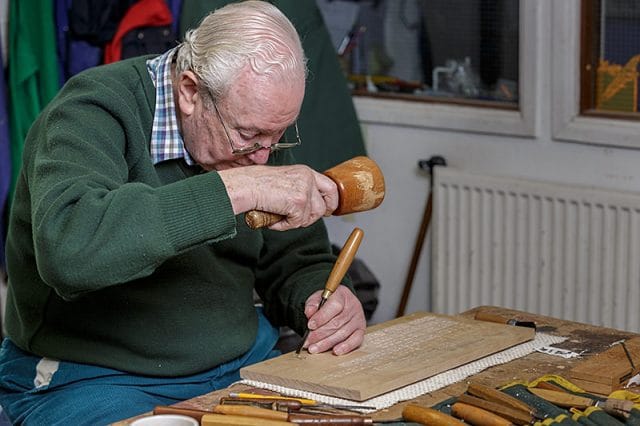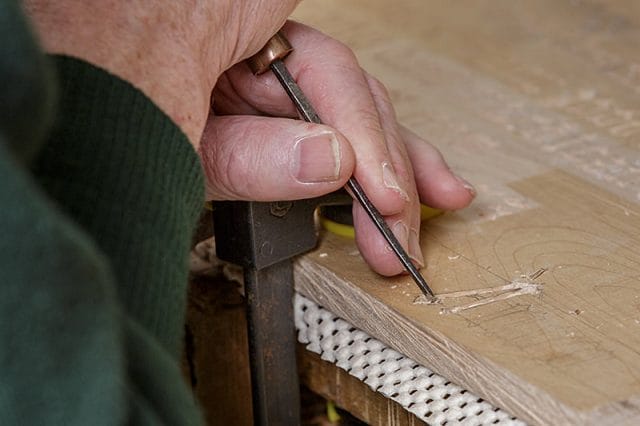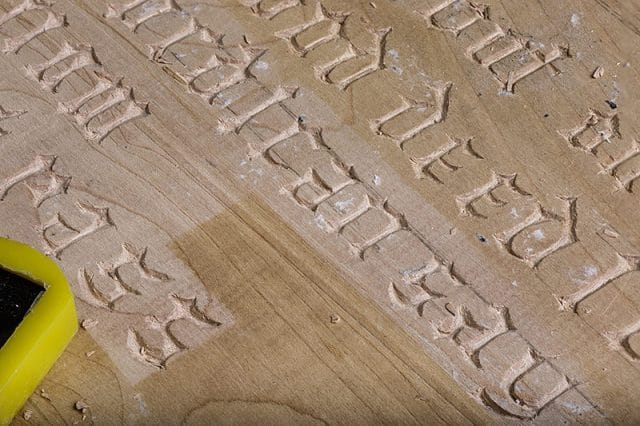 What's your raison d'être, so to speak?
Apart from enjoying all aspects of carving, whittling, sculpting and other wood related activities ourselves, we want to encourage newcomers to the craft. Male, female, young or old, everyone is welcome.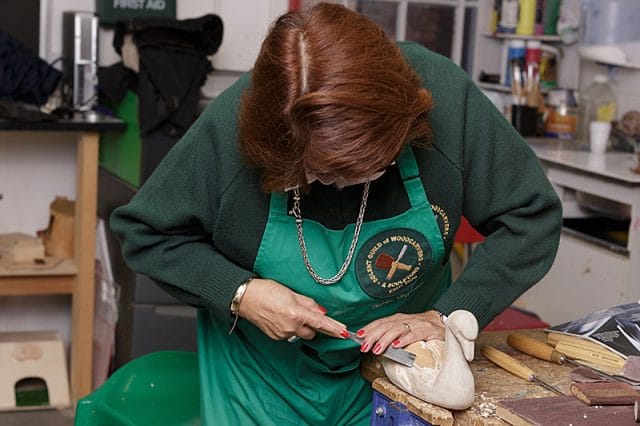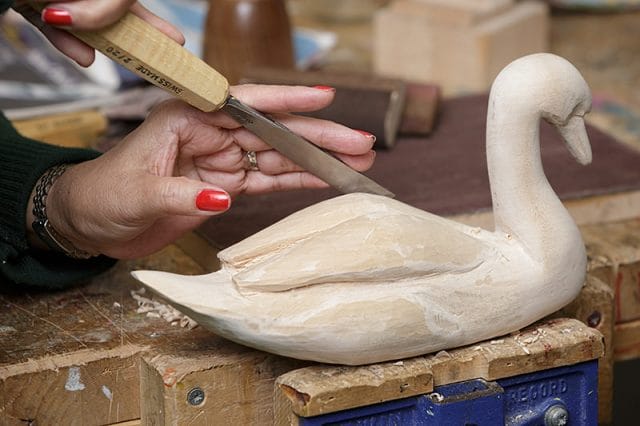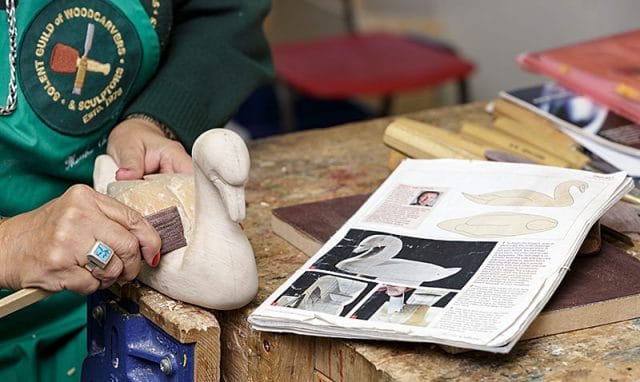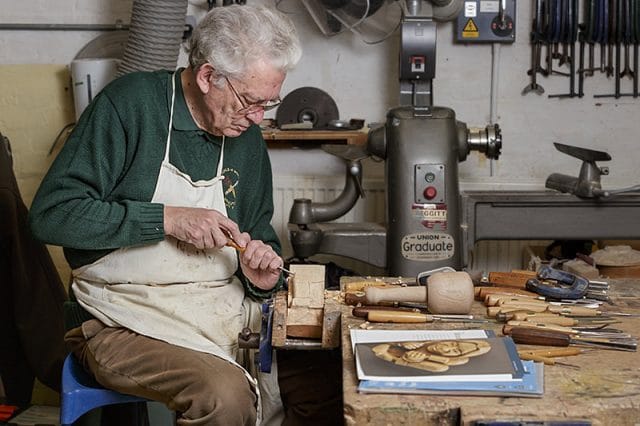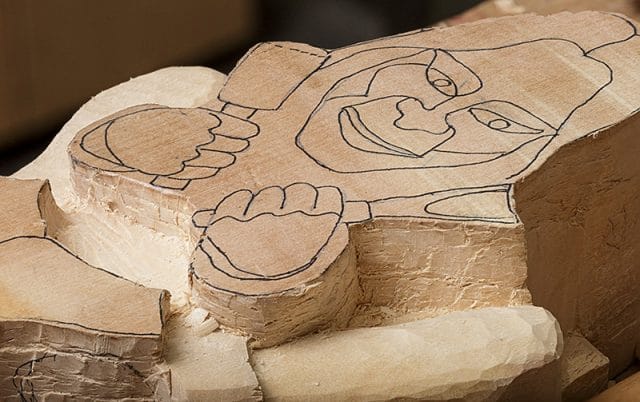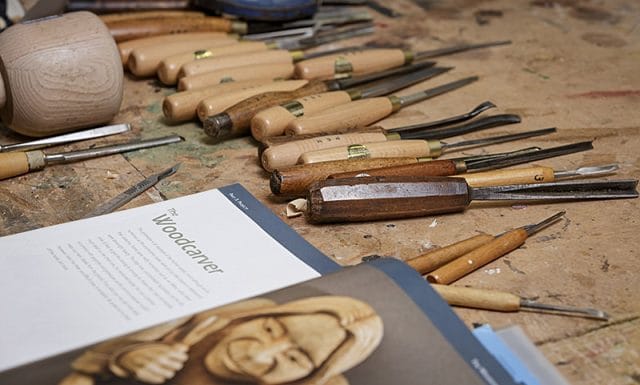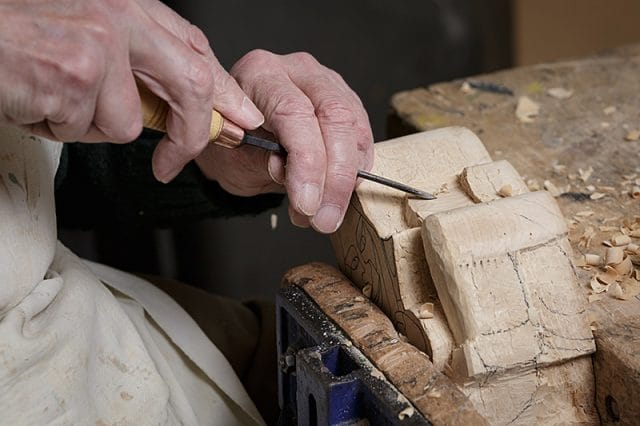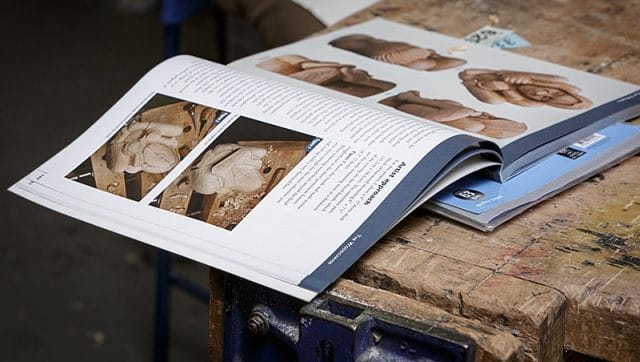 How do you spread the message about woodcarving?
We regularly hold carving sessions, exhibitions and demonstrations, competitions and, of course, social get-togethers. It's actually a really good social activity. We find that the relaxed atmosphere of our carving sessions is a great way to pass on skills. Although the Guild does not provide formal tuition, the more experienced members help and encourage others.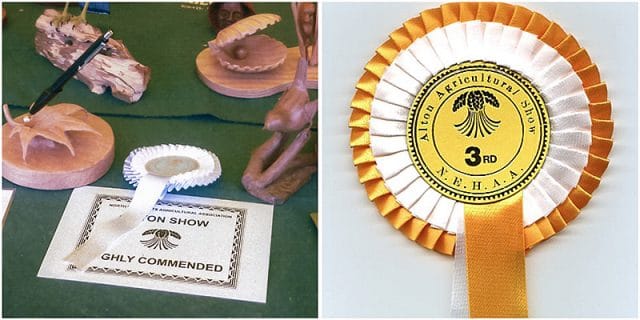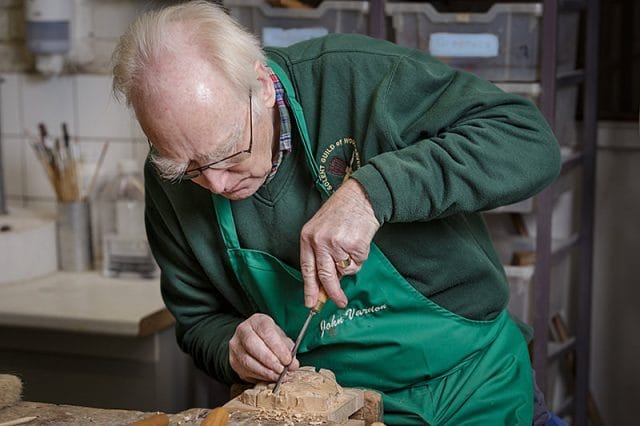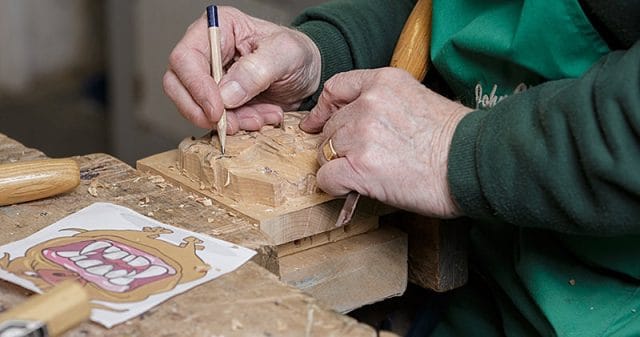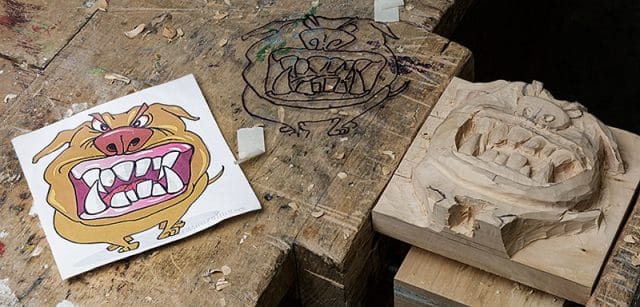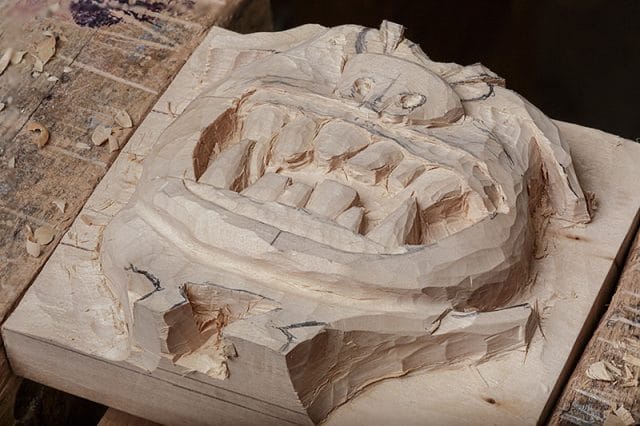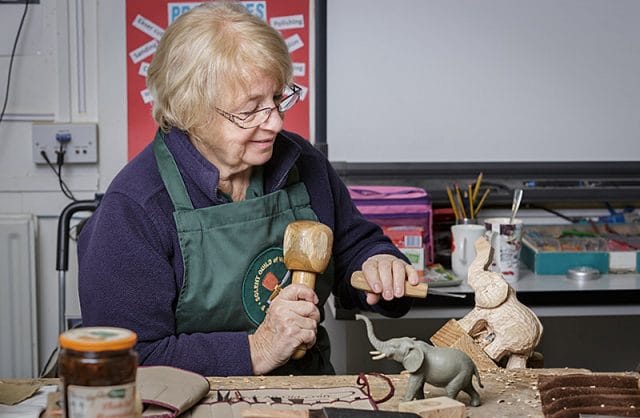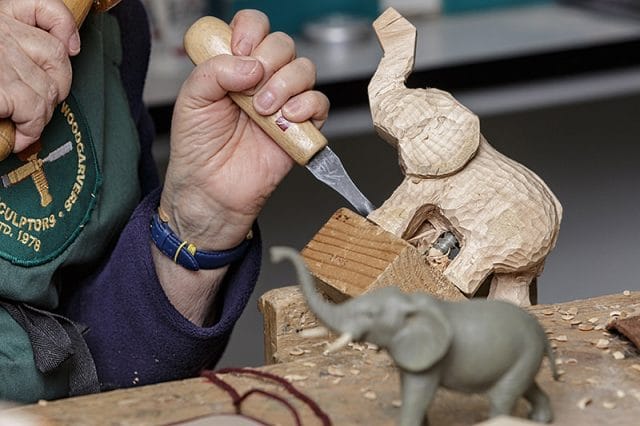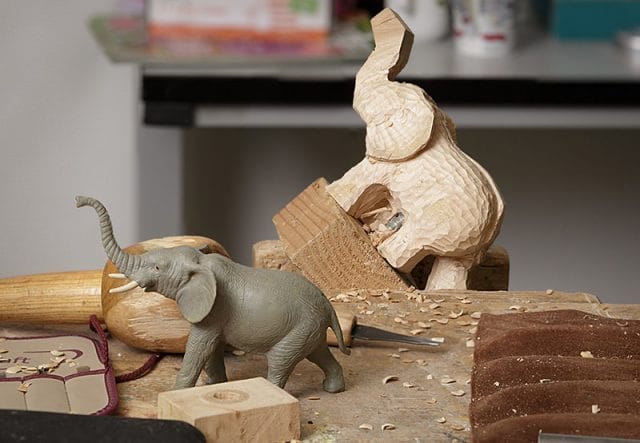 You mentioned the social side of things …
The Guild is very active throughout the year. Our carving sessions are interspersed by monthly social evenings where a talk, not always related to woodcarving, is given, a quiz, skittles or other social event is held. In the spring and summer months, the Guild attend about eleven external events, e.g. arts trails, country park shows, wood-related shows and local, outdoor museums.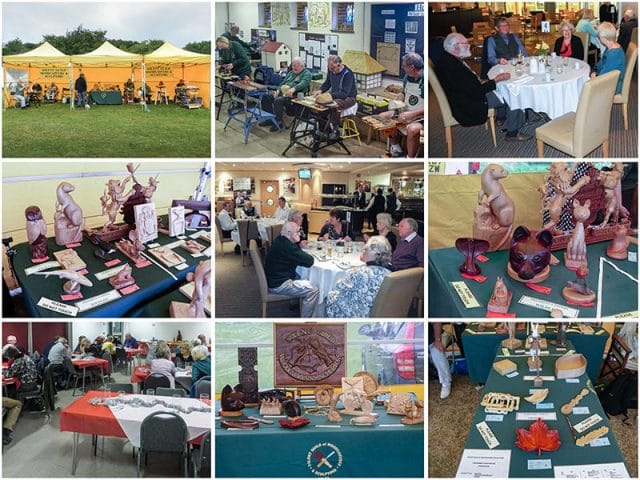 Is there any sort of rivalry between members?
Not as such but each year we hold two competitions – one is held at the Guild's AGM and the other is the Annual Competition. The AGM competition is for the Bill Pinney Trophy and, this year has the theme 'caricature in relief' and is judged by members. The Annual competition has various classes, including one for novices, and trophies are presented for each class. This competition is judged by members of the public at one of our demonstrations. Awards are made at the Annual dinner.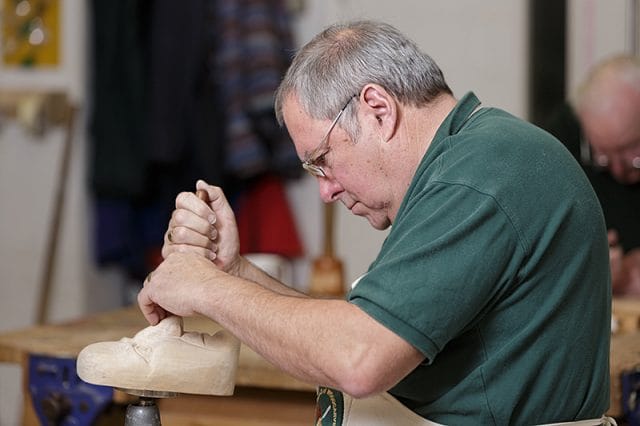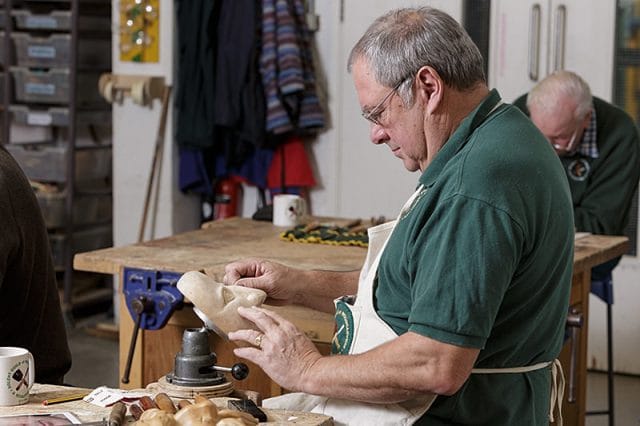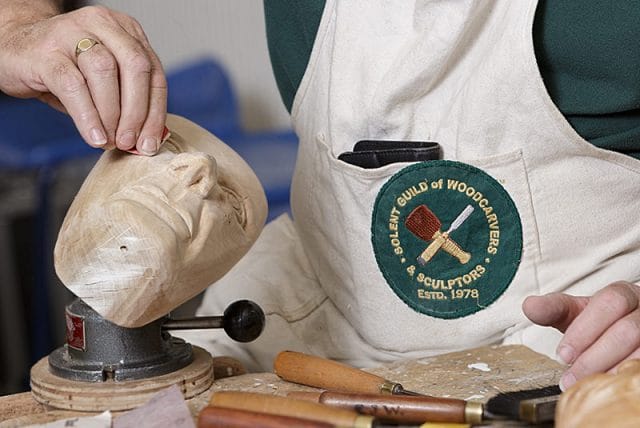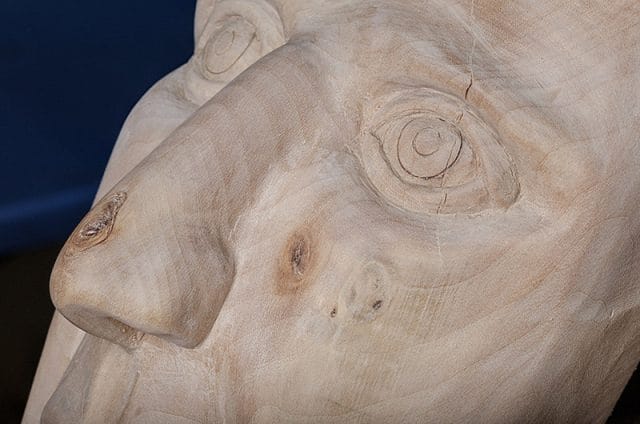 Are you involved with the local community at all?
Occasionally, members of the Guild carry out a major project for a particular local organisation. In 2002 the Guild completed a carving for Havant Borough Council. This carving is hung in the entrance hall to the Council chamber.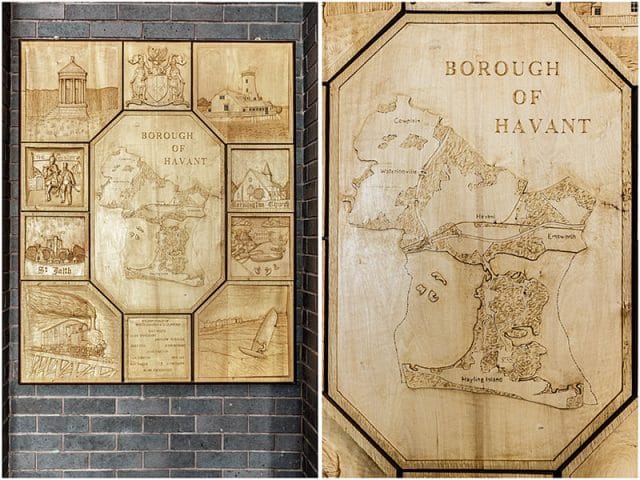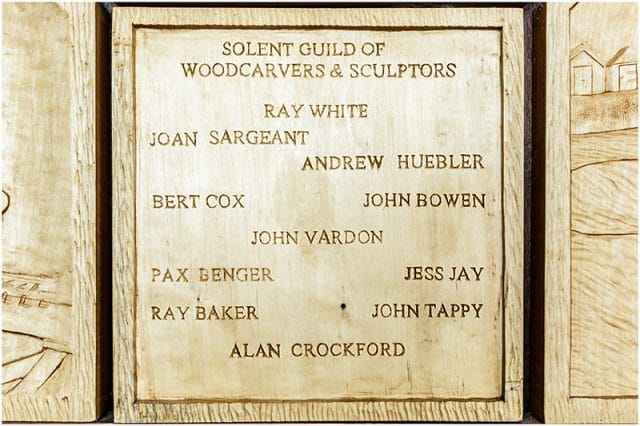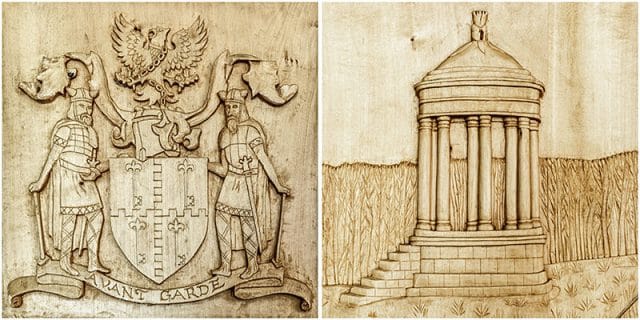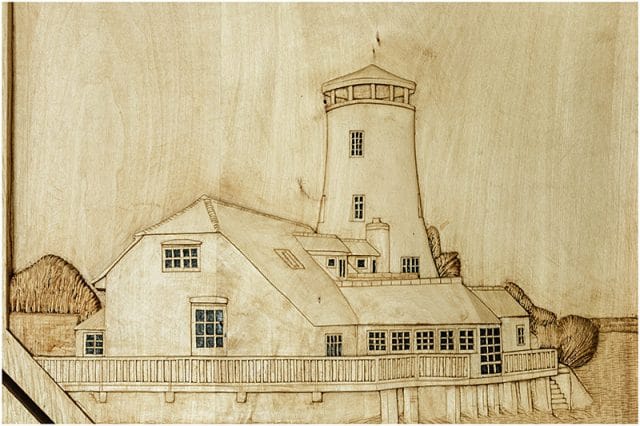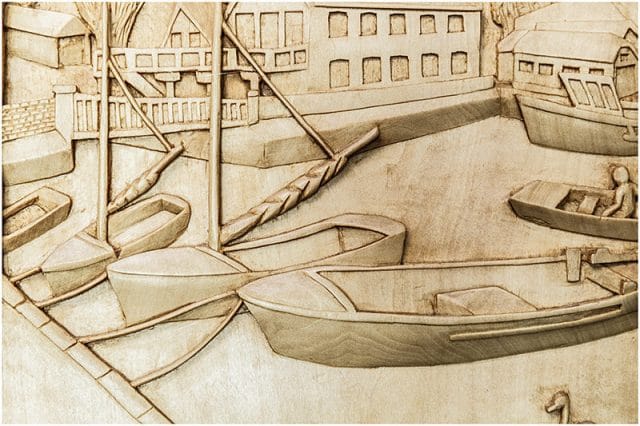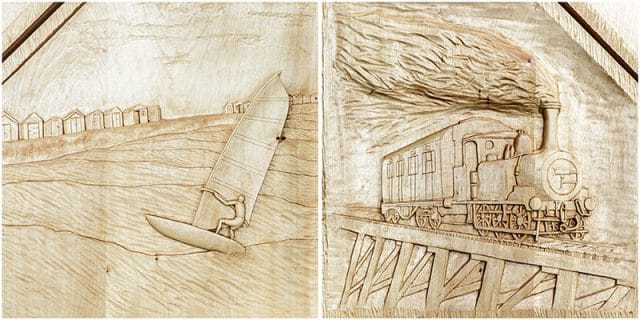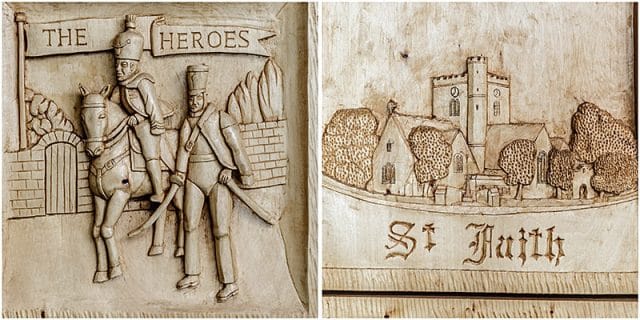 In 2005, we were asked by The Friends of the Royal Naval Museum and HMS Victory to design and carve a carving to celebrate the Bicentenary of Trafalgar. The carving, designed by myself, was based on the midship section of HMS Victory and comprised six individual carvings by Jess Jay, Ray White, Bert Cox, John Tappy, Alan Crockford and Andrew Huebler. One-half of the carving depicts the Navy in the days of Admiral Lord Nelson and the other half depicts the navy of today. The resulting carving was on display at The Royal Naval Museum but due to some refurbishment, it is currently in storage.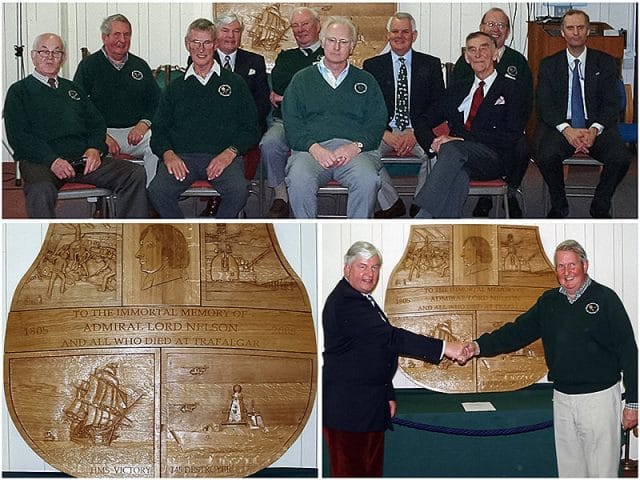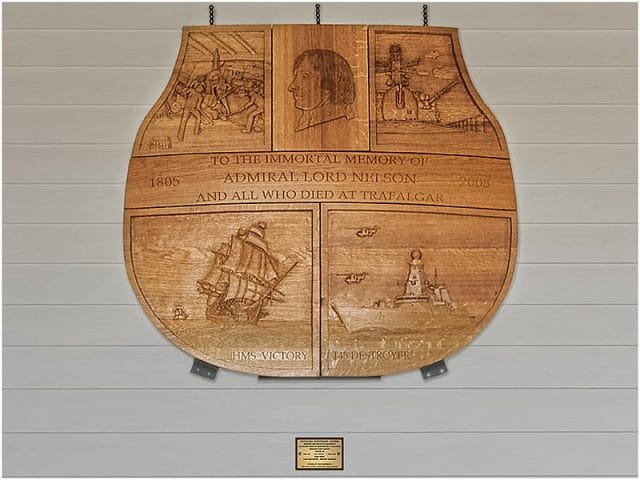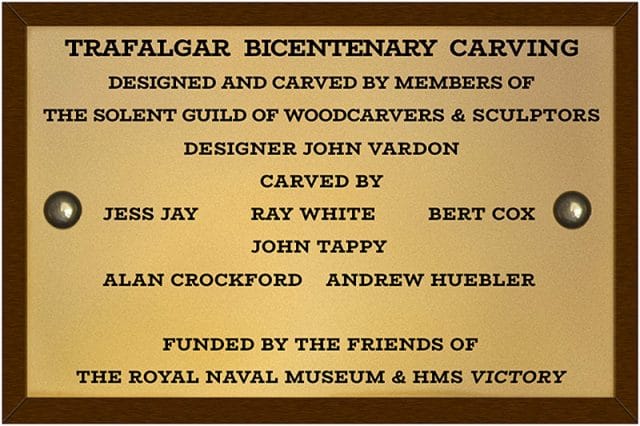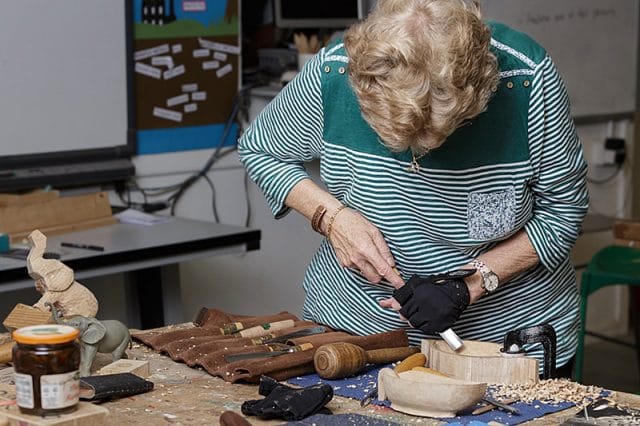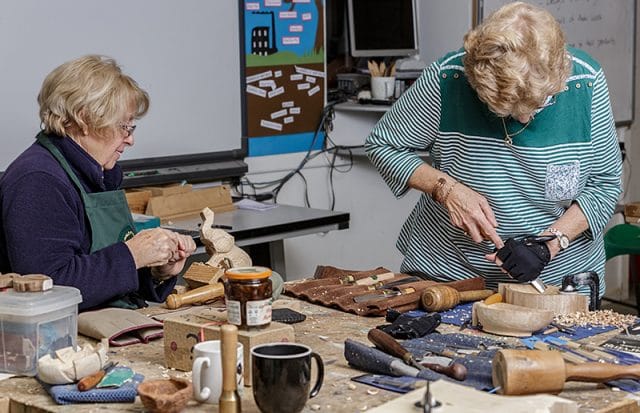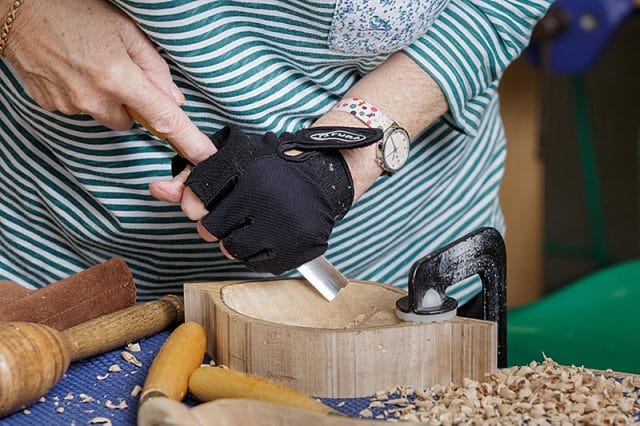 Our members are often asked to carry out projects for local schools, and some undertake commissions. One example is a Nature Trail Notice Board for Gomer Junior School; this was led by Darriell Platts. Year 4 pupils put forward ideas for the carving which were then transferred into appropriate images for carving. The wood was supplied by a local joiner. Darriell and Jean Cripps carved various animals and I carved the lettering. Other members were ready to carry out further carving if required. On completion, the trail was opened by Caroline Dinenage, the school's local MP.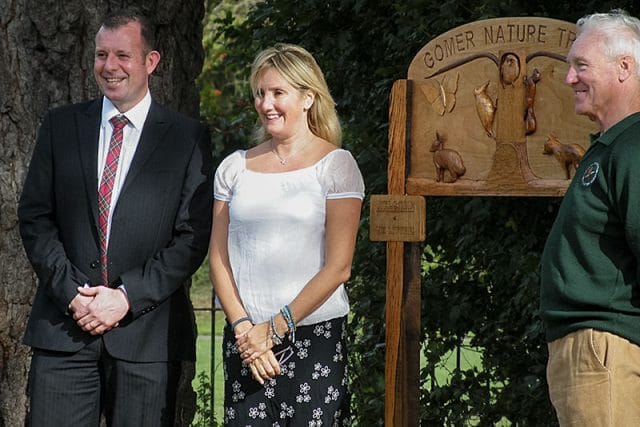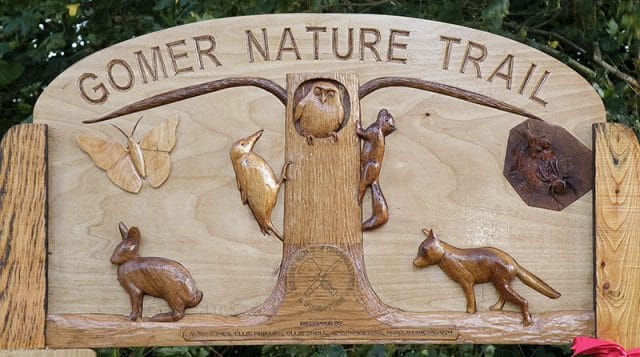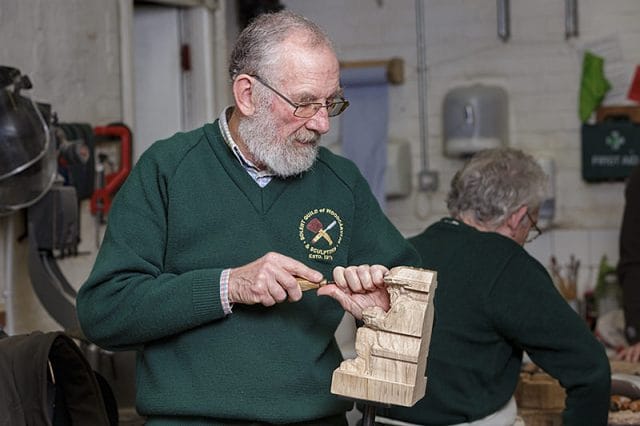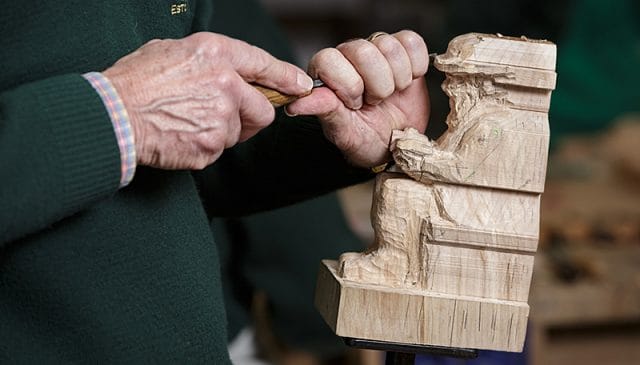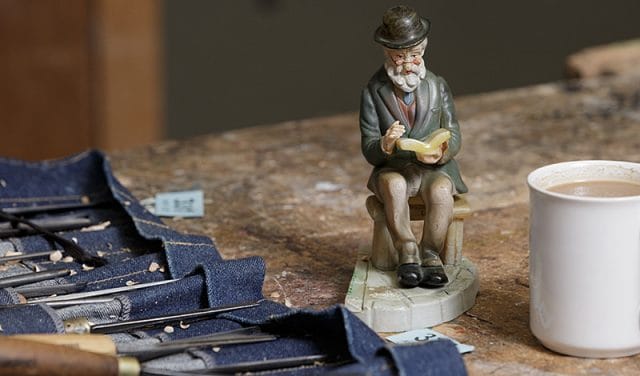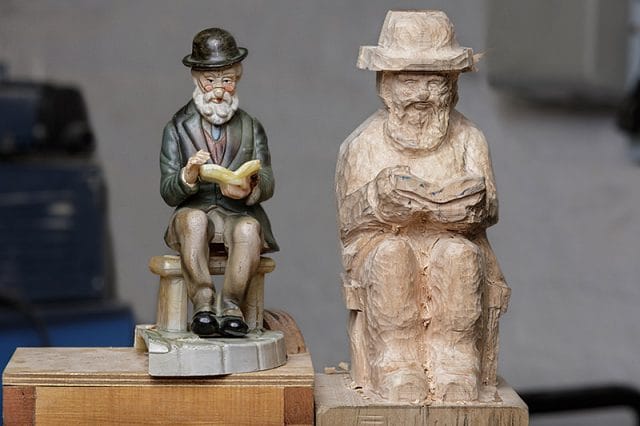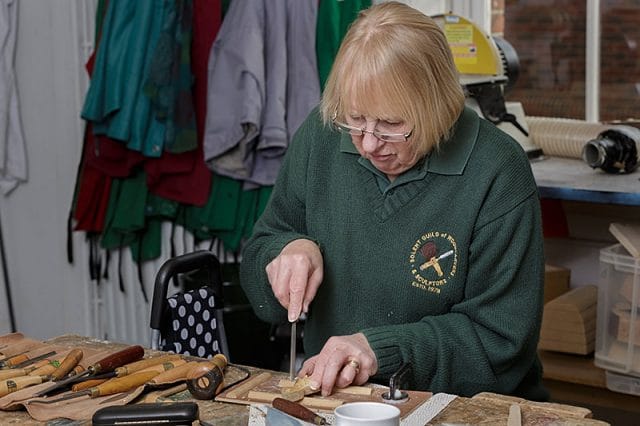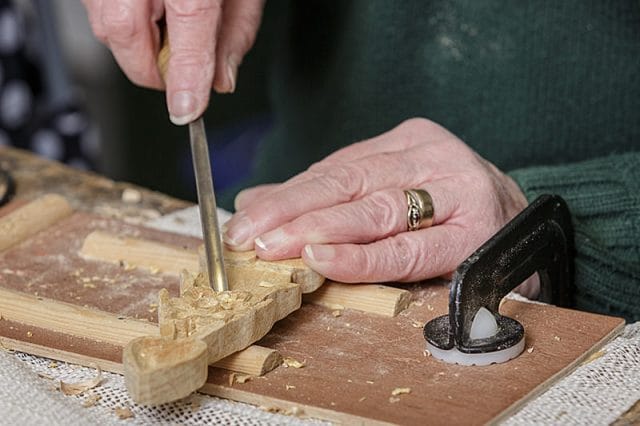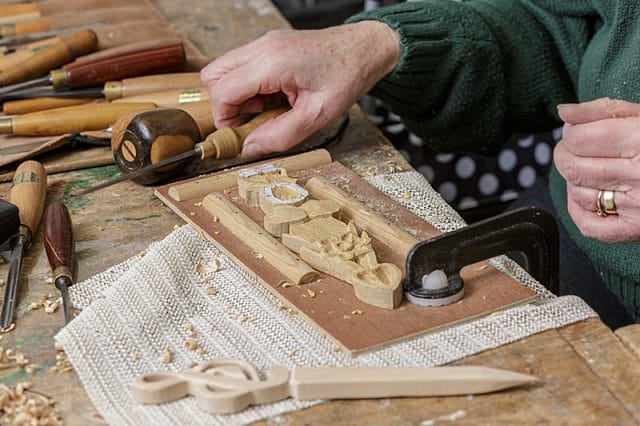 What sort of demonstrations does the Guild give?
Some of our members are members of other groups, e.g. Selsey and Bentley. We also have members who have joined up with other carvers in the area and demonstrate once a month at the Weald & Downland Open Air Museum near Chichester. A fellow carver, Jess Jay, and myself providing tuition at a one and two-day course on basic woodcarving. Some of our members also use their carving knowledge to carve in stone or other non-wood material. Anything we can do to spread the word really.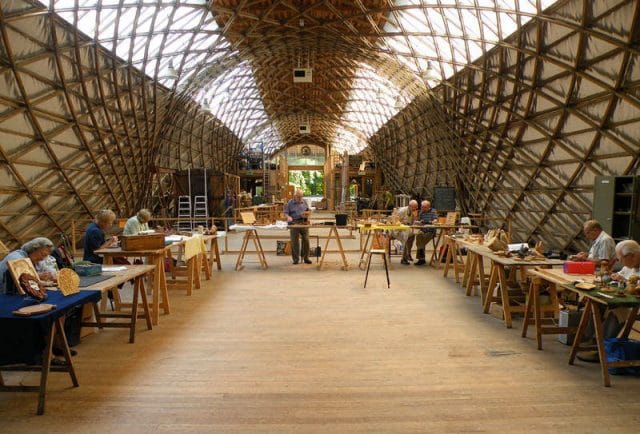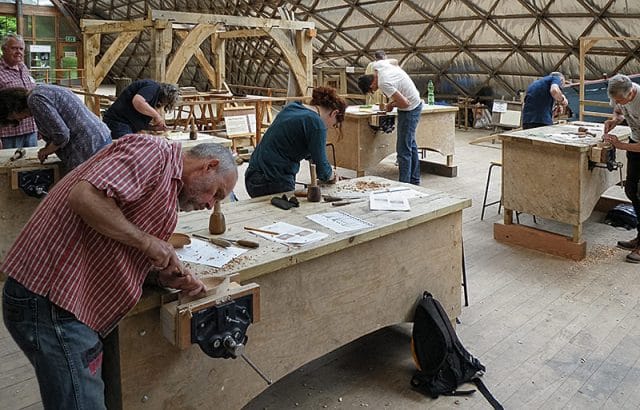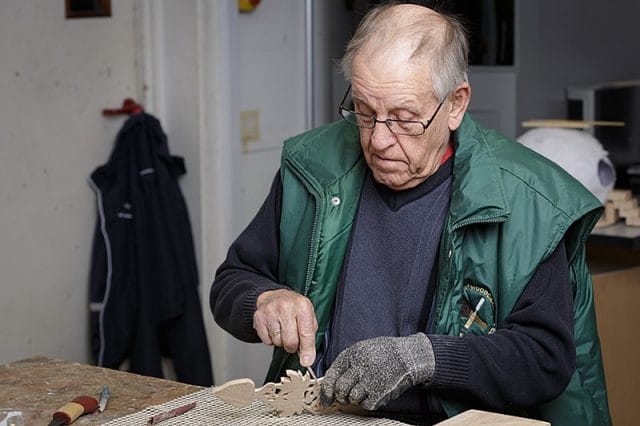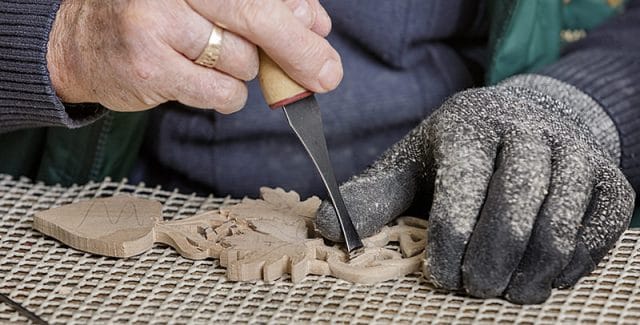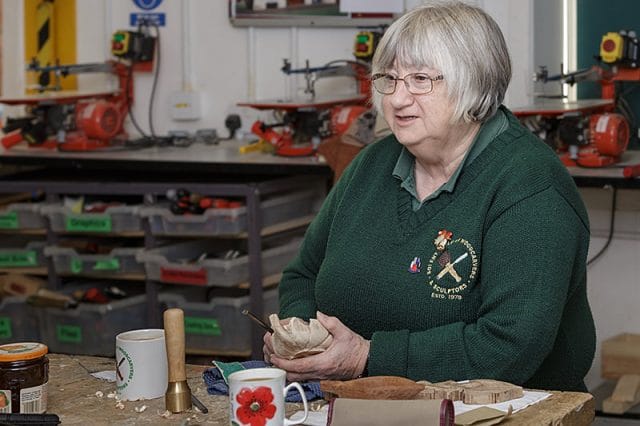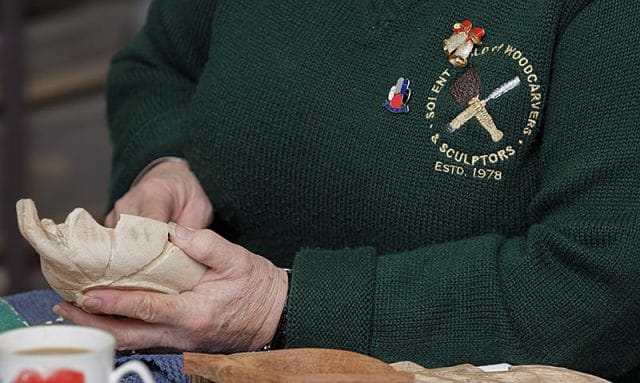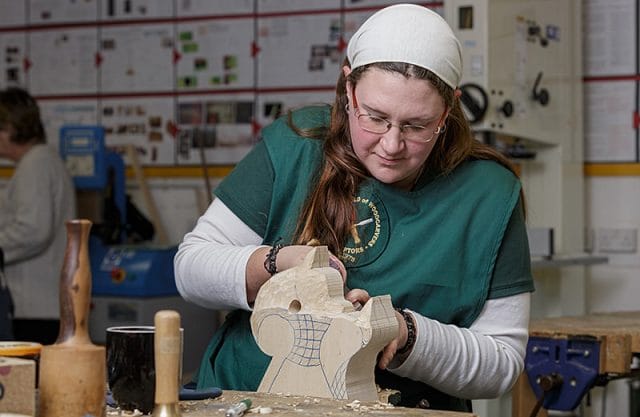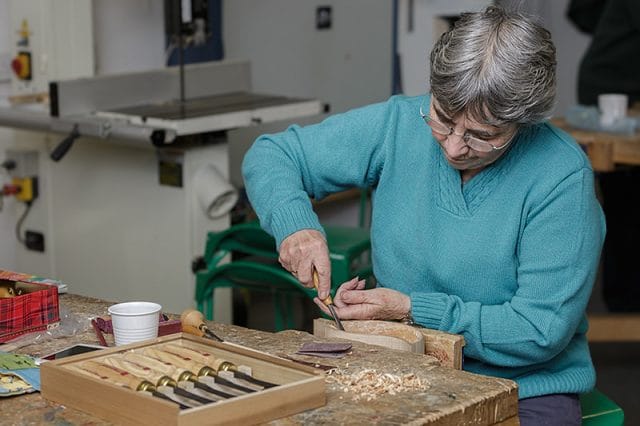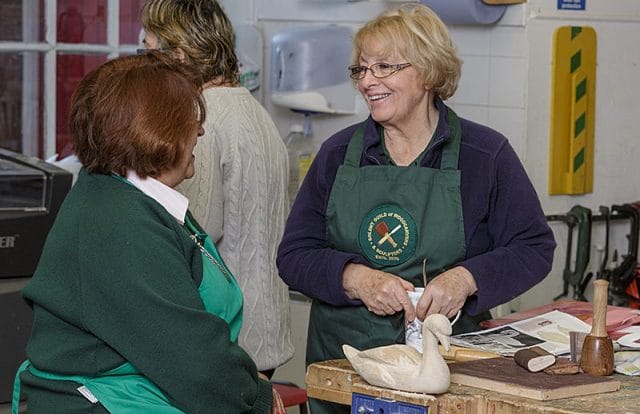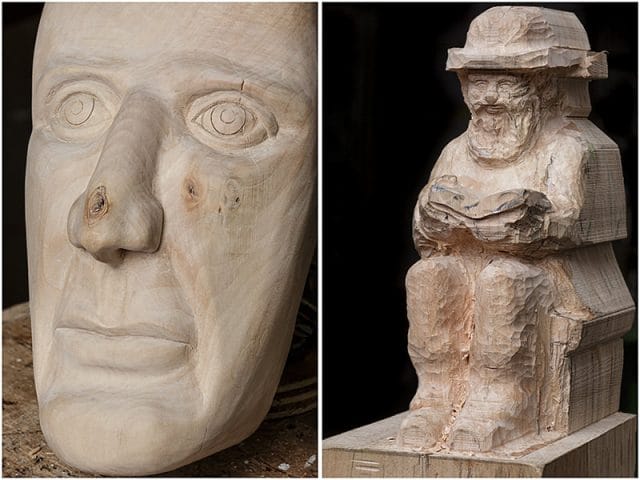 Web Links and References of interest