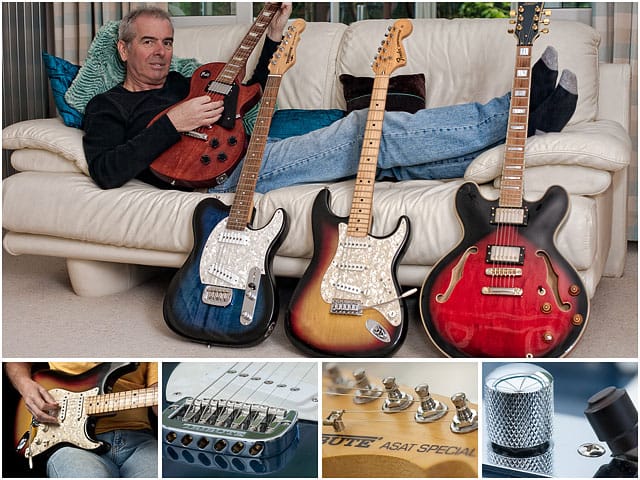 Guitar man
The Beatles and the Rolling Stones have got a lot to answer for. Not least turning nine year old Mark into a rock and roll wannabe …
It was 1962, a time when every young lad wanted to have a guitar, and Mark was no exception. He had asked for one for his ninth birthday, but the family budget couldn't stretch that far at the time. As luck would have it, one of his dad's work colleagues was looking to sell one after his own son had given up playing, frustrated at his lack of progress. Spotting the opportunity to make up for Mark's birthday disappointment, his dad bought the guitar as a Christmas present. To Mark, it felt like every birthday and Christmas that he had ever had all rolled into one. He was in heaven. Along with the guitar came the obligatory, for it's day, Bert Weedon's 'Play in a Day' guitar lessons handbook. Bert, an accomplished musician himself, originally wrote it because he remembered the difficulty he had as a 12 year old, with a battered guitar in his hand, not knowing a thing about it or how to play. He was determined to provide a method of learning that anyone could understand without a teacher. He anticipated all the questions that a beginner would ask and answered them in his book. Despite recognising barely two of the songs in the book, the revelation for Mark was that he could learn to play by following chord sequences rather than having to learn to read music. As it turned out, Mark had another trick up his sleeve. He has an innate 'ear' for music and could, with a bit of practice, turn his hand to most tunes. The Burt Weedon book was put aside for the moment and Mark set about learning a song that was current at the time; The Rolling Stones 'Little Red Rooster'. By the end of Christmas day, he had mastered the rudiments of the song without ever having seen it written down or shown what notes to play. He was up and running.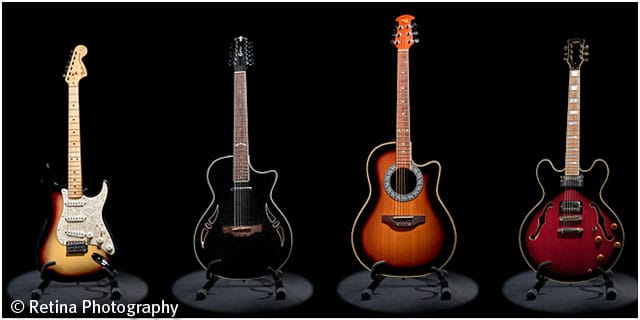 This was no passing fad. The young Mark was obsessed with playing and spent all his spare time learning the music of the day. This had a downside though. As the only musician in the family, he would regularly be pushed to 'perform' at family gatherings. This was until his younger sister learnt to play some three years later. In reality, this probably set the scene for what was to follow some years later. When Mark's mum took him to see the Beatles and Roy Orbison at the Gaumont Theatre in Southampton, in 1963, his fate was sealed.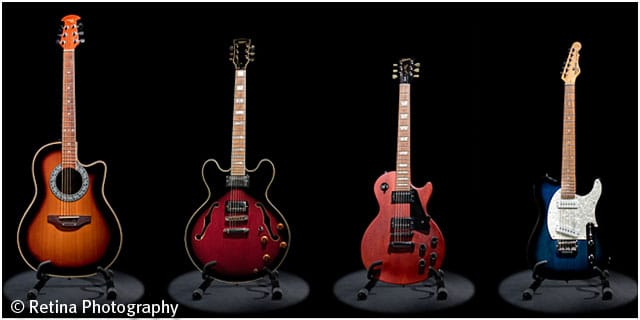 If the truth be known, one of Mark's true heroes is Hank Marvin of the Shadows. The crisp, clear sound of his Fender Stratocaster still holds the same appeal to him today. Incidentally, Hank's guitar was imported from America by Cliff Richard and was the first one to be owned in the UK. Its tremolo arm contributed to the Shadows' distinctive sound on stage and record. The closest Mark got to the Fender at the time was buying his first electric guitar, an old Watkins, at the age of twelve.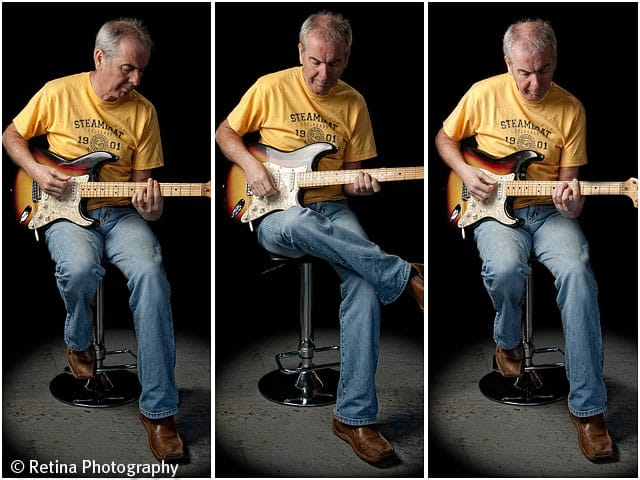 When Mark was fifteen, he broke his leg in an athletics accident and was forced to be at home whilst recovering. One day, three of his school mates turned up at the door and asked if he wanted to join a band they were putting together. Without any hesitation, he said "yes" and so 'Yellow Tomato' was born. After many, many weeks of practice, the band put on their first public performance at a local boy scouts hall. Little did Mark know that his wife to be, some 8 years later, was in the audience. Mark still fondly remembers the very first song of that gig, and the adrenalin rush he got, as they played Credence Clearwater Revival's 'Bad Moon Rising'. After a year or so and some personnel changes, the band were re-christened 'Marcus Stamp', an amalgam of the members' names 'Mark, Us and Robin Stamp'.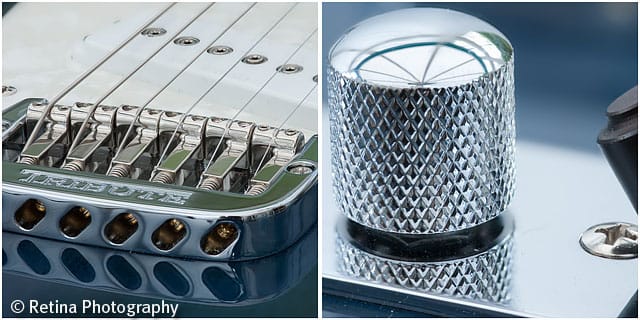 For the next few years, the band toured locally, cutting their teeth by playing at weddings, pubs and clubs all along the south coast of England and northwards as far as Oxford. But when Mark turned twenty-one, the band started to lose its direction and there was talk of packing it all in. Fortunately, a change of personnel gave them a new lease of life. In fact, the introduction of Dave Martin, formerly of 'Dave Dee, Dozy, Beaky, Mick and Tich' fame, and Burnsy of the local hit band 'Brownhill Stamp Duty', and a name change to 'Schade', gave them a much needed boost. Having two experienced, professional musicians in the band raised the standard considerably and they were now able to play to a much wider audience. The band went from strength to strength and were in high demand. So much so that when Mark joined the computer giant IBM in 1976, aged 23, he was earning more from playing music than from his day job.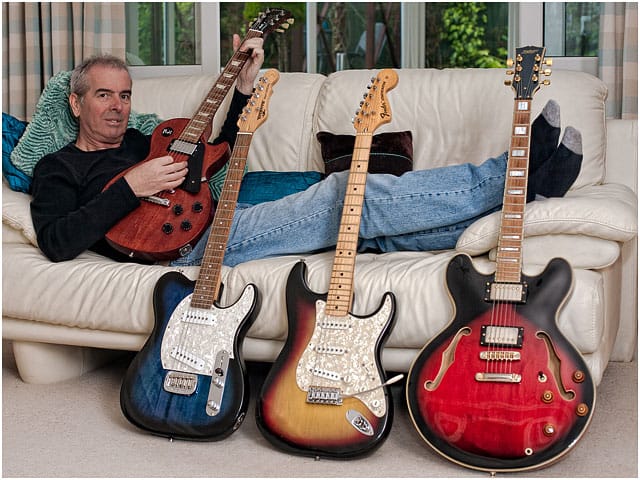 As any musician will tell you, there always comes a point when a tough career decision has to be made. Until this point, the band had only considered themselves as jobbing musicians, enjoying the limelight and extra money that playing brought them. It was from an unexpected quarter that the opportunity of a recording contract came the band's way. Band member Dave, who knew the famous music agent Don Arden, approached Don asking if he would consider coming to listen to the band at a gig sometime, with a view to being managed by him. Don somewhat surprisingly said that he didn't need to hear them play and would give them a contract straight off. There was, of course, a catch. 1976 was the year that Punk Rock hit the UK. Managers, record producers and agents, up and down the country, were cashing in on the latest phenomenon and signing all and sundry, irrespective of their backgrounds. Don's one stipulation was that the band play punk music rather than their own style of country rock (Eagles, Doobie Brothers, etc). They tried if for a while, but quickly realised that the Punk style just wasn't for them, so the chance of the big time evaporated just as quickly as it had arisen.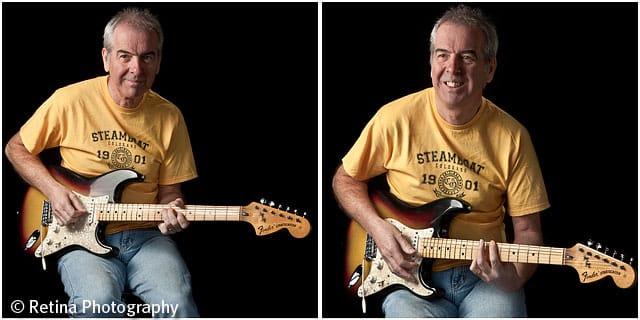 They carried on doing their own thing for some years, capitalising on their local celebrity status, often with some big names attending their gigs. Despite being content with his playing, Mark was getting tired of the hassles of touring and holding down a day job at the same time. Live music was going through one of its periodic downturns and his heart was no longer in it. All the other band members were older than Mark and their personal lives were starting to encroach on their commitment to playing, so the inevitable band dissolution followed. Since then, apart from the occasional band reunion gig requests every eighteen months or so, no further band activities have taken place. All good things must come to an end and now, some thirty years later, with band members either having passed on, moved abroad or are no longer in contact, 'Schade' has reached the end of the road.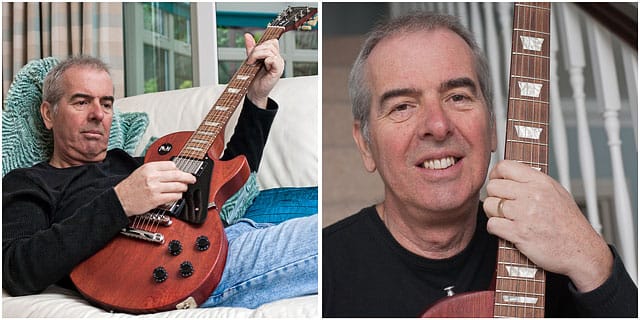 Mark still plays guitar for his own enjoyment, occasionally with friends, but no longer craves the footlights. When he moved house six years ago, the increased space of the new house reignited his passion for guitars, but now more for collecting than playing live. His current tally is six; three solid electric, two acoustic electric and one acoustic electric twelve string. With well known brand names such as Fender, G&L and Gibson he has made a considerable investment in his hobby. Mark would still like to own a black and white Rickenbacker 350, similar to that owned by John Lennon, a Vox Phantom or an old ivory Fender Telecaster. I guess the spotlight might be a little dimmmer now, but it's still on